Author: bill April 9, 2019, Updated: April 13, 2019
On the first full day of our cruise we visited Half Moon Cay, Holland America Line's private destination in The Bahamas.  We took it easy and enjoyed what I truly feel is one of the prettiest beaches in the Caribbean.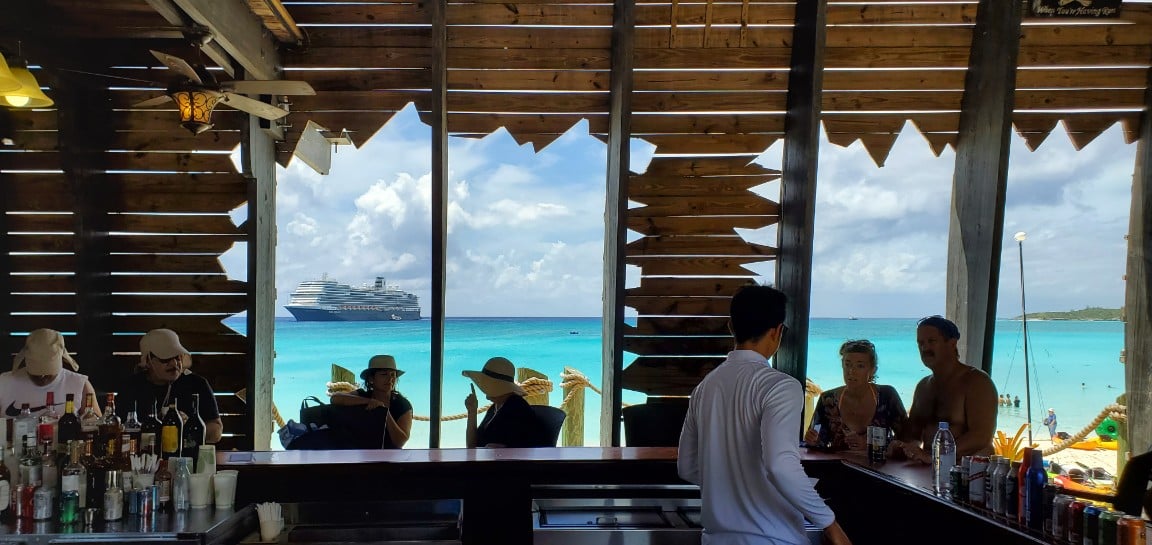 Breakfast at Lido Market
While tenders to shore started at 9:00am, this is also when breakfast stopped being served in the dining room, so, not being early risers, we headed to the Lido Market for our first buffet meal of this cruise.  The turquoise waters of the island were glistening and made me want to get through breakfast quickly so we could head ashore.
As we navigated the various stations, we found the layout to be somewhat traditional, where the options are laid out in lines – not a series of islands like what we've seen on a number of other new ships on different lines.  I suspect that while the island layout can reduce queue-anxiety, it does take away from the crew having galley access behind each station.  Despite being surprised at the number of guests eating breakfast this late (9:30am or so) given that so many were eager to visit Half Moon Cay, there was really no issue in terms of lines.  I was able to get eggs Florentine from an egg station, as well as several other items.  There were waffle and omelet stations as well with minimal lines.
The Crow's Nest Flexible Workspace
Okay, so it's not actually a flexible workspace, but I needed to write up yesterday's adventures (as I'd been so delightfully distracted at BB Kings that I failed to even bring my laptop out) and found, like on Nieuw Amsterdam, that this was a great place to do get some work done.  The views are spectacular (yes, more white-sandy beach and turquoise water views to tease me) and they offer coffee, pastries, and a full bar.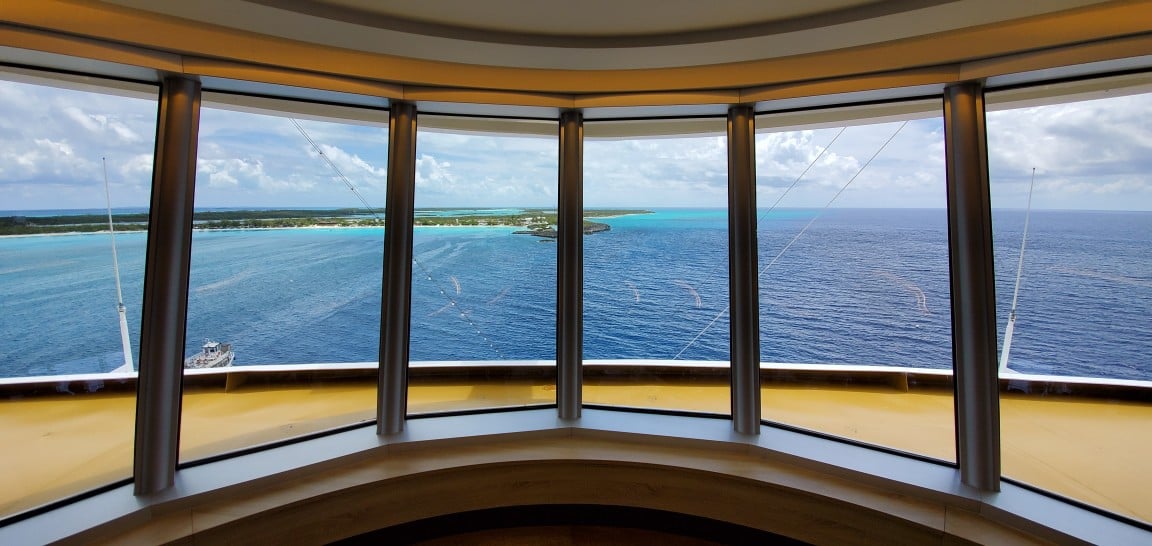 It was during this time that I. realized an evolution in technology had taken place.  I started working on the blog on a cellular connection, as I'm so accustomed to sub-par internet connections on ships that it seemed logical.  While I could see the cellular tower, and the speeds weren't terrible, I eventually switched to the ship's WiFi and found it much faster.  In fairness, Half Moon Cay isn't an inhabited island (save for a skeleton crew of maintenance workers), so this may have been different if we'd been docked in a larger city.  The internet package I purchased was $140 for the week, and provides up to 1GB of data per day.
Tenders, Water Shuttles, Launches – Just Get Me to the Island
There is no dock at Half Moon Cay, so you have to tender to the island – a reasonably painless process so long as the seas are calm, which they were today.  They have several two-deck tenders kept at Half Moon to shuttle guests, and the cruise nerd in me kept listening in to see if they still called them tenders, as recently Celebrity Edge called them Edge Launches, and Carnival decided to call them Water Shuttles.  For those at the edge of their seats: Holland America Line still calls the tenders.
Half Moon Cay – aka Little San Salvador Island
A number of cruise lines have private destinations (islands, or in the case of Royal Caribbean's Labadee, a peninsula), and they've proven to be big hits with guests and cruise lines for a variety of reasons which we juuust might cover on an upcoming episode of the CruiseHabit Podcast.  This particular destination is called Half Moon Cay, but the actual name of the island is Little San Salvador, and while it's been exclusive to guests of Holland America Line (HAL), and occasionally other Carnival Corporation & plc brands, it was previous leased by Norwegian Cruise Lines.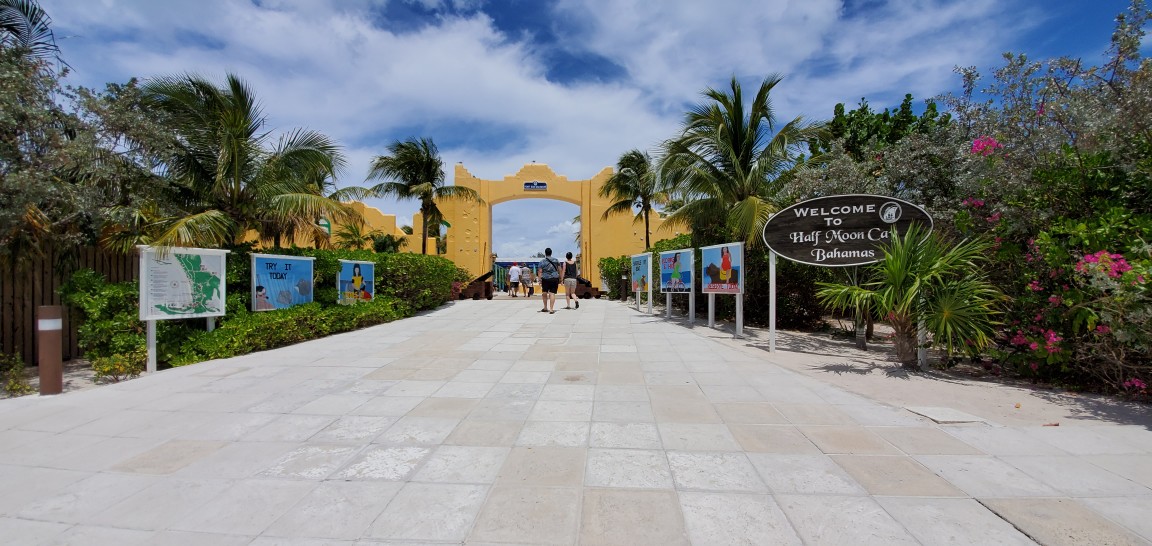 As you approach the island, it becomes apparent where the name comes from, as the main beach is a long crescent stretch of white sand with shallow waters stretching far out, giving the shoreline a gorgeous color.  There are a number of excursions and activities available, from horse-riding and stingray petting to various sports and glass-bottom boat rides, though we decided to just relax on the beach. 
When you walk from the entrance you're dropped off at there is a beach just steps away, but the key is that there is a mile of beautiful beach, and if you continue down the roads or paths toward the main restaurant, you'll find the beach far less crowded.  There is also a large pirate-ship bar which is where we spent several hours.  The structure provides shelter from the sun while still allowing guests to take in the ocean views and even enjoy the breeze…with a drink of course.  That drink, I should note, is not covered by drink packages (if you have one), and this is true of all Carnival Corporation brands at all their destinations.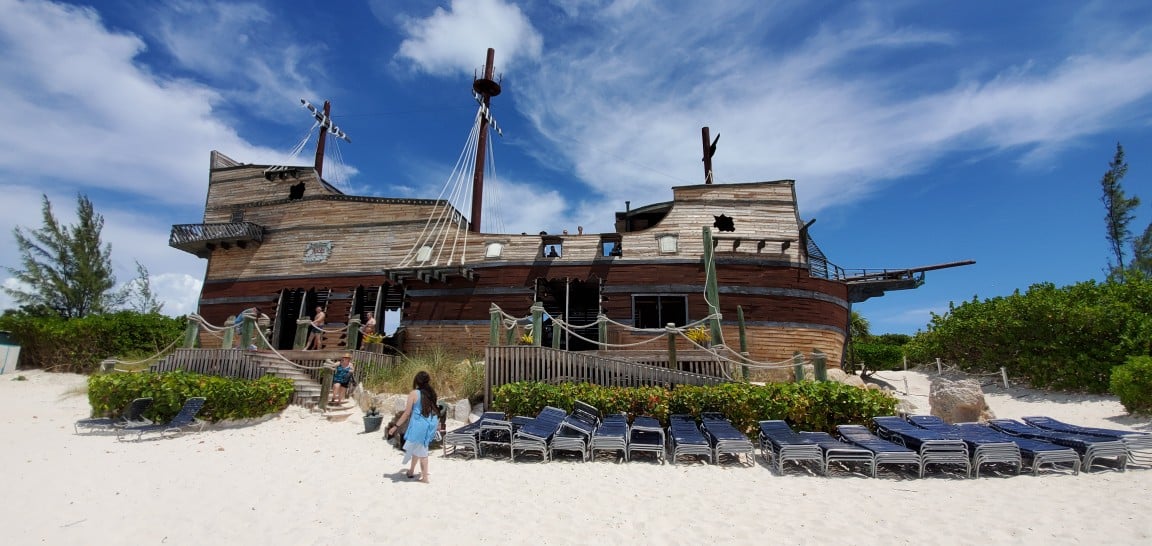 Inside the pirate ship is a stage and a second floor with another bar area.  Neither of the times we've been here was there live music, and certainly not enough guests to necessitate opening the bar upstairs.  It's a shame to be honest, as it is such a nice spot – but we were happy to share it with a limited number of guests.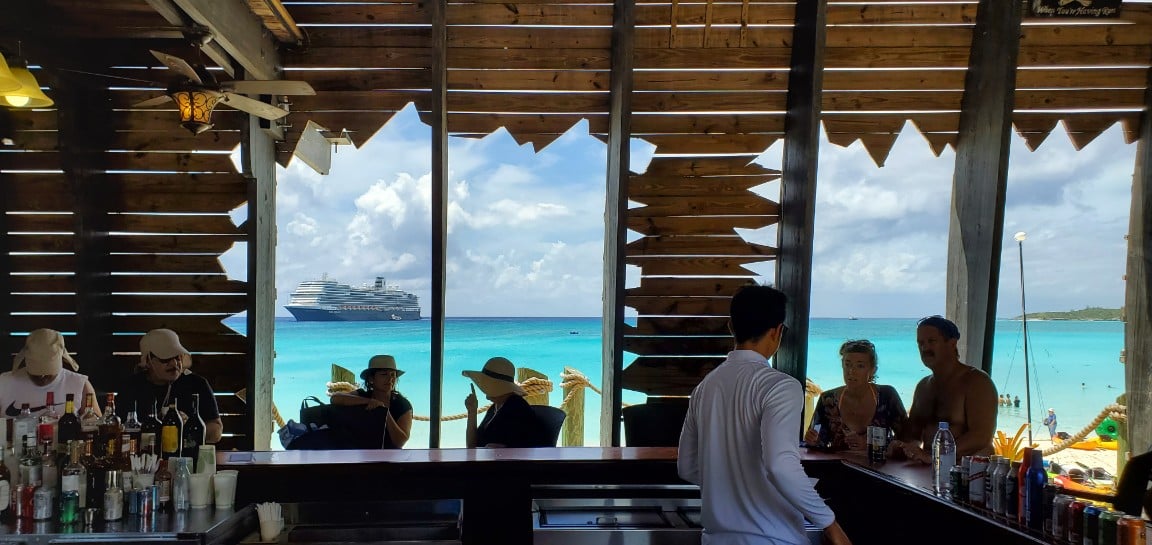 After several hours chatting with new friends we decided to head back to the ship to shower and see what else the day had in store.  Spoiler alert, it was a nap.  I did notice that there are foot washing stations as you approach the tender boarding area, a great idea for guest comfort, and probably reduces by a nice margin the amount of sand the engineering team has to remove from the onboard plumbing system.
Revitalized & Ready to Mingle
After a stop at Grand Dutch Cafe for snacks we went to Ocean Bar where we'd previously found the bartenders fun and the spot great for people watching as guests walk through the ship's atrium.  We thought we'd also head to Notes (whiskey bar) for a tasting, but we had the time wrong and missed it.  This leads to one minor gripe I have with HAL – the Where & When (daily program).  It simply doesn't list a number of things, for example tastings (which are revenue generators, so you'd think they'd want to make this information easy to find).  Further, it doesn't list the duration of shows or have open/close times for the various bars and such.  The same is true of the app (which is otherwise rather nice, actually).  I took a walk from Ocean Bar and shared this feedback with Guest Services, and you could tell the woman I spoke with genuinely agreed with my observation, as she said she gets questions about things that used to be in Where & When and now can't simply grab a copy to reference.  Not a deal breaker at all, but certainly something we wish was different.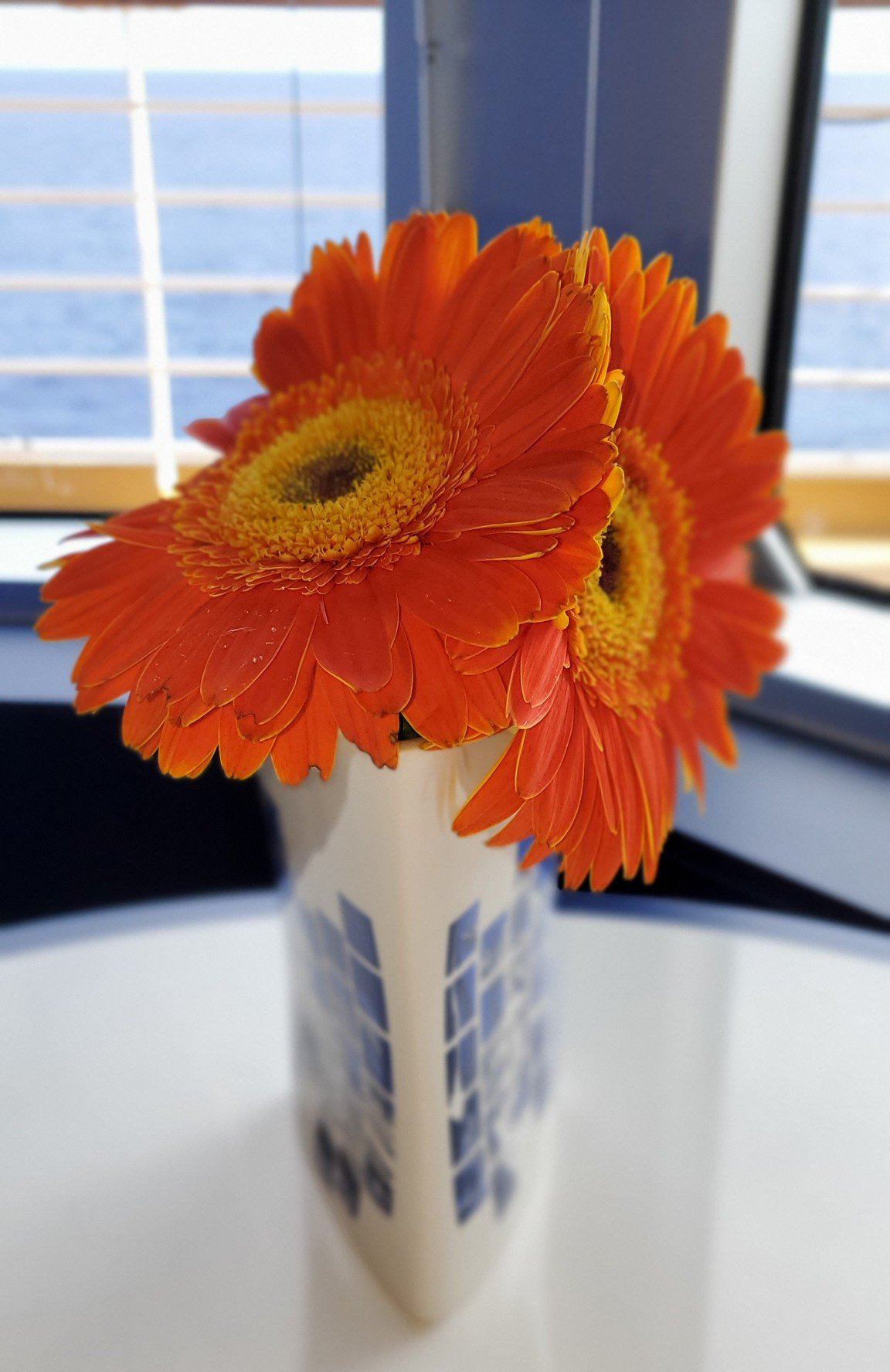 Gala Night in the Main Dining Room
I'm not big into formal dress, and HAL being a more traditional line, many guests still don fancy gowns and tuxedos.  At risk of a dress code debate starting up, I'll just share that I'm not bothered at all by those who want to dress up, but I'm grateful HAL's dress code this evening only called for slacks and a collard shirt for men (I even wore a sport coat for good measure).
In the main dining room we were seated promptly and informed the server that we'd ordered our evening's meal from the vegetarian menu the night before.  In short order our food came out.  This was a fun game as neither my spouse or I had any recollection as to what we ordered, and we're still not sure.  What was brought though, was quite good.  I especially liked a simple dish of quinoa with pine-nuts and onion.  It was a fine example of where just a couple ingredients, when properly combined, cane make something that sounds boring taste quite good.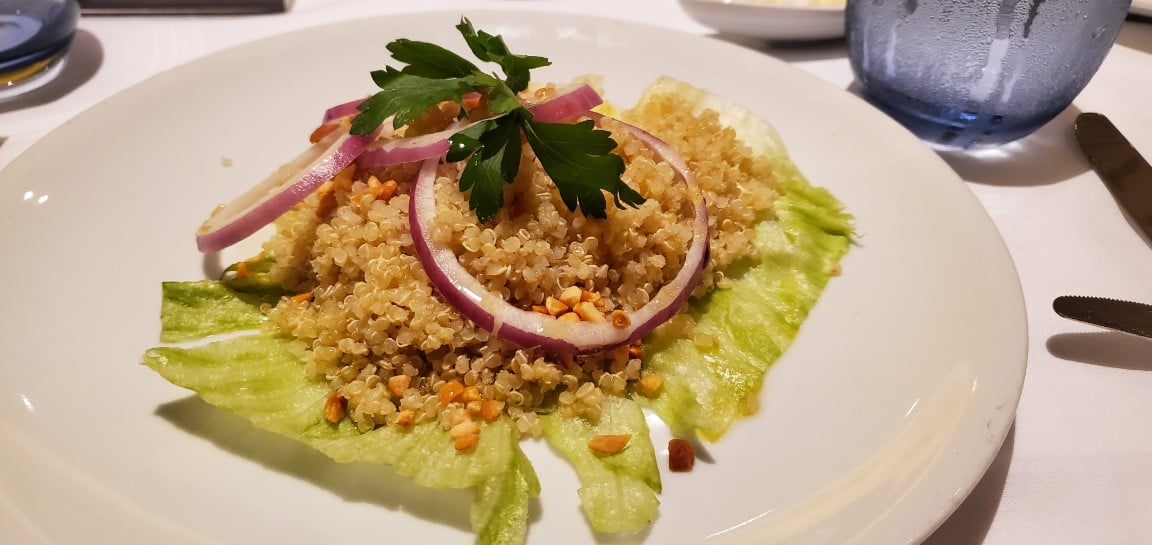 After several other dishes we ordered dessert, and I opted for Black Forrest Cake.  I really want to call out something interesting about HAL desserts here, as this cake was NSA (no sugar added), as have several desserts we've enjoyed on this cruise and our past HAL sailing.  I'm not diabetic, I don't seek out NSA desserts, but I've started to on this line, as they are incredible.  They're not overly sweet from artificial sweeteners, nor are they bland in any way.  Whatever they do to pull this off seems to be a secret most restaurants haven't yet figured out.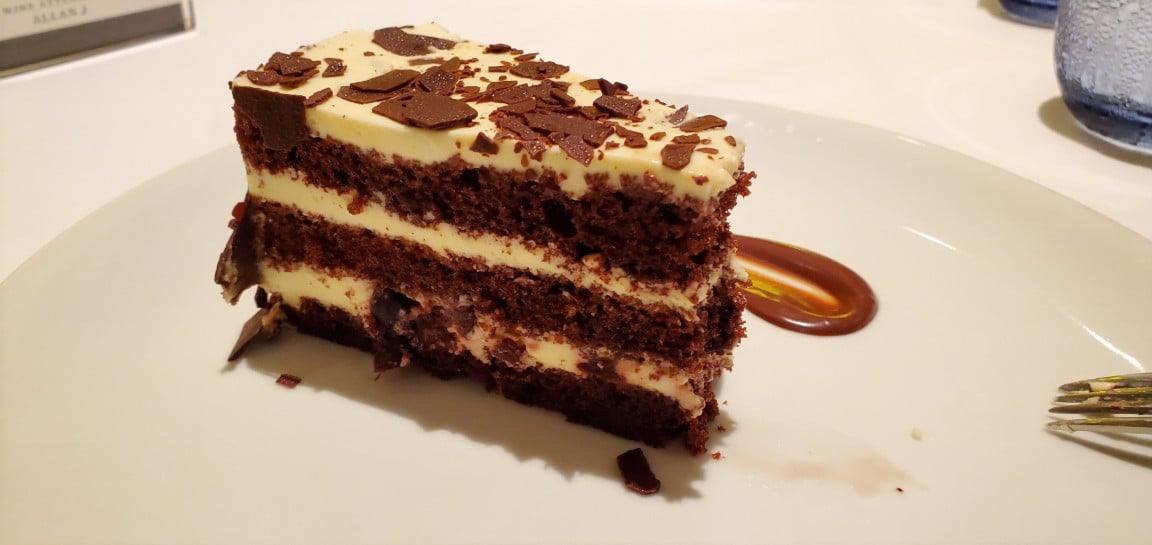 Humanity, by StepONE Dance Company, In the World Theater
I've been eager to experience one of the production shows on Nieuw Statendam, as they've put in a theater with a vibrant 270-degree display which surrounds a thrust stage.  The whole setup is similar, yet distinct from, what Celebrity Edge has and we found it impossible to not compare the two. 
The show itself was all about dancing and the effects – in fact the performers didn't sing at all, and there was no live music.  I found the dancers talented, but most impressive was how they interacted with the venue.  There were times they were in sync with foe-shadows which were actually projections that they'd then "separate from" and begin dancing with.  The high-energy performance featured pop-music from various decades (including current hits), though didn't have a theme as best as I could find.  If anything, the theme might be dance, or even love, but given that it was a dance show and many songs are about love, I'm not sure this really counts. 
Overall, we found it very enjoyable and found it a bit surprising as the technology and format seemed more contemporary than other parts of the HAL experience, but I heard many positive comments from other guests.  I hope to see some other shows in this space, and even other types of entertainment, as I imagine the venue's technology could lend itself to a number of uses.  I will note that they specifically requested no photos or recording of any kind, but I'll post some photos of the venue itself later on.
Rolling Stone Rock Room & Dueling Pianos in Billboard Onboard
Walking through the midship areas on decks two and three in the evening you pretty much always hear live music, but what's smart is that they coordinate the times in a way that you don't run into "noise" rather than music.  They never step on each other. 
The Rolling Stones Rock Room was hopping, with guests dancing to some crowd favorites.  I grabbed a drink and found that the area adjacent to that space, Billboard Onboard was about to come alive with dueling pianos.  In fact, we'd ran into the pianists earlier in the evening and promised to come to the last set.  As soon as Rolling Stone Rock Room wrapped up, the pianists started their routine.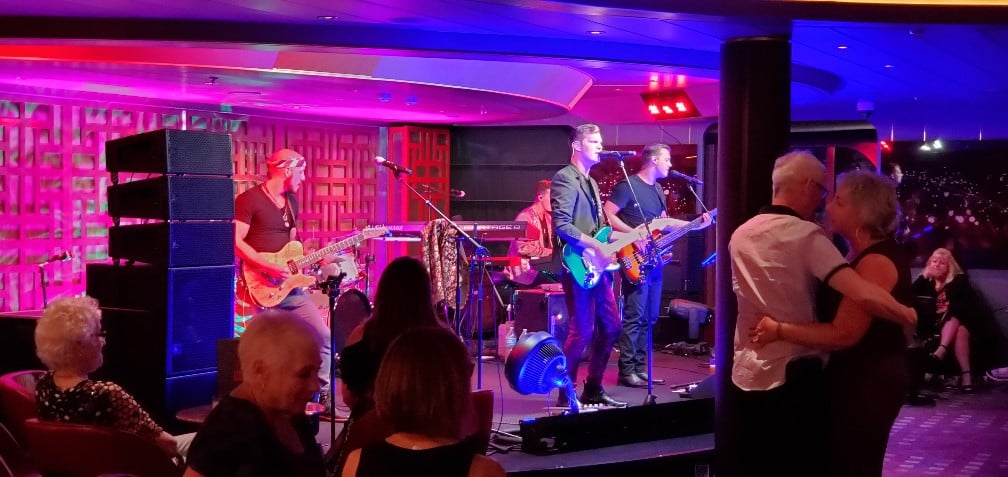 The pianos face each other, as one would expect, but for this set at least (we've not seen others yet) it's less dueling pianos and more talented hand-offs between the performers.  They started with some classic piano songs to warm up the crowd, but quickly they were inundated with requests which guests can jot down on notepads placed at all the seats around the pianos.  I was surprised at the range of the songs they played.  Certainly, every vocalist has limits to their range, but they managed to make everything at least sound fun, and most of it as it they'd practiced the request before, and already had the hand-off in mind.  For a couple songs they even played the same song where they'd each sing different parts.  This often sounded nice, but was sometimes just silly (in a way they clearly intended).   Some of the most impressive pieces were less-pop and more obscure, but incredibly well executed, and even a crowd raging for Piano Man recognized and embraced these deviations from the hits.  I can see how this works nicely in a space dedicated to popular music, and didn't find myself longing for a "normal" piano bar, like I thought I might.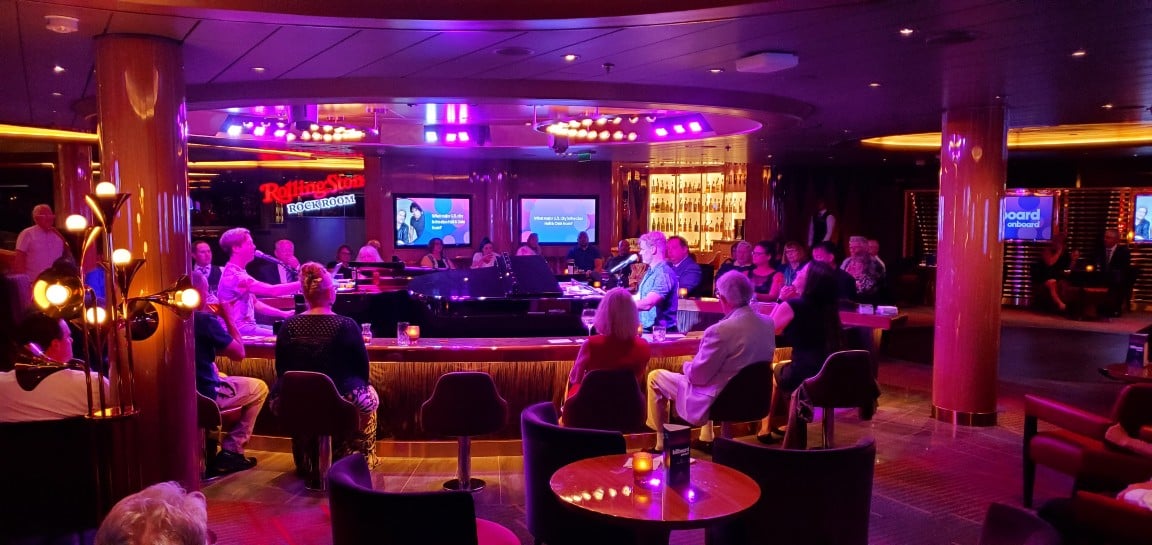 Tuesday Offers a High Dose of Vitamin Sea
Tomorrow is our first sea day and we don't have any plans, but there are so many parts of the ship we've not yet had time to enjoy that I'm really looking forward to it.  One of the areas I expect to spend some time is the mid-ship pool area, which is well laid out and almost feels like an outdoor (though convertible) entertainment and dining complex.  I should also head to the gym…or maybe just have two breakfasts.
Nieuw Statendam Live Blog - Embaraktion Day
Nieuw Statendam Live Blog - Half Moon Cay
Nieuw Statendam Live Blog - Sea Day 1
Nieuw Statendam Live Blog - Ocho Rios, Jamaica
Nieuw Statendam Live Blog - Grand Cayman/Sea Day
Nieuw Statendam Live Blog - Cozumel, Mexico
Be sure to follow along on Instagram, Twitter, and Facebook for more photos, videos, and updates!