Author: Bill June 6, 2021, Updated: June 8, 2021
For the first time in 471 days, we're writing this while enjoying the gentle motion of a cruise ship's movement, and to say that we're delighted to be back is an understatement.  But what's the experience like on Celebrity Millennium?  Is it too restrictive?  Are things up to snuff?  Let's look at the very first day of the first Caribbean cruise back to see since March 2020.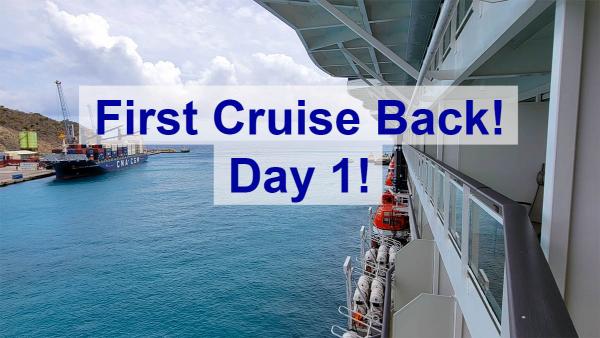 We'll discuss the day and our experiences, but we know there are many questions about the restrictions.  You can find an updated list of restrictions here and if you're looking at sailing from St Maarten, we have tips for managing the testing, vaccine, and other paperwork needed for St Maarten.  Want to make it as easy as possible?  Check out that post. One thing we will say, because we know you're wondering: guests are not required to wear masks on this sailing, as everyone 16+ is fully-vaccinated.
Starting a Cruise in St Maarten
Our cruise started in St Maarten, which is a bit unusual – but mad for a delightful start to a historic journey.  The island is quite unique in that it's small, yet two countries – Saint Martin, a French Territory, and Sint Maarten, an autonomous country in the Kingdom of the Netherlands.  If you've visited this island before, perhaps as a port of call, you know it's a beautiful place.
We flew in two days before the cruise, in part to ensure we'd make it aboard without any challenges, but also because we wanted to have plenty of time to enjoy Philipsburg, on the Dutch side of the island.  We stayed at Holland House Hotel right on Great Bay Beach, enjoying one of the best views imaginable.  In the next couple of week's we'll be posting a video tour with our thoughts of the resort, but if you want the spoiler now, it's simple.  Holland House Hotel has comfortable but not extravagant rooms, that have spectacular views.  The staff is wildly accommodating, and the real draw here are the bars and restaurant areas of the patio.  You'll feel like you're in a movie.  Do note that as of our stay, a lot of things in Philipsburg were closed still, but several business owners said they planned to re-open in the next week.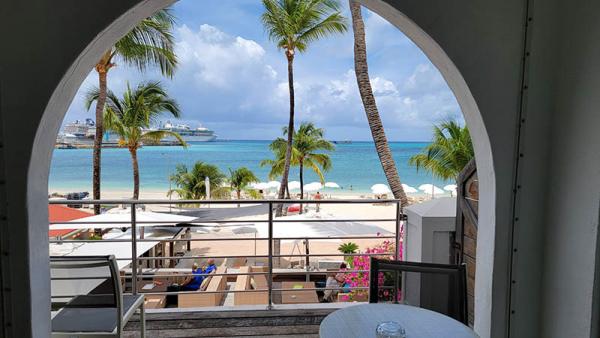 Embarkation on the First Cruise Back
Since this was the first cruise, with multiple restrictions (something we'll discuss in a moment), out of a port that often has ships visiting, but not starting there, we weren't sure how this would go.  The moment we stepped out of the cab, there were staff helping us with checked bags, verifying our documentation, and pointing us to the next stop. 
Multiple verification steps were the name of the game here.  Passports, your Xpress Pass (a boarding pass in the Celebrity App), as well as COVID test and vaccination records, were all verified at multiple points within a five to ten minute period.  Once complete, you're taken to the ship in a large golf-cart, you show your boarding pass once more, and then step onboard.
The whole process may have been the smoothest, least crowded, and fastest we've enjoyed on any cruise from any port.
You can see the video of stepping onboard below.  Be sure to follow on Instagram for more!
A Year Away from Cruise!?  How'd You Start?
Once on the ship we went right to our staterooms, which were ready since there have been no guests onboard in quite a long time.  Once there we unpacked, with our checked bag arriving in just minutes, and then…we went to the gym.  I know this sounds wild, but the last few cruises we've started with a workout.  Perhaps we feel we're atoning for a week of indulgence.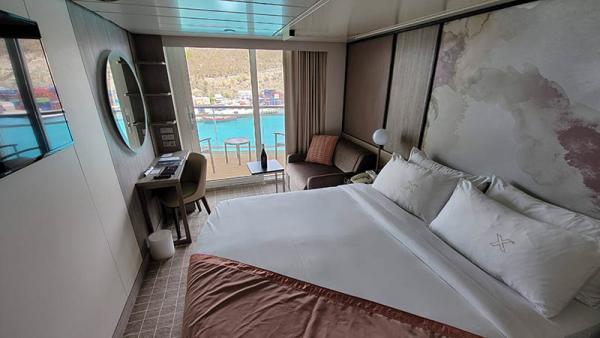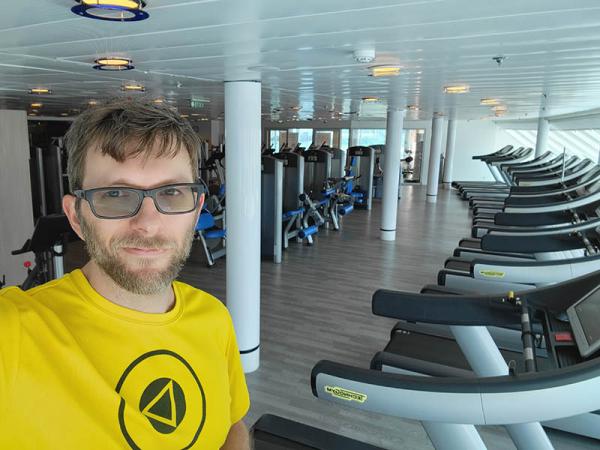 The gym was immaculate as on any ship we've sailed, with additional signing about sanitizing equipment before and after use.  I ran for about 20 minutes, but then realized we needed to muster…sort of.
Muster Drill 2.0 on Celebrity Millennium
Early in the pause to cruising, Royal Caribbean Group (parent company to Celebrity) parented a new muster process, which NCL subsequently licensed.  This new muster process is simple: watch a couple of short safety videos in the Celebrity app, and then go to your assembly station and check in.  You have a window of several hours in which you can do this, which means there is no crowding, and yes folks, bars and other services stay open.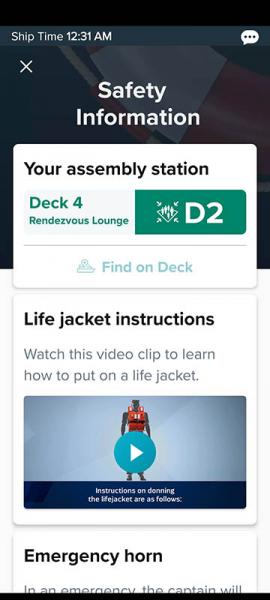 We look forward to this new process on all future cruises, as it really made things easy, was potentially more informative (since you didn't struggle with obstructed views, background noise, etc) and just made for an overall better guest experience.
From muster we went to Café al Baccio, the onboard coffee shop where we often start our Celebrity cruises.  Sitting there with an espresso and gentle music gave me a warm-fuzzy feeling.  This was the result of nostalgia, post-workout exhaustion, and of course, caffeine.  It was great, and we can't wait to be back to one of our favorite spots - and not just for the great cakes and pastries they have there.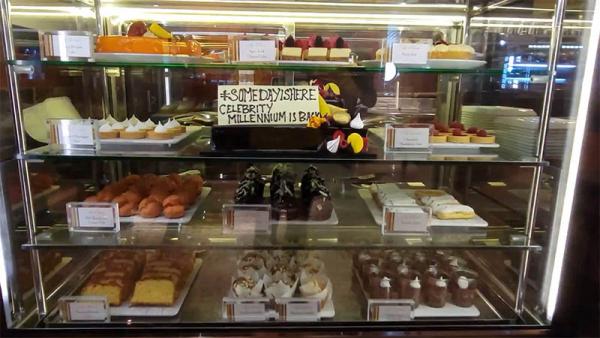 Part Two of the First Cruise Back in the Caribbean
After a badly needed shower, we decided to roam the ship a bit.  As often happens in thee cases, we ended up at a buffet.  That's right, buffets are open!  We had a small snack, since it was a bit late for lunch, and relaxed at the Sunset Bar.  This space is a popular spot on all Celebrity ships, and is all the way after.  The last sail-away before the big pause was actually at this same spot on Celebrity Infinity, sister ship to Millennium.  While these ships are in the same class, Celebrity Millennium has been refurbished as part of Celebrity Revolution, the fleet revitalization project – and it really shows. 
As we sat at the bar, enjoying some great whisky, gazing upon the mountains and shores of St Maarten, a familiar face appeared!  It was Mike Redden, a Canadian vocalist and guitarist we've seen on Celebrity Equinox and Celebrity Edge.  Chatting with him briefly, it was clear that like all entertainers and crew we've met so far, he is absolutely delighted to be back working, and performing in front of a live audience.
Following a few drinks we planned to have dinner, but indecisiveness and the overwhelming excitement of being back to sea got the best of our time management.  In fact, we realized that Celebrity had made a reservation for us early in the evening as part of a three-night dining package – something we'll sort out tomorrow.  These packages, by the way, can represent a great savings, and you should absolutely consider purchasing them online ahead of your cruise – or of course see if your father is kind enough to gift you such a thing.  Thanks again, Dad!
We changed clothes and then headed back to Oceanview Café as we dined with the lights of St Maarten disappearing in the background.  At this point we noticed that, even with all guests onboard, it didn't seem anyone was about.  There were a smattering of folks enjoying the music outside earlier, and we saw a handful of folks in Oceanview – but it was really quiet.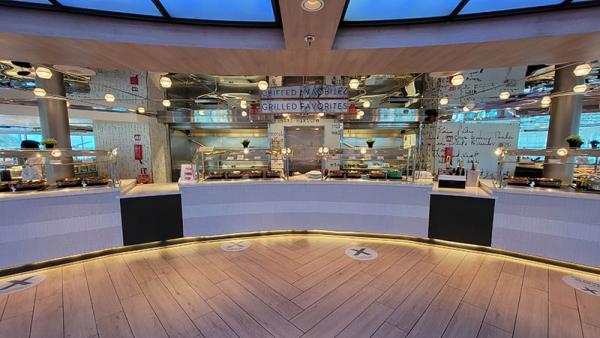 It turns out that while Celebrity initially said they'd cap capacity at 50-60%, this sailing has just over 27% capacity onboard! Just 580 guests are sailing, but the ship is fully crewed.
Wrapping it Up with Karaoke
The late-night venues on Millennium-class ships are Rendezvous Lounge and Sky Lounge, the latter of which is all the way up top and forward.  It offers bright picturesque views by day, but at night it hosts dance parties, karaoke, and fun lighting.
Larissa wanted to sing karaoke and meet with Kym and Craig, who we met at the hotel yesterday.  If you watched some of my Facebook live videos, you may recognize Kym is "screaming arm-waving lady" – she's fun.
I wanted a drink, but opted to walk to the bar instead of enlist the help of a server, as I was curious about the scotch selection in Sky Lounge.  The friendly bartender discussed the options, and when I said I liked Talisker, which they had on another deck, he immediately said he'd run and retrieve the bottle for me.  Talk about service! All of the crew is really aiming to please, as I suspect many are just happy to be back to some kind of normal.  It's always important to reward good service, but on this sailing we're looking forward to getting rid of a large stack of smaller bills – these folks deserve it, especially after such a devastating year.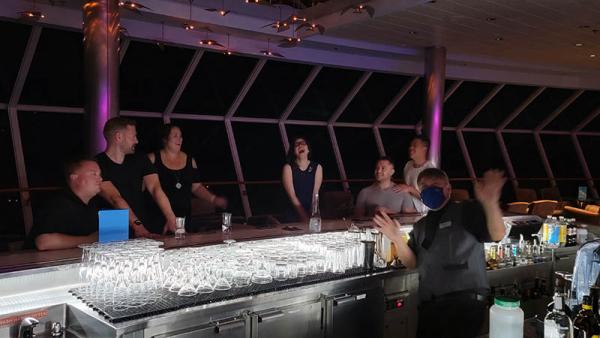 After a few rounds of listening to a variety of musical abilities and consuming a lot of whisky, I started to get a bit tired.  The excitement is still strong, but so is the need for sleep, and we look forward to breakfast at sea for the first time in over a year.
Please make be sure to follow us on Facebook, Twitter, and Instagram, and subscribe to our YouTube channel!  We're doing live broadcasts from the ship and ports of call, answering your questions, and having a great time sharing - so come say hi!  Also, we're sailing Celebrity Edge on July 3rd, so if you want to sail a great ship out of Ft Lauderdale, come join us!