Author: Bill June 6, 2018, Updated: September 1, 2021
From sea to shining sea, Celebrity Cruises and parent company Royal Caribbean Cruises Ltd continue to promote equality and inclusivity, and this year they hosted their second annual Pride Party at Sea.  Olympian figure skaters Johnny Weir and Adam Rippon were on hand as ambassadors at this week's festivities during Pride Month.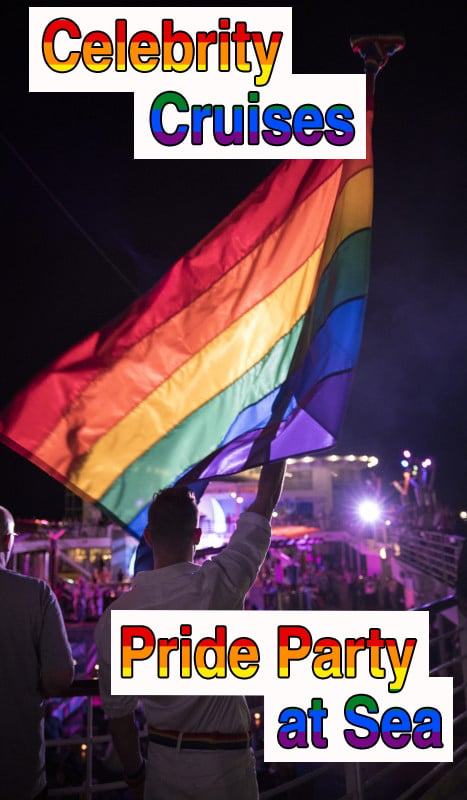 Festivities began on board Celebrity Constellation and Celebrity Reflection yesterday, June 5, in Sicily, Italy, and Cartagena, Spain, respectively.
"Celebrity Cruises has been and always will be dedicated to promoting diversity, inclusivity and equality, and part of the dedication includes knowing when to take time to celebrate the hard work and successes of the LGBTQ+ community," said Lisa Lutoff-Perlo, President and CEO, Celebrity Cruises. "Pride Month is the perfect time to celebrate and, with all of the fun we had last year, it made perfect sense that we'd continue the tradition, only this time it will be twice the fun and twice the party."
Olympic Bronze Medalist Adam Rippon is currently sailing on Celebrity Summit for the celebration, which took place at sea, said: "I'm honored to be an ambassador for Celebrity Cruises' second annual Pride Party at Sea! It's great to collaborate with a brand like Celebrity that is so dedicated to the LGBTQ+ community."
The party took place in across the Celebrity fleet, with each ship "handing off the party baton" to the next ship across hemispheres and timezones.  While you may be impressed when the captain announces how far you've sailed on your cruise, this party traveled more than 10,000 miles to nine ships around the world.
Billy's Take
While events like this can easily be taken as publicity stunts (and certainly, their goal is to get a message out), it's hard to deny that Celebrity and Royal Caribbean have "walked the walk" on equality.  Celebrity alone employs a large number of talented female captains and executives, has become very popular for hosting same sex marriages at sea, supports Teach For America, and partnered with the Malala Fund, as announced when making Malala Yousafzai godmother of Celebrity Edge.  We appreciate and look forward to their continued support of these and other great causes and awareness campaigns.