Author: Bill August 10, 2017, Updated: September 1, 2021
Celebrity Cruises announced this week that Captain Nathaly Albán will command the exclusive Celebrity Xploration through the archipelago of the Galapagos.  This marks the first time in cruise history that a woman will navigate the region as captain and continues the history-making promotion of qualified women to senior officer roles in the cruise industry, including appointments by lines such as Cunard and sister-company Royal Caribbean International.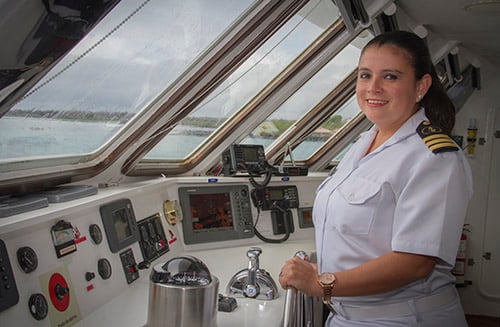 Captain Albán, from Ecuador, comes to rank with 12 years of experience throughout the Galapagos on various ships in the region, first joining Celebrity as third officer onboard the 100 passenger Celebrity Xpedition.
While Regent Seven Seas, Virgin Voyages, Silversea Cruises, Cunard, Celebrity, and P&O Cruises all have female captains, Celebrity Cruises parent company, Royal Caribbean Lines Ltd is notable for promoting Karin Stahre-Janson to be the first female captain of a major cruise line in 2007, additionally, making Kate McCue the first female American cruise ship captain on Celebrity Summit in 2015.
"Empowering strong women and elevating them to deserved leadership roles is a cause that is close to my heart, and one that Celebrity Cruises truly values," said Lisa Lutoff-Perlo, President and CEO, Celebrity Cruises. "When the opportunity presented itself to promote Nathaly, who radiates passion and love for her job and for Celebrity, to captain, the decision was easy."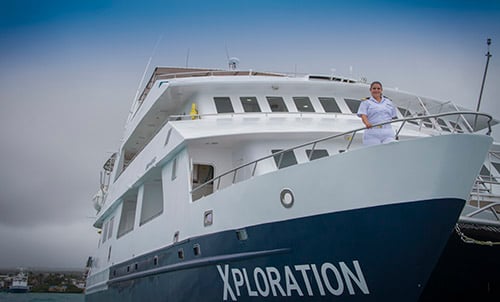 Sailing has long been a male-dominated career, and ​Albán was one of only six women in her graduating class at La Escuela de la Marina Mercante Nacional in Ecuador. In addition to serving Celebrity since 2006, she also served in the FLOPEC Tanker Fleet of the Ecuadorian Navy. 
"Simply put, Captain Nathaly Albán was the ideal candidate for the job and we believe in celebrating and advancing our brightest talent," said Patrik Dahlgren, SVP of Global Marine Operations, Celebrity Cruises. "Our goal is to attract, develop and retain the best people from many different regions of the world and backgrounds. Our industry has typically been very male dominated - yet we believe in inclusiveness and opening up opportunities for all."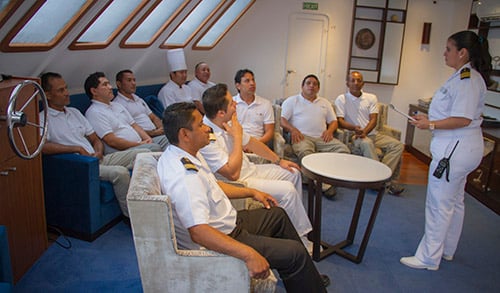 "It is a great honor and privilege – I'm overwhelmed with positive emotion. I told my family many times that I would be wearing white one day and be the first woman to serve as a captain of a ship in the Galapagos, now it's happening and I'm committed to delivering the very best experience for all guests onboard."
Albán will begin her new role on Celebrity Xploration in August of 2017.
Billy's Take
I'm both delighted to see this news and looking forward to the day that this is no more news than the appointment of any ship captain - something that anyone needs to work hard for, but traditionally has seen significantly more barriers for women.  Cruise lines are businesses like any other, and subject to their own flaws, but we have lately seen a trend of promoting equality among various lines, including Cunard and P&O becoming among the first cruise lines offering same-sex legal marriages at sea, Celebrity's support for LGBTQ employees, and of course, multiple lines finally recognizing the value of empowering talented women in the industry.
We're encouraged by this announcement and of course feel more research is needed, so as soon as we can clear our schedule for a 10 night, $7-10k (per person) Xploration sailing out of Ecuador we will catch up with Captain Albán in person.