Author: Bill May 10, 2018, Updated: May 10, 2018
Many cruise lines are offering sailings with stops in Cuba, and now, Carnival Cruise Lines is expanding their offering to include stops in Havana from Charleston and other East Coast homeports.  This represents a significant increase in options, especially for those looking to sail out of Charleston, where options had previously been somewhat limited.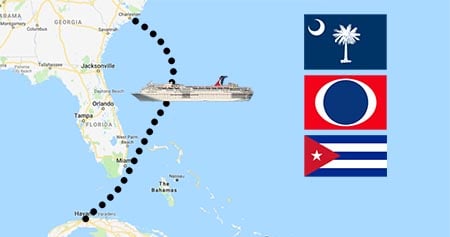 Carnival Sending Largest Ship Yet to Havana
The Carnival Splendor is far from the largest cruise ship around, but at 102,853 gross registered tons (GRT), she'll likely be the largest cruise ship to call on Havana when she sets sail to the capital city in late 2019.  Cruise lines have been slowly sending larger ships as their confidence in the American market for Cuba sailings increases, and Cuba becomes accustomed to more frequent ship visits than when only European lines visited.  Up to now, the largest cruise ship to call on Havana is the 78,000 GRT Norwegian Sun, which only visited for the first time this week after beginning regularly scheduled sailings from Port Canaveral.
Additional Cuba Sailings
In addition to sailings from Charleston, Carnival has also added Cuba sailings to the Carnival Triumph out of Port Everglades (Fort Lauderdale), Carnival Paradise out of Tampa, and Carnival Victory and Sensation out of PortMiami.
Pending any additional changes from other cruise lines, this would mean that Carnival would have the widest variety of cruises to Cuba of any cruise line, spanning a number of embarkation ports and ships.
Overnight Stays in Cuba
Many lines have started offering overnight stays in Havana, something somewhat uncommon among contemporary cruise lines, and Carnival is no different.  Starting in late 2019, Carnival will offer several sailings from Miami with overnight stays in Havana, some of them also visiting Freeport and Nassau, Bahamas.  There will also be at least one overnight sailing on Tampa-based Carnival Paradise, scheduled for November 18, 2019, also stopping in Key West.
Thinking about cruising to Cuba?  We have tips on currency exchange, information about documentation, a live blog from our last Cuba sailing, and more in our Cruising Cuba series.  Check it out!
Billy's Take
As Americans become more and more accustomed to the idea of traveling to Cuba, demand will only increase.  When Royal Caribbean and NCL became the first North American lines to make the trip in decades, many guests had concerns over the country's ability to accommodate cruise guests, despite Cuba being a popular tourist destination for Europeans and Canadians, even hosting a number of European cruise ships on a regular basis. 
Now that people hear stories from friends and families about their trips, and the process remains largely frictionless, not only are more guests ready to take the plunge, but a wider variety of guests are interested – not just those with significant travel experience.  What makes this interesting is that because of limitations to the size and capacity of ships visiting Cuba, younger cruisers, and those with families looking for the bells and whistles of the newest cruise ships still have to choose between the allure of Royal Caribbean's Harmony of the Seas, the Carnival Vista, or Norwegian Escape, and a trip to Cuba on a medium-sized ship.  To us, this choice is largely a false one, as cruisers, especially those new to this style of vacation, tend to think some of the more seasoned and less-massive ships are a major compromise, when the reality is that many guests actually prefer them.  Perception is reality though, so this will be something cruise line marketing teams will have to battle until Havana's major port overhaul is complete in several years.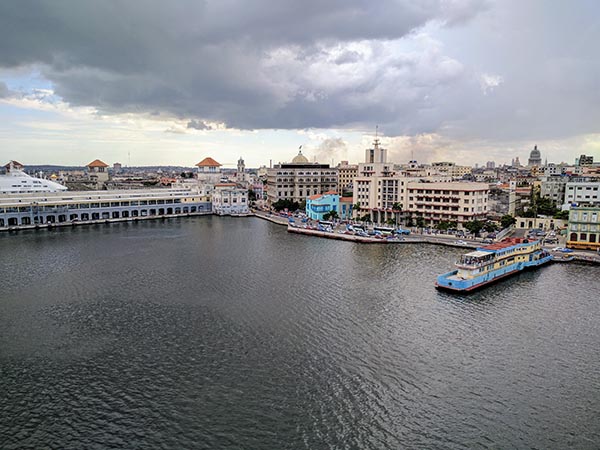 Not to be overlooked in this announcement is the fact that so many of these new sailings will be out of Charleston, which has very much been a "secondary" (or even tertiary) cruise port.  A few months ago we discussed Carnival adding tonnage to other smaller ports, such as Tampa, New Orleans, and Galveston, and explained why it's a significant sign of market strength.  Charleston and Jacksonville are two ports that remain very small in cruise volume (with only a single Carnival ship regularly sailing from either of them), but never the less important.  As airfare can be a significant barrier to those looking to cruise (especially families and first timers), offering a variety of options from these ports is certainly a way to help feed the CruiseHabit of those with easier access to those cities, and cruise lines hope, a great way to continue gaining revenue from their older, but still fantastic ships in these ports.
Do any of these new options appeal to you?  How long do you think it will be before Cuba sailings are somewhat unremarkable to Americans?  Comment below, or reach out on Twitter or Facebook!