Author: Bill March 30, 2019, Updated: March 30, 2019
Recently we had a chance to tour Carnival Conquest in Port Everglades and were rather surprised to experience a ship that is very different than any other we've been on.  We'll share some of what stood out on Carnival Conquest, along with a number of pictures and video so you can get a feel for the ship's unique look.  At the end we'll offer up our take and even talk about who we think might really appreciate Carnival Conquest.  
Be sure to check out the photo gallery and all videos (they'll play one after the other) near the bottom of the article.
Carnival Conquest Stats & Facts
Maiden Voyage: November 12, 2002
Class: Conquest Class
Builder: Fincantieri​
Build Cost: US $500 million
Tonnage: 110,000 GRT
Size: 953 feet x 116 feet 
Conquest was originally homeported in New Orleans, and her Godmother is former Louisiana Congresswoman (and mother to journalist Cokie Roberts) Lindy Boggs.  Her Louisiana roots are seen in her French Impressionist decor in most public spaces.  She now sails primarily six and eight night Caribbean cruises from her homeport of Port Everglades (Ft Lauderdale), Florida.
Things That Stood Out on Carnival Conquest
Lunch Express Elevators
It seems Carnival developed a nice technique for avoiding the elevator madness that happens on embarkation day.  For the last year or two, some ships have had "Lunch Express" elevators, which only go between the embarkation deck and the deck with the buffet and other dining venues.  This was new to us as it's been a bit since we sailed Carnival, and our last visit was on Carnival Vista, which didn't yet have her "smart elevator" system.  We appreciate this reasonably low tech approach, and it really seemed effective, making quick work of getting between the two most popular decks at embarkation.  This also freed up the other elevators for those wanting to get to other places on the ship.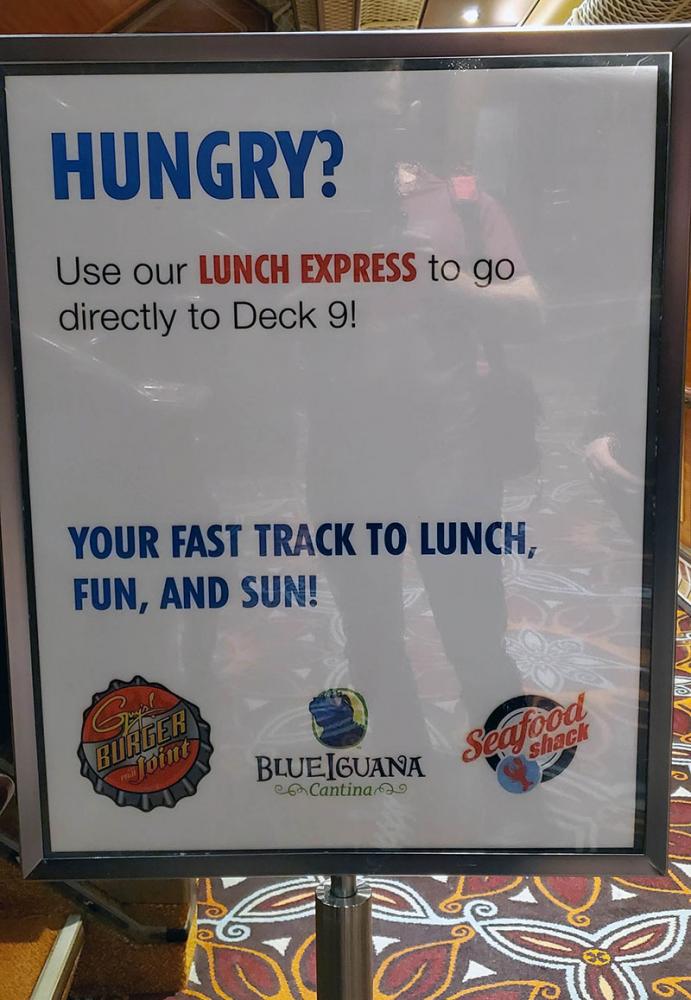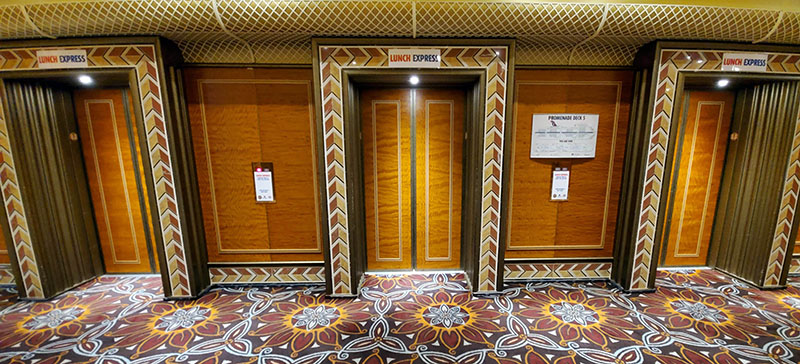 Toulouse-Lautrec Main Lounge
Certain styles and decors just work best in specific spaces, and we thought the vibrant colors, tributes to French artworks and decor made for a really beautiful theater.  More and more we see a change toward a far more contemporary look in theaters - which is great, but this was a really classic looking space with some unique touches.  What else did we love here?  Drink tables!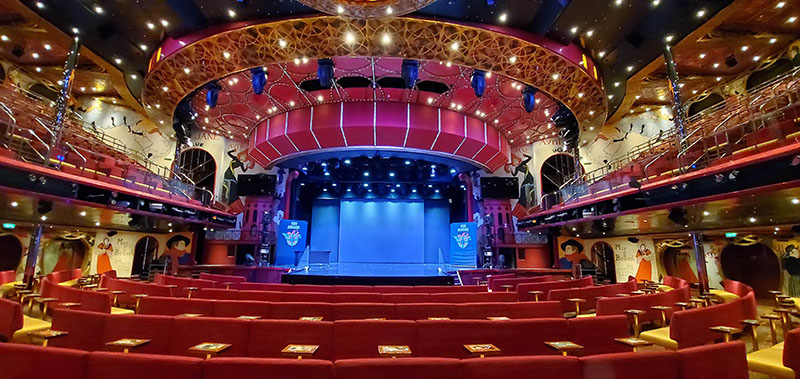 Skybox Sports Bar
I am not a sports person (though I did enjoy just enough hockey to ensure I'll one day need some sort of surgery), but one of my favorite spots on this ship was actually the Skybox Sports Bar.  It's one of the few areas not decorated in a French Impressionist style, but it is highly themed.  The Skybox is located just off the atrium, and they clearly didn't have much space to dedicate.  The long and narrow venue is however similar in shape to a skybox, and with a ton of televisions, good seating space, and windows (which unfortunately, most patrons will likely have their back to), the Skybox Sports Bar seems like an excellent use of space and a fine example of making something great with the restrictions one is given.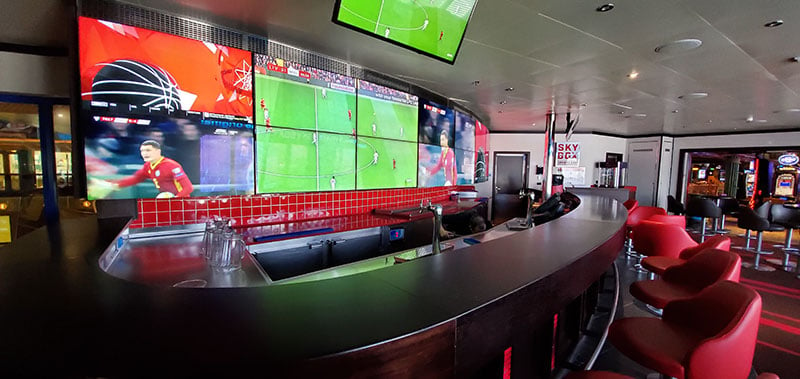 The Studio Atrium
Much of Conquest's design and decor felt a bit busy to me personally (but there is a good side to this part - more on that in a moment), but in the mid-ship atrium, this worked very nicely.  The accents, furniture, ceiling, and walls were all oozing with as much of the ship's central theme as Carnival could possible pack in.  What made this so great in the atrium is that the multitude of surfaces because of the unique shape mean there is more artwork to admire every place you look.  If you've ever been to the Vatican museums (not a fair comparison, don't get me wrong) you know what it's like to be in one space and realize you can never possible catch every painting and fixture that is right in front of your eyes.  Further, the bar is well placed and has flower-like patterns lit from below the bar surface.  During the chaos of embarkation I'll admit it can be a bit much, but I think this space would be rather enjoyable for pre-dinner drinks.  You can find a number of angles of this space in the videos below.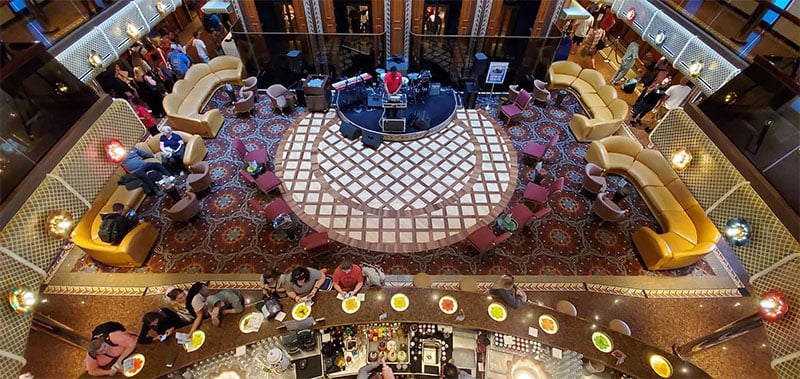 Billy's Take on Carnival Conquest
First, the basics.  Conquest seems logically laid out, offers many good places to enjoy ocean views, didn't feel too crowded on embarkation day, and is generally in good shape.  She offers more lounges and restaurants than we were even able to visit (in part because there was a wedding reception going on while we were onboard), and in these ways I feel she nails the basics.
That in mind, this is truly one of the most "out there" ships I've ever seen in terms of design and decor.  Several times I said aloud that I felt like I was in Disney World (especially when on the upper-level of the Grand Buffet).  The French theming was thick, as if in a planning meeting a project manager said, "I want you all to remove subtle from your vocabularies."  In some areas I thought this worked really well - such as the theater and the atrium.  In others, such as the buffet area and some spaces near outdoor decks, it didn't resonate with me.  Why?  I suppose while every ship has it's own style the fact is that some styles have starker contrast to the Caribbean, where this ship sails.  On Carnival's sister line, Holland America, I never felt the New York theme of Nieuw Amsterdam was in conflict with my surroundings, but I imagine that a bit harder to say on Conquest.  
The nice thing about all of this however, is in fact just how unique this ship is.  I've been lucky enough to sail many different ships built for different markets, in different times, and on different lines.  Each of them has had their own unique style and feel, but from the highest-end small luxury ships, to the largest megaships offering high-energy family fun, there was a range that I'd not reconciled in my head until visiting Conquest, as she falls far outside of these norms.  It's for this reason, that I realize exactly who this ship might be great for - the Florida resident who has taken every 3-7 night sailing one can imagine and wants to be woken up by something really different. 
What I'd really like to do is see how this ship looks and feels at night.  Most ships have a materially different feel once the sun sets, and I'd imagine that the lighting and textures (particularly those in Vincent's Bar and the Degas Lounge - check the photos below) could be spectacular.  I'll admit though, that I wish she made three and four night runs from Ft Lauderdale, as I'm not personally sure my senses are quite ready for this type of stimuli of an entire week.
Carnival has clearly taken a different direction since the departure of Joe Farcus, and I'd be very interested in seeing what Carnival would build in 2020 if they were aiming for a New Orleans and French theme, though I suspect we'll find out soon as we see the French Quarter "zone" and other spaces on the upcoming Carnival Mardi Gras.