Author: bill September 13, 2020, Updated: October 30, 2020
While most cruise lines have continued their suspensions of service since mid-March this year, there are some lines that have started sailing again.  These sailings have taken place primarily in Europe and the challenges and ways lines have dealt with them have varied.  We'll look at what some major lines are doing to return to service.
MSC Cruises
MSC is a major cruise line with a big footprint in Europe, and they've become popular in the US in recent years as well. (We enjoyed our first MSC cruise on MSC Seaside in the Caribbean, which you can read about here.)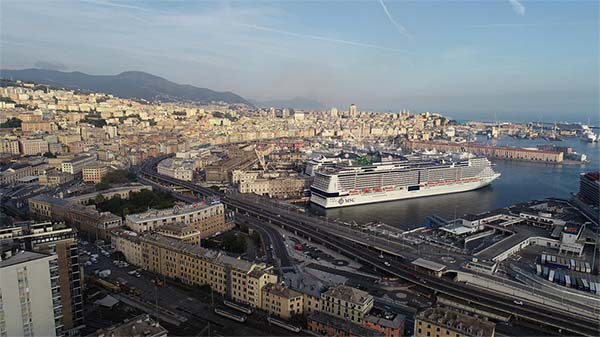 On August 15th MSC Grandiosa set sail from Genoa, Italy for a seven-night cruise – the first Mediterranean cruise in many months.  They visited Naples, Palermo, Sicily, Valletta, and Malta. For safety reasons, the sailing was restricted to 70% of the ship's capacity, and it was reported that approximately 2,500 guests sailed.   Only guests who are citizens of Europe's Shengen-area countries were permitted to sail.
TUI Cruises
TUI is a German cruise line which is a joint venture between TUI (a large travel and tourism company) and Royal Caribbean Group – each with a 50% stake in the company.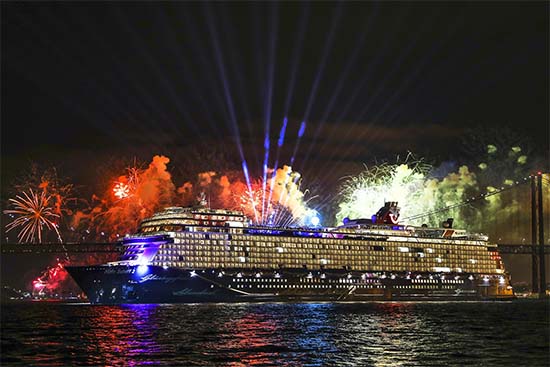 On July 31st TUI's Mein Schiff 2 sailed a three-night cruise from Hamburg, Germany – but it was a cruise to nowhere.  Without any stops, guests on Mein Schiff 2 sailed through the Norwegian Fjords (a beautiful way to spend time, in our experience) – meaning that the guests and crew were isolated from the rest of the world during the entirety of the journey.  In total, about 1,200 guests sailed, far less than the 2,900 the ship can usually carry, and even shy of the 1,740 TUI was permitting to sail.
What These Cruise Lines Did to Prevent Outbreaks
While we can't begin to list every procedural and equipment change that the cruise lines made, we'll first go over some of the major changes that both TUI and MSC made for their successful sailings.
Steps Both Lines Took
All crew were quarantined before sailing and given several tests before and during the voyage.
Guests and crew were required to wear masks and required to maintain distance from one another when not able to do so.
Embarkation was staggered.  This is the way it's generally scheduled for larger cruise ships – but it seems here it was enforced to ensure a limited number of people were checking in at the same time.
Guests' temperatures were checked before boarding.
Buffets were not self-service.  Guests queued up (at a distance) and were served by crew.  This has been done on many lines for years, but we suspect it will become the standard on all lines for at least a time.
HVAC systems were updated to reduce the likelihood of contagions going from one room or section of the ship to another.  This includes HEPA filtration and other measures.
Enhanced sanitization procedures (more frequent wiping down of high-touch surfaces, greater availability of hand sanitizer).
Notable Differences
On MSC, all guests were given wristbands similar to what MSC Yacht Club guests usually get, and what Royal Caribbean calls "WOW Bands".  These allow guests to pay for things onboard without touch any surfaces.  Additionally, if an infection does arise, it allows for detailed contact tracing.  MSC's newer ships can locate these bands down to a very small area – which they previously used so that guests could easily find friends and family onboard.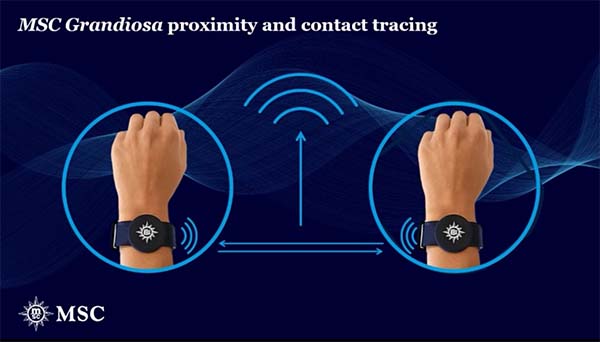 Because MSC Grandiosa stopped in a number of ports, in order to disembark, guests were required to book excursions through the cruise line and stay with the group.  We'll discuss this more in a moment.
Interestingly, TUI did not require guests to be tested for COVID before or at any point during the cruise, whereas MSC tested guests at the port of embarkation, and denied any traveling party in which one person tested positive.
You can see a bit of what things look like onboard Grandiosa in the video below (narration in Portuguese).
Com o #MSCGrandiosa de volta navegando em alto mar, queríamos ouvir de nossos incríveis hóspedes sobre a experiência que passaram conosco.
Para saber mais sobre o que nossos hóspedes têm a dizer, clique aqui https://t.co/MvwYFSOmRV. #UmMundoDeDescobertas pic.twitter.com/iPjGdMkSgS

— MSC Cruzeiros Brasil (@MSCCruzeiros) September 10, 2020
Some Sailings Didn't Go as Well as Others
Unfortunately for some other cruise lines, and for some guests, not everything went well in the past month as cruising attempts to make a comeback. 
Small ship lines Hurtigruten and SeaDream Yacht Club both started sailing but separate incidents quickly resulted in a pause in operations.  Similar issues fell upon Carnival Corporation & plc.'s AIDA, a German cruise.  In these cases, some passengers or crew tested positive either before sailings started or during the voyage.  In one case with AIDA, crew members tested positive in quarantine before the cruise started (and before guests boarded), so the cruise was cancelled.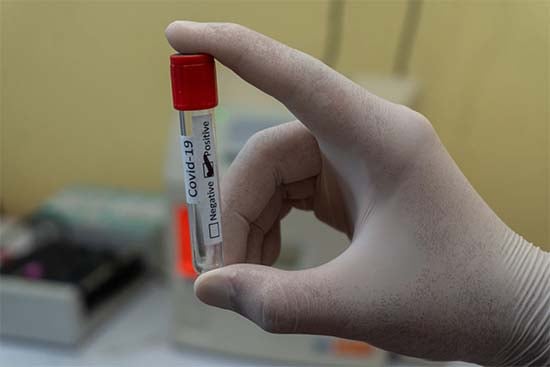 Despite the success of the Mein Schiff 2 and Grandiosa sailings, TUI and MSC also had their struggles.  TUI's Mein Schiff 1 was scheduled to set sail just after Mein Schiff 2, but several crew members tested positive and the sailings were cancelled.  MSC had planned on Magnifica sailing the Mediterranean just after Grandiosa, but those sailings were pushed back to October 29 because of challenges related to testing restrictions for her calls to Greece resulting in some guests backing out.
In what could be marked as both a success for the cruise line and guests but a failure for some, a family on the Grandiosa sailing we highlighted above was actually denied boarding in one port of call because they strayed from an excursion.  The family had to fly home and miss the rest of the cruise as the cruise line didn't want to risk them mixing with other guests since they couldn't account for that family's interactions on shore.
What We're Looking Forward to Next
In many things, just getting started is the hardest part (trust me, I meant to write this post two weeks ago), so we're happy to see cruise lines in Europe starting up so industry and consumer confidence can be restored.
We recently wrote about NCL and Royal Caribbean Group's (RCG) "Healthy Sail Panel", a collaborative effort lead by a variety of experts in public health and other fields, with an aim to figure out how to safely resume cruising.  It seems a safe bet that this panel and many other industry experts are assessing the experiences of TUI, MSC, AIDA, and others.  The recent successes and failures, as well as the many yet to come, will be essential in getting guests back to sea – as all the hypotheticals, table-top exercises, and lab research (important as they may be) can't match real world experience.
Of course, there is a world outside of cruising too, and other industries will provide learnings and tools as well.  In early September, Abbott Pharmaceuticals was given emergency use authorization by the FDA for the BinaxNOW COVID-19 Ag Card – a rapid antigen COVID test.  This test can be done at point of care (doesn't require a lab), costs about $5, and produces results in 15 mins.  There is even an app used as a "digital boarding pass" to show your results.  This could allow for much more practical screening of guests, crew, and contractors.  The test isn't as sensitive as some others, and a recently infected person might not test positive with any test – so not perfect, but a step in the right direction.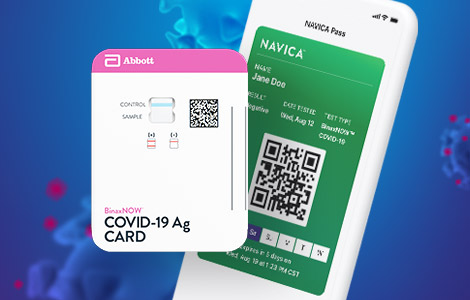 If you want other ideas of what things might look at as cruising ramps back up, keep an eye out as the Healthy Sail Panel publishes findings, and review the steps NCL has already taken to help ensure cruising is as healthy and safe as possible.
Check out our video explaining the Healthy Sail Panel
Final Thoughts from Billy
We're still a long way off from most of us simply booking a cruise and showing up ready to relax – but we're closer than ever (a sentiment shared by RCG's Richard Fain) and things do feel a bit more hopeful as we learn more every day.
While cruising often gets a bad rap as an industry, it has one powerful advantage over almost all others: the ability to have nearly absolute control over each part of the experience.  In fact, MSC highlighted this in a rather remarkable way with their restrictions requiring that guests book excursions through the cruise line so they can be allowed to disembark.  This move may have seemed greedy to some, but it allows them to extend the careful control of who guests interact with and how, even when off the ship.
In any situation, the elements we can't control are especially tricky, but as we learn more every day, cruise lines can modify equipment, procedures, and more in order to control for the best and safest experiences available during these tricky times. 
There is of course one "symptom" that no cruise line or public health expert has addressed yet – the sinking feeling we all get when a cruise ends and it's time to disembark.  That's a feeling we're looking forward to coping with.