Author: bill October 12, 2016, Updated: February 13, 2018
When a cruise ship is has been sailing in one region, and takes a long trip to start cruising another region, this journey is often billed as a "repositioning cruise."  They allow guests to spend a lot of time on the ship, usually at a far lower nightly cost than other sailings.  Let's look at where they go and why they're often so long...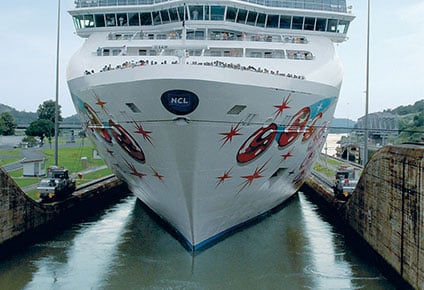 Aren't ships always changing position?
Often we think of cruise ships as repeating the same itinerary or two over and over, but that isn't always the case.  Some ships, especially smaller ships in the upper end of the market, may roam around quite a bit, repeating itineraries far less than you might see on the mega-ships of contemporary cruise lines.  More commonly though, a ship might spend one part of the year in one region, and the rest in a totally different part of the world.  Let's look at the Royal Princess' 2016/2017 schedule as an example:
November 6th through April 9th - sailing out of Port Everglades (Ft Lauderdale), alternating primarily between 10 and 20 night Southern Caribbean sailings
April 19th - Port Everglades to Rome (28 nights) *repositioning*
May 28th - sailing 7 to 21 night sailings out of Rome, Athens, and Barcelona
October 21st - Barcelona to Ft Lauderdale (15 nights) *repositioning*
September 22nd... - sailing out of Port Everglades (Ft Lauderdale), alternating primarily between 10 and 20 night Southern Caribbean sailings
As you see, when the Royal Princess has to change regions, she, just like other ships, takes on passengers for her voyage from Europe to North America.  What if this was a ship like the Disney Wonder, which sails the Caribbean part of the year, and Alaska during the Summer?  Those repositioning cruises go through the Panama Canal.
Wondering about these market segments? Contemporary, premium, luxury, etc.  We explain the differences between lines and help you pick the right cruise line for your vacation.
Are repositioning cruises always weeks long?
While crossing the Atlantic or going from Florida to Alaska is a long trip, there are some shorter repositionings.  The Disney Wonder and Emerald Princess for example, have 3 and 4 night sailings that are part of repositioning sailings sold as separate segments.  If a ship is heading from Florida to Alaska, she'll likely make a stop in California after 7-10 days, and some guests may choose to board in San Francisco and disembark in Vancouver, for example, before the ship begins a season of Alaskan sailings.  In fact, in 2016, we sailed on the Oceania Regatta from San Francisco, stopped in Astoria, Oregon, and stayed on for an Alaskan sailing before disembarking in Vancouver.  It was fantastic taking a somewhat less than traditional itinerary.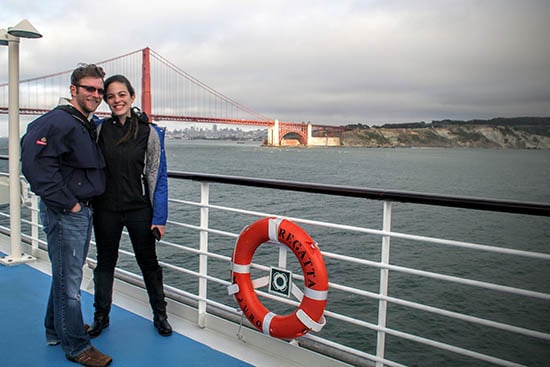 More than just distance makes some repositioning sailings long. 
Looking at the Norwegian Jade on September 25th 2017, you probably aren't surprised that it takes 11 nights for her to make the long journey from Southampton, England, to Ft Lauderdale - but then why can Cunard's QM2 do this multiple times a year in only 7 nights?  The short answer is that going faster burns more fuel.  For some lines, like Cunard, passengers are going specifically for the Transatlantic journey, and they're willing to pay a premium for it.  Therefore, Cunard wants to fit a good number of these crossings on their schedule, but they still have to maintain a balance, or else they'd make the crossing in only 5 nights, as they're well capable of doing.  Most guests looking for a Norwegian cruise however aren't looking to cross the Atlantic, so the cruise line can't fetch as high of a price as they'd like, and cutting fuel helps their bottom line on these sailings.  
Not long ago speed was the goal, and lines fought for the Blue Riband, a distinction given to the fastest Atlantic liners.
In addition to fuel use, it isn't terrifically uncommon for some more substantial maintenance to be done during these longer sailings, though generally nothing disruptive to passengers of course.  Sometimes this work relates directly to the new location out of which they'll be sailing, like when Royal Caribbean converts Rita's Crab Shack into Rita's Cantina on Brilliance of The Seas as she returns to the Caribbean from Alaska.
So if there is less demand then all of these repositioning cruises must be a bargain, right?
Sometimes.  While it's true that this is often the case, these sailings have become more popular, especially with bargain hunters, which has driven up the prices. Further, transiting the Panama Canal isn't free, and can cost $80,000-100,000 each way for a cruise ship, depending on size and passenger capacity.  For both of these reasons, we can look at NCL and see for example that the per night cost of a Transatlantic sailing ranges from $30-$117 passenger/night. their scheduled Panama Canal crossings range from $40-$128+ passenger/night.  
Quick Fact - Prior to completion of the PanaMax expansion, the most expensive Panama Canal 'toll' was paid by Disney Cruise Lines when the 964 foot long Disney Magic paid $331,200 for the privilege.  
I like long cruises and good deals.  What's the catch?
Maybe none - it depends what you're looking for in your cruise vacation.  I've written before about how important it is to find the right cruise and cruise line for you.  In this case you have to ask if you're looking to see many new places, or if you just want to relax and enjoy the amenities of the ship for over a week.  Some people can't imagine not getting off the ship for that long, though I personally love the idea of having nowhere to go, sitting by a window, and watching the water go by.  Even if this sounds great, there is also the consideration of vacation time, and the logistics of potentially flying to and from two different ports.
The bottom line is that repositioning cruises can offer a getaway, alternative transportation to flying, and can be a great deal compared to more traditional itineraries.  If this all sounds great and you do want to visit some more ports, remember that you can always book the sailing just before or after a repositioning cruise (why not both?) so you can extend your trip, visit a new part of the world, and enjoy numerous ports.  The best way to find repositioning cruises?  Use a good travel agent, we can't stress this engouh.
Have you ever taken a repositioning cruise?  Are you curious about taking one of these sailings?  We want to hear from you in the comments below!  You can also reach out on Facebook or Twitter.