Author: bill December 1, 2018, Updated: December 1, 2018
This week in Miami Virgin Group Founder Sir Richard Branson and Virgin Voyages President and CEO Tom McAlpin joined Miami-Dade County Mayor Carlos A. Gimenez, Chairwoman of the Miami-Dade County Economic Development and Tourism Committee Rebeca Sosa and other government officials to announce plans to build a new cruise terminal for Virgin Voyages.  Branson also announced that bookings would soon open.
Virgin Voyages New Terminal
Just as Celebrity (seen here just before opening) and Royal Caribbean have built new terminals to make for a more elegant and smooth embarkation process, it looks as though Virgin's new facility, planned to be 100,000 square feet, will also be far more than roof and walls with check-in desks.  Slated for completion by November 2021 pending finalization of government approvals, the terminal will occupy the northwest side of PortMiami's Dodge Island.
"Miami is an incredible city and one of my favorite places to work and play," said Branson. "From our headquarters for Virgin Hotels, Virgin Voyages and now Virgin Trains USA, South Florida has quickly become another home for Virgin brands in the leisure travel sector."
"South Florida is our home, and with our fleet now growing to four ships, we're humbled and thankful to soon have a gorgeous new terminal overlooking the Miami skyline, an incredible view that will set the stage for the alluring journey that we will take our sailors on," said McAlpin.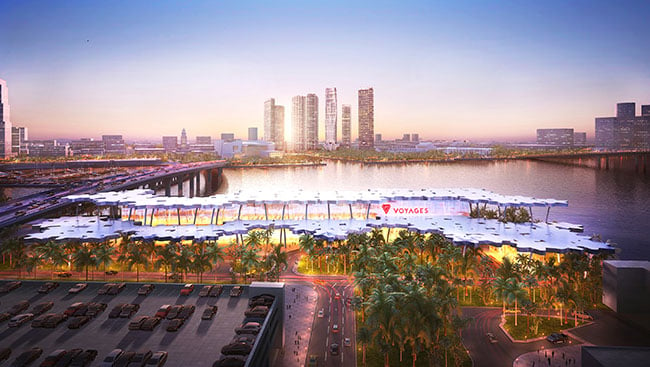 Miami-based designers from Arquitectonica worked with Virgin on the concept combines Virgin Voyages' design ethos of the Modern Romance of Sailing with local Florida flora and architecture.
The palm grove design is inspired by Miami Beach's iconic palm trees and the island's historical origins as an area intended for harvesting coconuts. The terminal's rooftop is designed to resemble a palm tree grove with rooftop pockets that allow natural light to flow into the building by day, and up lighting by night that will light up the company's iconic Virgin Voyages red logo and allow the facility to shine bright, mirroring the city's skyline. The two-story storm-proof glass facility will be replete with lush landscaping giving the terminal a plaza-like feel with designated areas for drop-offs of VIP's, ride-sharing and provisioning, designed to provide a seamless shore to ship experience.
"It's gratifying to see Virgin Voyages expand its presence in Miami-Dade County," said Miami-Dade County Mayor Carlos A. Gimenez. "By constructing a new cruise terminal at PortMiami, Virgin Voyages is signaling its confidence in our thriving community, which is not only the Cruise Capital of the World but also the Gateway to the Americas."
Virgin Voyages has promised a number of sustainability efforts, and this is no exception, as the new Virgin Voyages PortMiami Terminal is targeting a LEED Gold Certification from the U.S. Green Building Council.
Virgin Voyages Bookings to Open in February 2018
At the event, Sir Richard Branson also announced that the general public can begin booking sailings on Virgin Voyages on February 14th, 2019.  Those who were able to deposit last year will be able to book a bit earlier on February 5th, 2019.  The range of sail dates initially available isn't yet known, though Branson did note that Virgin's second ship will will sail from Miami during winter season in 2021/22.
Billy's Take
It's no surprise that a company so intent on maintaining a unique brand will have a terminal to go with it.  Further, we've seen NCL, Royal Caribbean, Princess, and Celebrity all work on making the check-in experience a smoother one that takes place in much nicer facilities.  What is curious is that while Virgin Voyages' first ship, Scarlet Lady, is set to sail in 2020, the terminal isn't expected to be completed until late 2021.  While PortMiami has not shortage of other facilities which can be used, we have to wonder why this aspect of the brand wasn't settled in a more timely manner.  Either way, it's exciting to see this new line continue to take shape.