Author: Bill October 31, 2017, Updated: November 1, 2017
The Fincantieri's Sestri Ponente ship yard in Genoa, Italy today hosted Virgin Voyages Founder Sir Richard Branson and CEO Tom McAlpin accompanied by the singing of Boy George.  The event served as both the keel-laying ceremony for Virgin Voyages' first 110,000 gross ton ship and a party to announce additional details around the highly-anticipated cruise line.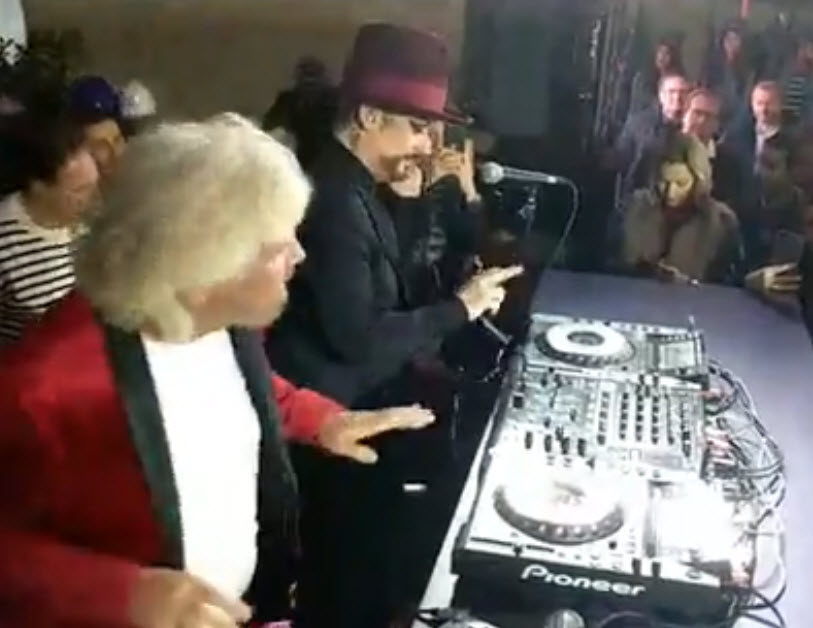 Virgin Voyages welcomes...adults only 
One of the big reveals today (though not surprising to us - keep reading below), was about who won't be sailing on Virgin's first vessel: anyone under 18 years old.  CEO Tom McAlpin (formerly of The World and Disney Cruise Lines) called this an "adult by design" concept, where guests will find an experience targeted to those 18 and older, something that they say consumers asked for.  "No kidding", they quip on their website.  
Who else isn't welcome?  Passengers
Depending on the cruise line the people vacationing at sea might be passengers, guests, or cruisers - but not on Virgin Voyages.  The company, clearly breaking some molds, is referring to future customers as "sailors".  
The Ship
The steel cutting ceremony earlier this year revealed some details around the 2,800 passenger ship, but today we saw a much more detailed render than before.  "We wanted to make it sleek, make it fun," McAlpin said - and it does look sleek.  With a silver-grey hull, red stack and accents, including a mermaid, sailors will love that 86% of staterooms have verandahs, and 93% will have a view of the ocean.  The company has also partnered with clean-energy startup Climeon to to turn onboard heat-waste into energy.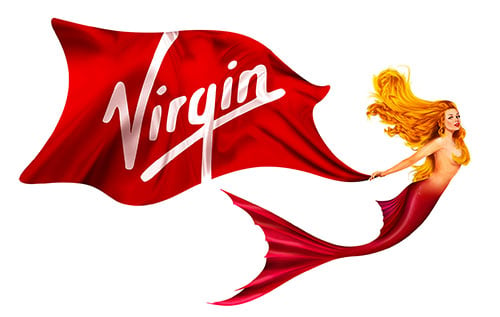 At today's keel-laying event, ceremonial coins were welded into the keel for good luck, observed by the Virgin Voyages team as well as Bain Capital Chairman Stephen Pagliuca and Fincantieri General Manager Alberto Maestrini.  Not so traditional?  Boy George DJing the event.
"She will be the most recognizable ship sailing the seven seas, delivering an irresistible sailor experience," Branson said. "We're also committed to making sure our crew are the happiest at sea and will be proud to sail with us."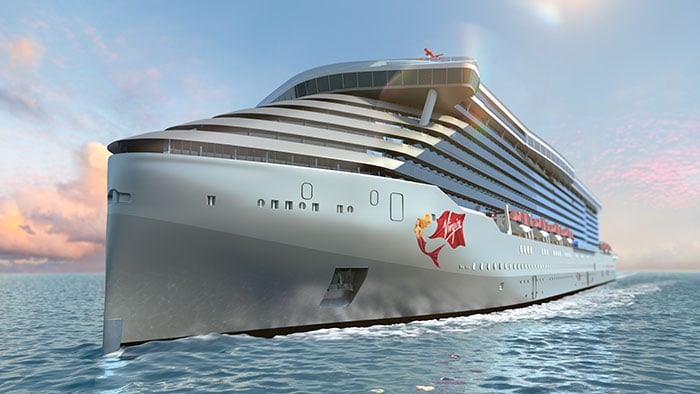 You can book a Virgin Voyage now! Sort of.
Also announced at today's ceremony was the option for guests sailors to put down a $500 deposit, allowing a first crack at booking.  The deposit is fully-refundable, but Virgin Voyages will be holding onto your money long ahead of time, as their first and yet-unnamed ship doesn't start sailing until some time in 2020.
Get a sneak peak video of our first #VirginVoyages ship. Cruising will never be the same. #VirginVoyages #ShipTease pic.twitter.com/iqJ3FTVue7

— Virgin Voyages ⚓️ (@virginvoyages) November 1, 2017
Billy's Take
I've made no secret that based on everything we've been told so far, Virgin Voyages will be right in our wheelhouse.  Today's announcement with regard to their 18 and up policy further cements that.  This didn't come as a surprise however, as we noted back in March that the video from their big press event didn't show a single child.  To be honest, nothing huge came out today aside from our speculation being confirmed and the more advanced renderings of the ship and her livery.  One thing that didn't get much attention however was Branson's remark about having the happiest crew at sea.  This is refreshing in an industry that has long employed incredibly attentive professionals working long hours, often for little pay - we sincerely hope it's more than lip-service and are willing to pay for this to come true. We're actually quite curious about how pricing works out for a few reasons - as the passenger-crew ratios are similar to that of other premium lines, but the product promises to be quite different.
It will be exciting to see the next announcements - not just because we're looking forward to sailing, but because witnessing a new cruise line come about is something very rare - especially when it comes with the unique spin and flare of Sir Richard Branson.
What do you think about today's Virgin Voyages updates?  Have you seen where our $500 went?  Comment below or reach out on Twitter or Facebook!