Submitted by

Bill

on Tue, 06/11/2019 - 14:04
Today in Toronto, Virgin Voyages announced the historic appointment of Captain Wendy Williams, and revealed new itineraries for the 2020 inaugural cruise season, replacing previously scheduled calls to Cuba. Included in their reveal were some newly announced seven night sailings!
First Female Canadian Cruise Ship Captain
It was announced today by Virgin Voyages founder Sir Richard Branson, and CEO and President Tom McAlpin, that Captain Wendy Williams was appointed Master of Scarlet Lady - the lines first ship. Captain Williams will be the first female Canadian cruise ship captain for a major line.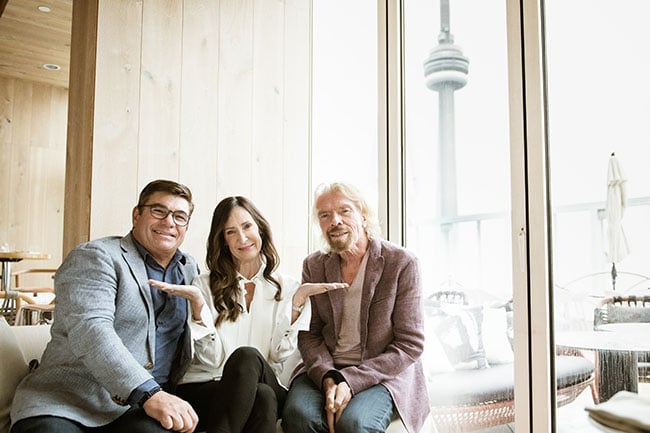 "Captain Wendy's extensive maritime background makes her an excellent choice to lead the Scarlet Lady, but it is her spirit and drive to approach life at sea differently that make her the perfect fit to join the Virgin Voyages family," said Tom McAlpin, president and chief executive officer for Virgin Voyages.
Originally from the coastal city of Sept-Îles, Quebec on the Northeastern coast of Canada, Captain Williams lives on her farm on Vancouver Island in British Columbia. Brining to the table more than 28 years of experience working on ships at sea, her extensive background includes more than a decade as a deckhand in commercial fishing off the western coast of Canada as well as working as a ferryboat captain. Although she has spent more than 15 years working on the bridge of mega cruise ships, her role with Virgin Voyages will be her first promotion to Master of a cruise ship.
"I have salt water in my veins and nothing brings me more joy than being at sea," said Captain Wendy Williams. "It's a dream come true to be working with Virgin Voyages, a company that is focused on creating an incredible experience not only for our Sailors but for our Crew as well; while also taking action to minimize our footprint on our oceans."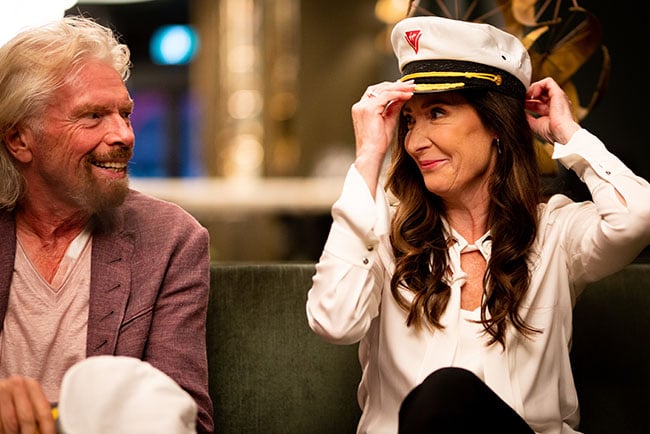 Today's announcement also revealed that while still in planning stages, the company has already recruited nearly a dozen other female officers, including Hotel Director Jill Anderson, Safety Officer Christin Wenge, Environmental Officer Lindsay Kerber, among other talented female engineers as well as second and third officers.
Introducing Captain Wendy Williams, the first Canadian woman to captain a major cruise ship. Welcome to @VirginVoyages! https://t.co/RszdcBG0lt #VirginFamily pic.twitter.com/sywZEj7poW

— Richard Branson (@richardbranson) June 11, 2019
Just last year, Virgin Voyages announced its Scarlet Squad program (discussed briefly here), an initiative dedicated to bridging the gender gap in leadership roles across the maritime industry, where women represent less than three percent of the workforce. The program aims to recruit, support and mentor female shipboard talent, and to grow opportunities for leadership roles in marine, technical and hotel management positions on board.
New Offerings Replacing Cuba Itineraries Plus Longer Voyages!
Last week the US updated travel restrictions to Cuba for US citizens, effectively halting all calls to the island nation by cruise ships. Many of those sailings included overnight or late departures. Continuing the company's mission to provide Sailors with these night-time options, the new itineraries will feature multiple late-night sail aways, including a midnight departure on all new sailings.
Virgin Voyages will now offer five-night Riviera Maya sailings to Cozumel/Playa Del Carmen, Mexico. Cozumel and Playa del Carmen offer opportunities for Sailors to experience some of the world's best diving, as the area is home to 26 coral species. Sailors will also have the opportunity to explore ecological and archeological treasures, including Mayan ruins, or even opt to explore neighboring Tulum, the elevated Bohemian sanctuary with picturesque beaches and diverse nightlife.
For those who just want a quick getaway, Virgin Voyages' four-night sailings will now become Fire and Sunset Soirées including a sunset departure from Key West and a midnight departure from Bimini. Sailors will experience the cultural and boating paradise of Key West, paired with a day of rejuvenation in Bimini, Bahamas that's topped off by an exclusive late-night beach bonfire soiree. This celebration under the stars is exclusive to these sailings, and the artistic fire installations draw inspiration from the fireball sculptures on Branson's Necker Island and the alluring communal nature of a traditional beachside bonfire.
Many Sailors also noted that they longed for longer voyages, and here Virgin is ready to deliver. There will now be special seven-night sailings for the 2020 holiday season. These include the all-new Holidaze and Nights and New Year's Ahoy voyages, which fall over the Christmas and New Year's holidays respectively, and feature stops in Puerto Plata, Dominican Republic and late-night sail aways in both Bimini, Bahamas and San Juan, Puerto Rico.
All voyages will feature a stop in Bimini, Bahamas, home to The Beach Club, a private club for Virgin Voyages Sailors while Scarlet Lady is on the island.
Billy's Take
The appointment of a female captain isn't a surprise one given Virgin's touting of efforts to close the gender gap at sea, but it's a welcome one none-the-less. Of course, each time the company points out moves like this it risks negative stories all the more in the event something doesn't go as planned - which is inevitable in life. Still, Branson has seemed to drive companies to embrace change rather than fearing risk, so we look forward to more. Side note: Some cruisers may recognize Captain Williams as Staff Captain serving on Anthem of the Seas and Celebrity Equinox (as well as possibly others).
As for itineraries, we've been waiting to see how the line would react to the need to change roughly half of their itineraries. They put many eggs in one basked by leaning on the appeal of Cuba sailings, which makes it all the harder for them to make Sailors feel like they'll be getting the same experience they signed up for. It may however be lucky for them that this happened before they started sailing, staying clear of experiential benchmarks until their first voyages. This also seemed a great opportunity to announce the seven night sailings (as few as there may be for now), as we heard many comments from those disappointed by the lack of longer sailings. Personally I didn't understand the issue, as the itineraries alternated and made for an easy nine night by sailing back to back. This proposition may be slightly less appealing with the loss of Cuba itineraries however, and it makes us wonder how long we have to wait to hear about future itineraries - on Scarlet Lady or her sister ships that have yet to be seen. We'll be sure to set aside some vacation time just in case.