Author: Bill July 28, 2021, Updated: July 28, 2021
St Thomas, in the US Virgin Islands, is a popular vacation destination offering picturesque beaches and gorgeous views from its lush tropical mountains. If you want to get out on the water and enjoy the salt air though, then there may be no better way than on a catamaran ride to the neighboring island of St John.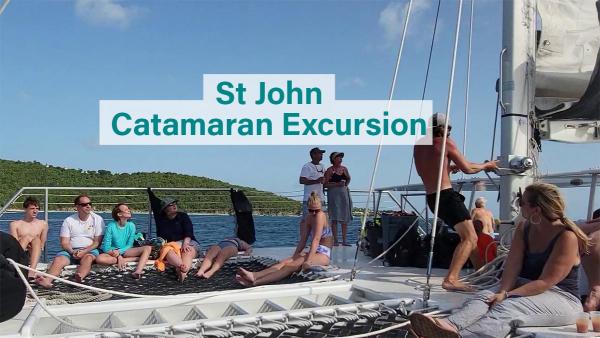 Excursion Basics
This is a four-hour excursion offered through Celebrity Cruises, which means you can book it onboard (or online ahead of your cruise).  You'll likely find this same tour offered on Royal Caribbean International (sister company to Celebrity), as well as other lines - though the name might be different.  The cost when we went in July 2021, was $89 for adults, and $84 for kids.  The activity level is listed as strenuous, and we suspect that's in part because many will want to snorkel, but also because the sun and the moving craft could be a bit much for some guests.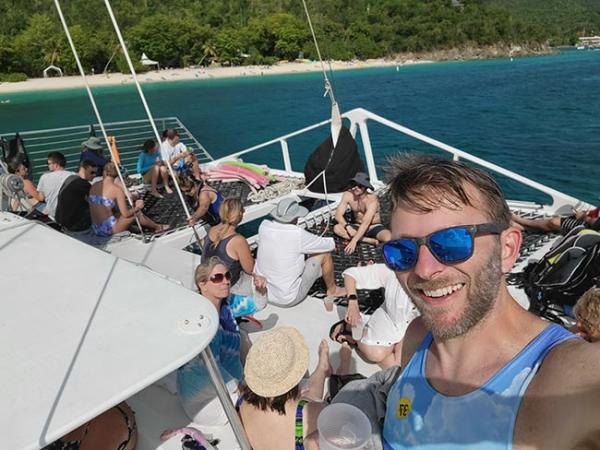 Getting To the Catamaran
On our trip, guests booked on this tour met in the theater on Celebrity Edge and then, after checking in, walked to the gangway.  Celebrity Cruises' ships usually dock in Crown Bay Marina when in St Thomas.  This is a well-manicured port facility, which made for an easy walk to our next stop, a safari truck.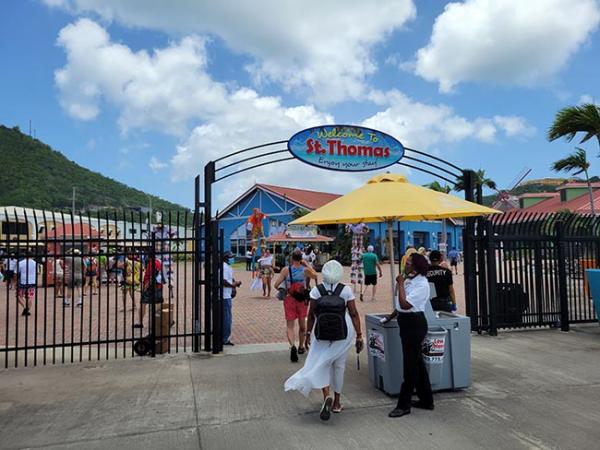 Safari trucks, sometimes just called safaris, are essentially large pickup trucks or vans with bench seats in the back that are covered above for shade, but open to the sides.  Ours looked quite new, and the driver seemed perfectly pleasant.  Once in the safari it took around 30 minutes to get to the marina where our catamaran was docked.  Driving around St Thomas can be quite pretty, though much of the time on the way there was spent in traffic before the parts of the drive with nice views.  The drive back, it turned out, would be much quicker.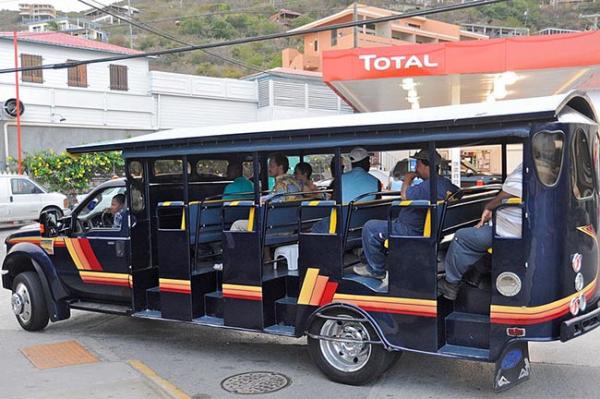 The Catamaran
A catamaran is a multi-hulled boat, where the hulls run parallel to each other so that the craft has a wide beam for stability, but suffers from minimal drag.  This particular catamaran, like many, was a masted sailing vessel - but it also had inboard motors as well.  On our trip, both were used for speed and efficiency.
Often, some parts of catamarans will have netting between the hulls, so you can lay out with a breeze all around you, the ocean flowing under you, and not a care in the world...unless you have something important in your pockets.  Our catamaran indeed had such a netted area all the way forward.
Boarding & Rules
Getting on the catamaran was simple, though you'll need to be reasonably steady on your feet and able to step at least a foot off the ground.  Once on the boat everyone found seats.  Being among the last on, I secured a seat at the aft (back) end of the craft, which didn't offer any shade.  Boarding earlier would have allowed me to easily find a shaded spot.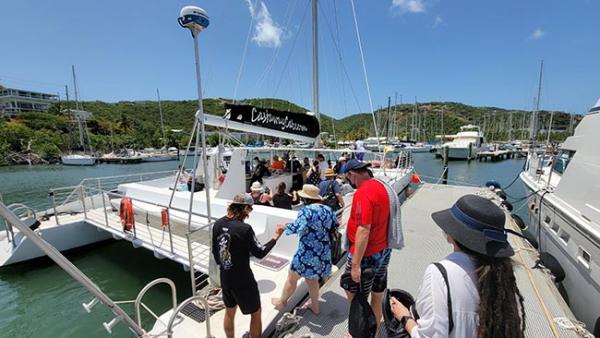 The crew explained to us the safety procedures and rules, including those related to COVID.  We were literally the first group they'd had in over a year, so this meant the COVID related bits on our July 2021 trip hadn't been tested out in practicality.  This was clear when the gentleman explaining things said that if you were seated you could take your mask off - but if you stood up you had to wear a mask.  These rules were set by the cruise line, and we'd not be surprised to find they've been tweaked since our visit.
Often on boat tours, you're told not to walk around, but this wasn't the case on this excursion, likely because catamarans are inherently much more stable in the water.  You'll not want to walk around with a tray full of martinis, and it can get rough, but it's a lot smoother than other boats of a similar length.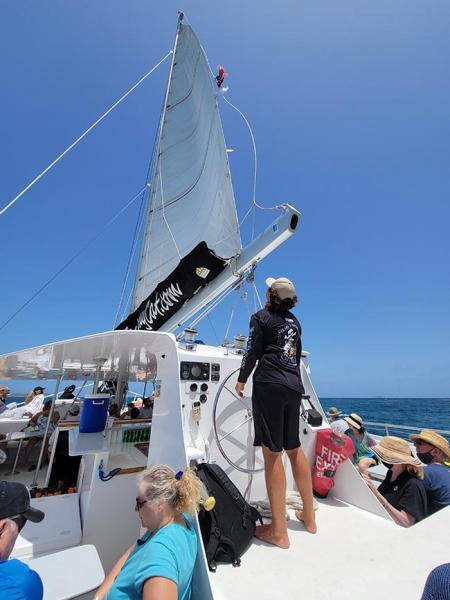 Heading to St John
We sailed from Compass Point Marina to the south, and then turned to the east-northeast to head to St John.  Our trip took us between some smaller islands and past not only resorts, but some spectacular looking homes.  One of the guides walked around handing out snorkeling gear and water.  He also did a great job of making sure he interacted with every single person onboard, having a little chat.  While chatting, he pointed out some of the local sights, including a large home that was used in a movie I've never seen and already forgot - I bet someone thought it was cool though.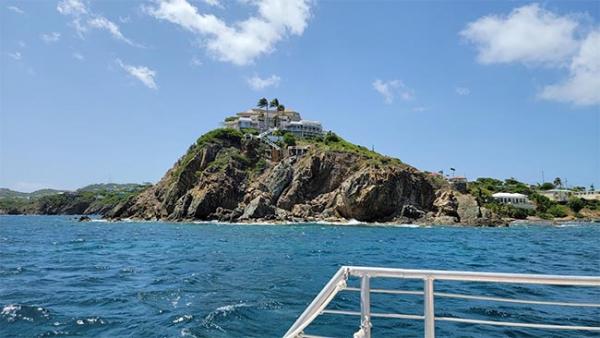 During our 40 minute trip to St John I applied sunscreen about 37 times, which, given the sun, my complexion, and the rate at which I was perspiring, was probably slightly less than would be advisable.  I made sure only to use reef-safe sunscreen, and you should too.  Yes, we sell it in the CruiseHabit Shop, but honestly, wherever you buy it, using reef-safe sunscreens is a small thing you can do to help preserve the natural beauty and important habitats that we enjoy.
Finally, we pulled into Salmon Bay in front of Honeymoon Beach on St John.  As the captain set anchor, the other gentleman went over some basic safety tips for snorkeling, including hand signals used on the water for safety.  He explained that while we were a couple hundred feet away, and you were free to snorkel around and swim to the beach, they'd be using a small inflatable we had in town to shuttle folks back and forth if you wanted to enjoy the beach, but without the long swim.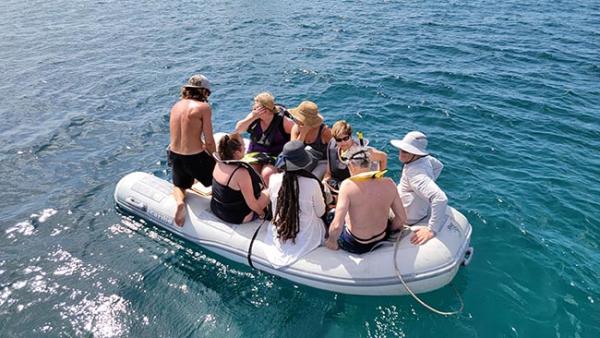 Honeymoon Beach in St John
Salmon Harbor was full of other boats, large and small, but it was still quite peaceful, and the colors lovely.  The blue water led to white sand and was backed by lush tropical forest.  It was tempting to stay on the boat and enjoy the views, but I strapped on some fins, donned a mask and snorkel, and proceeded to be terrified that the water would be too cold.  I've always lived in South Florida, so any water cooler than 76F is, as Larissa (my spouse) would say, "freezing."  Much to my delight, despite being in what I would guess was 30 feet of water, it was comfortably warm, while still being cool enough to be refreshing.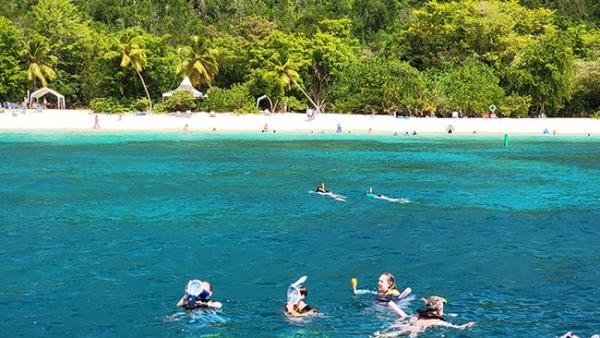 As I was getting ready for my swim I heard several people talking about sea turtles and other marine life.  They all pointed to one particular area so that's where I headed.  The water was clear and the currents calm, so it wasn't too tiring of a swim at all.  Despite the luck of others though, I didn't see turtles or fish as I headed toward the shore.  What I should have done was take a good look at the boat I was swimming away from - more on that in a moment.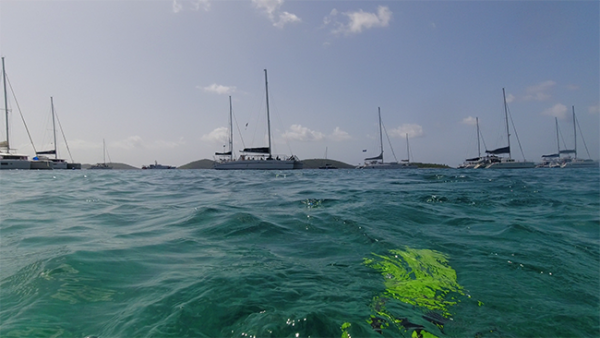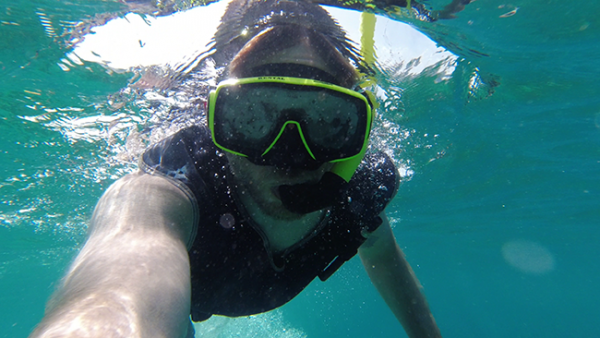 Once I'd arrived at the beach I noticed that there was a shaded area in which several folks had set up, including Larissa.  There was also a sign about the reef and wildlife.  This area is actually part of the Virgin Islands National Park, and there was a trail from the signage going back toward a road, which, if given more time, I'd have been curious to explore.  Looking back out to the bay though, the view was as pretty as it was looking the other direction from the boat.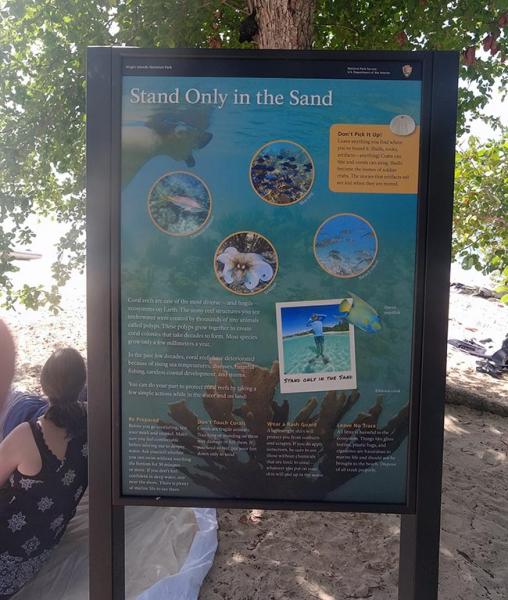 Heading Back Aboard
After some time relaxing in the sand and talking with friends, I decided to head back out to the boat, hoping to see some wildlife along the way.  Much to my dismay, I again saw nothing, but got some great video footage of that nothing on my action camera.  Crystal clear.  Continuing toward the catamaran though, I realized that I'd not taken a good mental picture to ensure I was swimming back to the right catamaran, and not one of the others docked in the bay.  Still, I somehow managed to get to the right boat just as some other guests did.  They were excitedly talking about a group of large turtles swimming right in the area I'd been for some time, so it seems I was just unlucky.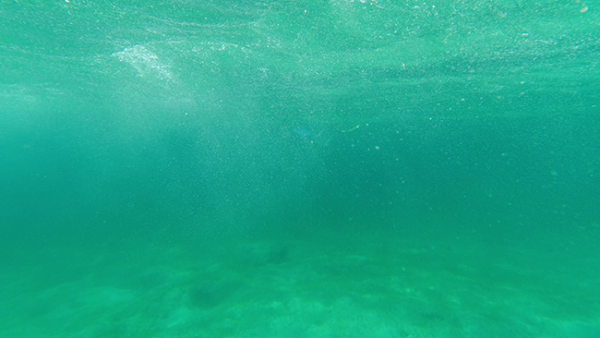 During this same time Larissa caught the inflatable back to the boat.  She did pay attention to which inflatable to approach, as there were several of those on the beach as well.  
We secured our things, I dried off, and we both realized we were quite hungry.
Drinks & Snacks - but No Champagne
As most everyone was returning from our 45 minutes ashore, the crew started preparing some snacks and drinks.  There was water, rum punch, several types of cheese, and some fruit.  Oddly, despite the name, no champagne - though I felt the rum punch was a better "in the sun on a boat" drink anyway.  The quality of the snacks was nothing special, but when you've spent a day in the hot sun and been swimming around, it doesn't take much to hit the spot.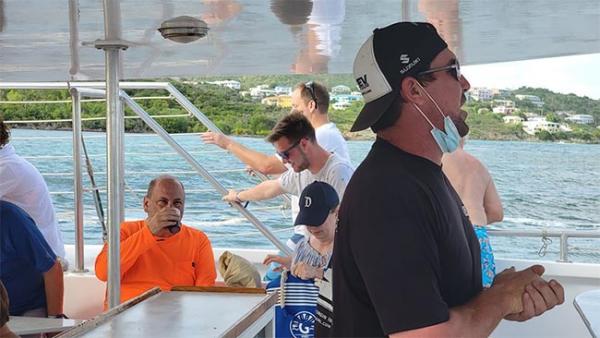 This was, however, another area where being on the first tour on the first cruise since COVID  may have impacted our experience.  The crew was really struggling to get food and drinks prepped, and I heard one of them mention that usually they serve everything buffet style, but weren't permitted to do so this time, so they had to plate everything and serve drinks individually.  The result was that it did take a bit of time, but it wasn't a big deal.
Returning to St Thomas
As we set sail (literally) for St Thomas, we all shuffled around and got different seats.  Some got shade, but my friend Brandon and I opted to sit all the way forward with our feet on the netting.  This was a great perspective, and let us stay in the sun (yep, applied much more sunscreen) while benefiting from a wonderful breeze and the relaxing sound of the craft cutting through the water.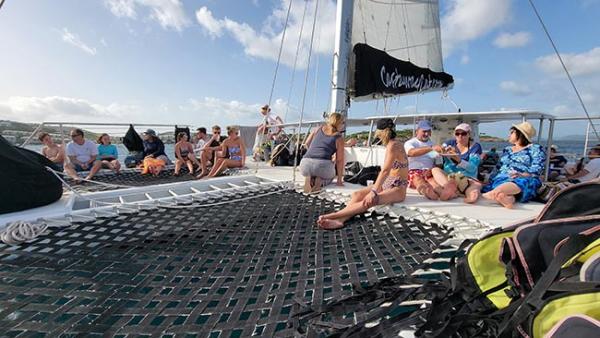 Several times I got up to get us refills on the rum punch (and eventually water).  Walking across the netting, while in motion, carrying two drinks, wasn't the easiest task, and I'd recommend it only for extra credit.  Many guests enjoyed the more stable benches, chairs, and even stairs, which offered plenty of ocean views as well.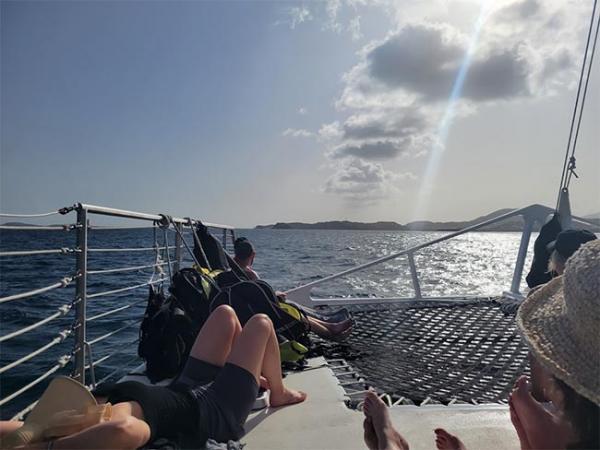 Our return trip took a similar amount of time as it did to get to St John, and upon arrival, we all thanked (and tipped) the crew.  They really seemed happy to be back to work, and they were working hard - extra hard given the couple COVID related rules and challenges.
In the parking lot of the marina we boarded the same safaris to head back to the ship, but without the traffic, it was a much more pleasant drive lasting maybe half the time.  On our way, we drove down Venetian Drive and through a touristy but pretty area of Charlotte Amalie that is popular with cruisers and overnight guests alike.  Finally, arriving back at the port, we enjoyed being dropped off just a short walk from the ship, and enjoyed even more the cold towels and drinks served right next to the gangway.
Final Thoughts on the St John Half Day Champagne Catamaran Tour
We enjoyed beautiful sites and a relaxing boat ride.  No, there wasn't champagne, and the snacks felt a bit more like a school snack break than anything fancy, but all in all it was a lovely experience.  I'd not hesitate to go on this same excursion again in the future, and hopefully catch a glimpse of some sea turtles on the next attempt.  I am very glad I brought a lot of sunscreen though, as the big tips for this tour are to stay hydrated, bring sunscreen, and don't be the last to board if you want a seat in the shade .  If you're okay with the sun and heat, and looking to enjoy a relaxing boat ride and perhaps a swim...maybe even some of the rumored turtles...then this may be a good option for your next visit to St Thomas.