Submitted by

Bill

on Tue, 11/22/2016 - 00:39
Today in Saint Nazaire, France, Celebrity cut the first piece of steel for the 2,900 passenger Celebrity Edge, the first of the new Edge class of ships, to begin sailing in the fall of 2018.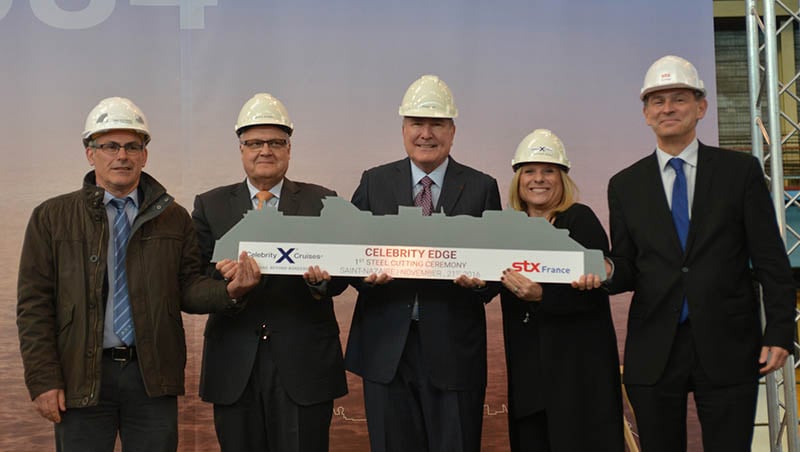 Above, from right to left, Jean-Yves Jaouen, Operations Senior Vice President, STX France; Harri Kulovaara, Executive Vice President Newbuild and Innovation, Royal Caribbean Cruises, Ltd.; Richard D. Fain, Chairman and CEO, Royal Caribbean Cruises, Ltd.; Lisa Lutoff-Perlo, President and CEO, Celebrity Cruises; Laurent Castaing, General Manager, STX France.
The ceremony took place at STX France's facilities, the same company tasked with building Royal Caribbean's Harmony of the Seas which launched this year, and is the largest cruise ship in the world. Ceremonies like these are a storied tradition in maritime history, and represent not only being a step closer to new beautiful ships, but the hard work and coordination required to safely construct such amazing creations, even in 2016.
The new class of vessel's, Celebrity's first since 2008, are expected to feature sustainable materials and efficient designs. Coming in at 117,000 GT, Edge class vessels will be slightly smaller than Celebrity's well-regarded Solstice class ships, while still larger than the 91,000 GT Millennium class ships. Celebrity also took this opportunity to announce the name of the second Edge class ship, the Celebrity Beyond, a nod to the innovation and experiences Celebrity has in store for these vessels..
"Edge Class is destined to be a trailblazer in modern luxury travel," said Richard D. Fain, Chairman and CEO of Royal Caribbean Cruises, Ltd. "The new ships will be on the cutting edge of innovation and the leading edge of design, so the ship names are spot on and offer a sense of how Celebrity Cruises is looking into the future."
Celebrity Edge delivery is expected in Fall 2018, with Celebrity Beyond is in Spring 2020, and the third and fourth Edge Class ships in Fall 2021 and Fall 2022, respectively.
My Take
Celebrity seems to have found good footing in recent years and has done so with effectively only two classes of ships (not counting the Celebrity Expeditions sub-brand), a somewhat rare feet in the industry right now as most North American-focused lines are seeing more new tonnage than ever before. That in mind, while Celebrity is part of Royal Caribbean Cruise Ltd, Royal Caribbean International ships tend to focus heavily on activities and less on the classic cruise experience, a trend clearly seen in NCL and Carnival as well. This isn't to suggest that Celebrity's market isn't interested in new ships and experiences, but Celebrity has continued to innovate in ways that haven't required new classes of ships, for example, with the recent launch of shows like Elyria, an "adults only, fashion-forward fairytale with a sultry late-night vibe".
The Millennium class ships started sailing in 2000, and while I can attest to them offering wonderful experiences that I don't feel are sub-par in any way, with ships lasting 20-25 years in this market segment, it's reasonable to start moving on new tonnage. With so many recent advancements in technologies, largely driven by the once impossible to imagine features now found on some mass-market lines, along with new environmentally friendly technologies, it's a good time to breathe some new life into the Celebrity fleet.