Submitted by

Bill

on Sat, 11/05/2016 - 21:21
Royal Caribbean's Harmony of The Seas, the world's largest cruise ship, sailed out of her new home port of Port Everglades today and Royal Caribbean invited everyone to Dr Von D Mizell Eula Johnson State Park to see her off. Check out our description, pictures, and videos below. Catch us live next time by downloading Periscope and following @CruiseHabit.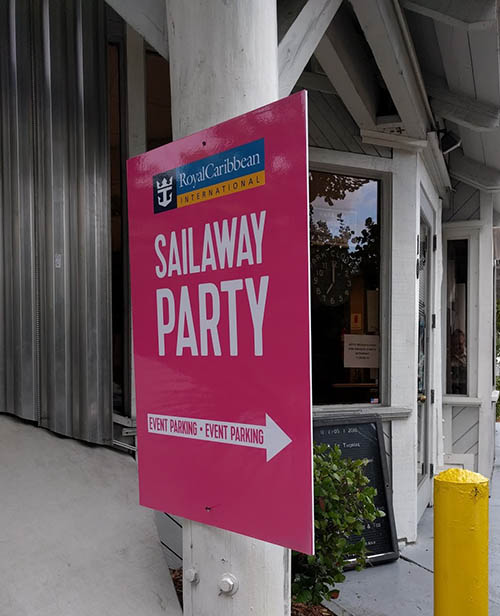 Royal Caribbean was kind enough to arrange that anyone who wanted (and downloaded a PDF of their website) could come to today's event and not even have to pay to enter the park. There were several food trucks as well as representatives from Port Everglades and I got pictures of...none of that. But you can click here to checkout the video captured on Periscope. I've been a bit under the weather this week but about an hour before the event I realized this was too big to miss, so I headed out, and this last minute prep meant my efforts were a bit haphazard.
The weather wasn't initially great for the day, with a deluge of rain just a couple hours before sailing out for the first time. After navigating past the food trucks and tents, and then past an unrelated wedding, I arrived to find the jetty that I visit weekly to be busier than I've ever seen it. Hundreds of Royal Caribbean fans, guests who disembarked the Harmony this morning after her trans-Atlantic sailing, and employees lined the jetty on this very windy day as we waited for the big event.
The first ship out was Princess' Cruises Caribbean Princess (shown below), a 113k GT Grand Class ship that was heading off for a Southern and then Western Caribbean journey. She's a pretty ship, and we were actually researching her upcoming itineraries last night, but that's not the ship hundreds braved rain, high winds, and sea spray to see. Periscope video of today's Caribbean Princess sail-away.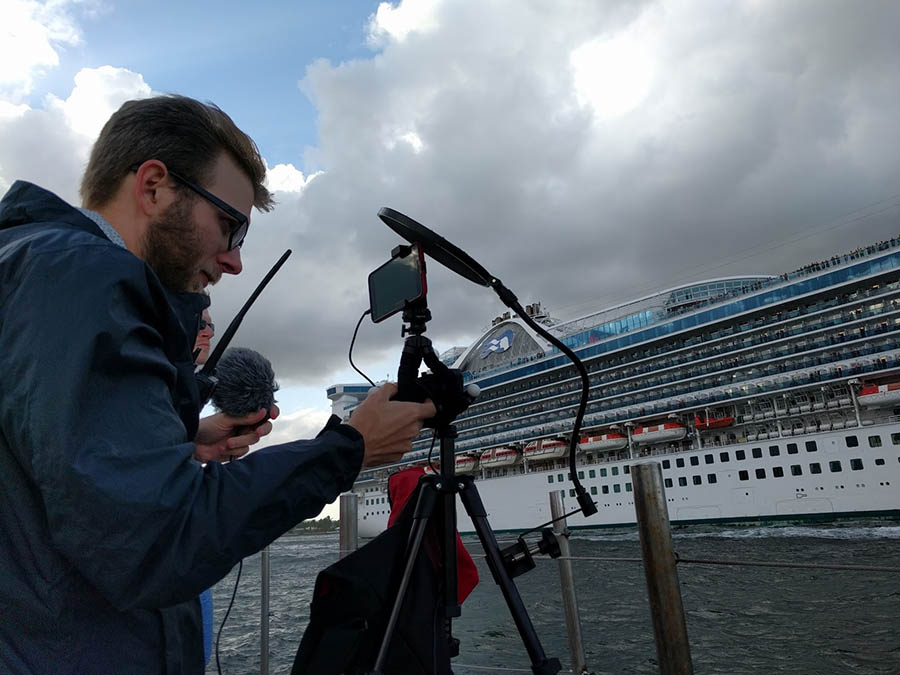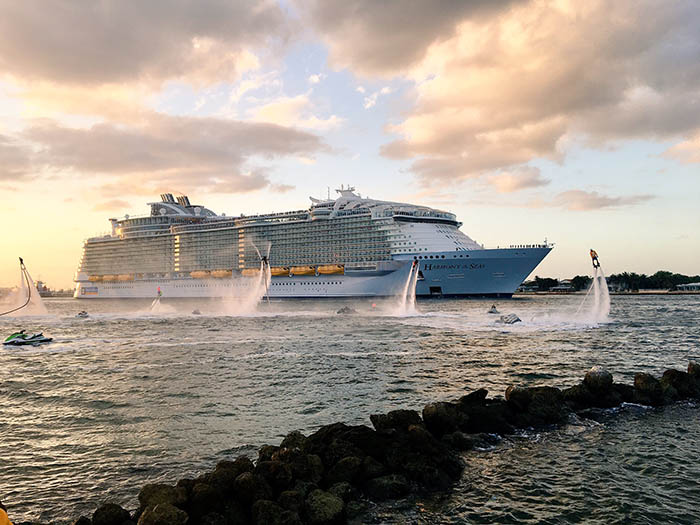 Next up was the Freedom of The Seas, which also made Port Everglades her new home today. With the Oasis heading to Port Canaveral yesterday, the Freedom will now be in Port Everglades alternating between six and eight night Caribbean cruises. Periscope of today's Freedom of The Seas sail-away.
Finally, after much anticipation, the Harmony of The Seas pulled away from the dock and sailed past us. The beautiful 226,000 gross ton vessel was escorted by the US Coast Guard, Broward Sheriff's office, tugs with master-streams spraying water into the air, and a team of people on water jet packs and jet skis. On board is our friend Matt from RoyalCaribbeanBlog.com, so be sure to follow his site, and follow @theRCLBlog on Periscope and Twitter so you can follow along on his two Harmony cruises this week.
Below find my video as the Harmony sailed away, as well as some photos. We got some really neat footage and photos of the water jet pack team who decided to play around for quite a while after the Harmony sailed away.
Oh, and we met up with a nice guy at the jetty today, Greg, from CruiseInd.com, so go check out his site and Twitter account for a far more professional site than I provide here :-)