Author: bill June 28, 2018, Updated: October 19, 2018
Over the years cruise ships have become bigger and bigger - bringing attention and fanfare with every superlative.  On the news, on social media, and in ads it seems cruise lines are constantly trying to "out-build" each other.  While there is no doubt that many consumers are excited about these giant vessels, did you know that they don't represent the majority of new ships?  Let's talk about why mega-ships are so popular, and what the average new cruise ship size actually is.  
Like this topic?  Check out episode 3 of the CruiseHabit Podcast, "Rise of the Megaship"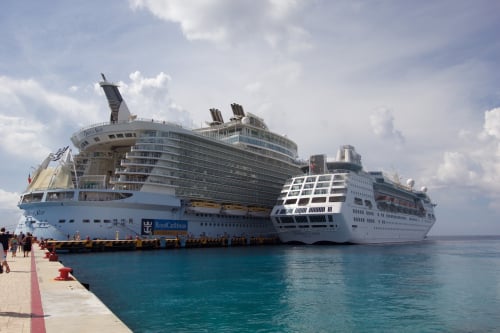 Why Large Cruise Ships Are So Popular
Larger ships are great for providing a multitude of entertainment and dining options, along with being more stable in the water - great for those worried about seasickness.  According to Cruise Line International Association (CLIA), nine of ten people who cruise once will cruise again.  This means that overcoming initial objections can represent huge value for cruise lines - and two of the top objections are concerns of comfort (seasickness) and boredom.  These mega-ships aren't just big, they're packed with seemingly endless entertainment options.  More stage shows and music venues, more restaurants than there are days in the cruise, and high-energy activities like rock walls, go-karts, and zip lines.  
I'm worried I'll get seasick. Do you feel the ship move?
Superlatives are also of course, great publicity.  In fact, Royal Caribbean has mastered this with the release of each of their Oasis class ships (though they did it also with their Freedom class ships in years past).  For example, Allure of the Seas was touted as the largest ship in the world, though is just two inches longer than her predecessor, Oasis of the Seas.  Their sister ships, Harmony of the Seas and Symphony of the Seas (currently the largest cruise ship in the world at 228,000 gross registered tons) share similar stories, each one just slightly larger than the last - with the ability to claim new "largest cruise ship" titles.  Each ship though, indeed has improvements and changes over the last - but size isn't really one of them.
Those new to cruising, and especially those with young families are likely to flock to these larger ships with more over-the-top entertainment options, but that doesn't make them better - just better for those cruisers on those cruises.  They're also great at attracting large groups, especially for multi-generational travel when you really need "something for everyone."  By the numbers though, Royal Caribbean International, Carnival Cruise Line, and Norwegian Cruise Line only account for about 37% of total industry capacity (201k of 537k berths, or beds).  The small ship cruise market is growing quickly too, with companies like Viking Ocean Cruises adding capacity, Oceania Cruises filling their fleet, and others enjoying success.
What is the best cruise line for you?  We explain the differences between cruise lines and help you decide.
One interesting shift we've seen the last two years is in larger ships visiting Alaska.  This is notable because it has required working closely with Alaskan ports and the government, but also because Alaskan cruises have long been seen as less "family oriented" than Caribbean cruises (which will account for ~35% of cruise capacity in 2018).  Royal Caribbean's Explorer of the Seas, and now the Norwegian Bliss are big ships that will bring more families than ever to the great white north.
Lines that aren't marketing to the mega-ship experience have a materially different product - one that their guests want.  One challenge however is how lines like Royal Caribbean meet expectations when working to fill their smaller ships that may be great, but don't include so much of what is seen in the marketing that brings guests in.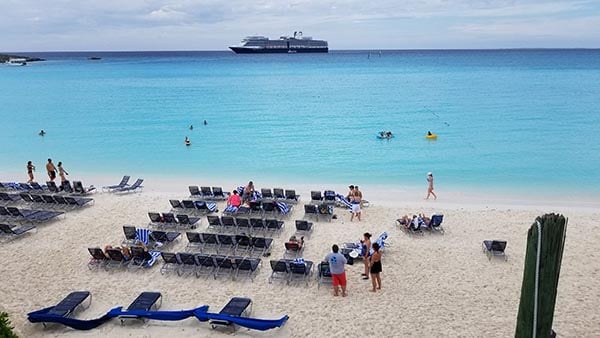 For those in the market for those giant vessels, there isn't much indication that there is a need to slow the growing size of ships - but the speed of that growth will continue to be constrained by the capacity of ports, and of course engineering challenges.  These challenges are very real, but consumer demands and the economy of scale that these ships offer cruise lines means there is plenty of motivation to push the envelope.  As long as the collective challenges can be met without compromise to guest experience, it seems unlikely that the guests these lines are targeting will be asking for smaller ships anytime soon.
Most New Cruise Ships Aren't Very Large
As you can see, while cruise lines love the economy of scale that large ships offer, they also love how helpful they are in getting people hooked on cruising.  For some, once they start sailing, the size of a ship becomes less of a factor.  This is great for lines needing to fill berths on ships that are a few years old and not as large, but many consumers aren't looking for large ships - they're looking for quality experiences which they may (rightfully or not) associate with smaller vessels.  
This year (2018) has been somewhat of a landmark year in terms of new builds for the cruise industry.  Despite gigantic ships like Symphony of the Seas, Norwegian Bliss, Carnival Horizon, and AIDAnova, the average size of new ships released and to-be released in 2018 is 88,870 gross registered tons (GRT).  By today's standards, many would consider that rather small - even though the Titanic was just over 52,000 GRT, and Royal Caribbean's Empress of the Seas was, when she came out in 1989, one of the larger cruise ships (not designed as an ocean liner) at 48,563 GRT.
Cruise ships have changed over the years. Check out how we feel about the good old days compared to modern cruising.
Ship-building takes time, and some analyst even worry about overcapacity (though cruise line executives still insist that the industry is capacity-constrained at the moment), so not every year sees large builds like those in 2018.  As of July 2018, the average new cruise ship released in 2019 will be 71,091 GRT.  It's important when you see these low numbers though, to remember that smaller ships not only have more limited capacity because of size, but also because they're often luxury ships with far more favorable passenger:space ratios.  This is important to keep in mind when understanding that these numbers are mean averages, and do not factor total capacities.  
Wrapping It Up  
Ultimately, bigger may be great for some consumers and not others - and that's fine.  While the majority of people who are in the financial position to cruise still haven't taken the plunge, they're starting to more and more each year. There is plenty of pie for everyone in the industry, whether offering intimate experiences to under 100 passengers, or cities at sea for 6000+ guests.
Big thanks to Chris from ShootingTheSeaBreeze.com for inspiring me to start writing this article.  Check out his site as he cruises non-stop for a year!
How important is cruise ship size to you?  Have you sailed smaller ships since starting out as a cruiser?  Comment below or reach out on Facebook or Twitter.