Author: Bill January 24, 2022, Updated: January 25, 2022
Usually ships go in for dry dock every few years (read about ship's lifecycles here), and while staterooms are often left largely unchanged during dry dock, this is when you're most likely to see stateroom updates.  After a lot of guest feedback however, the brand new Scarlet Lady, from Virgin Voyages, is already having some work done, resulting in some big changes in her cabins.
1/25/2022: Updates Below With Additional Room Photos and Storage Info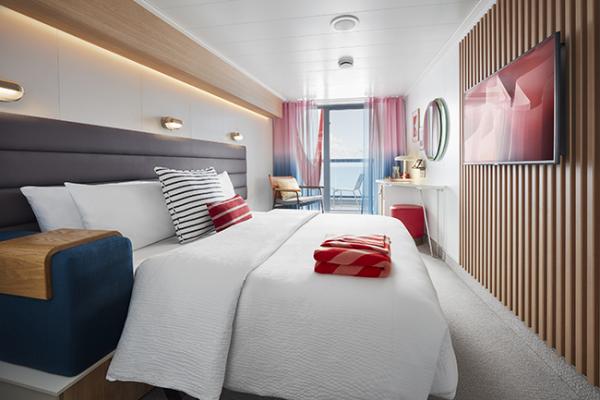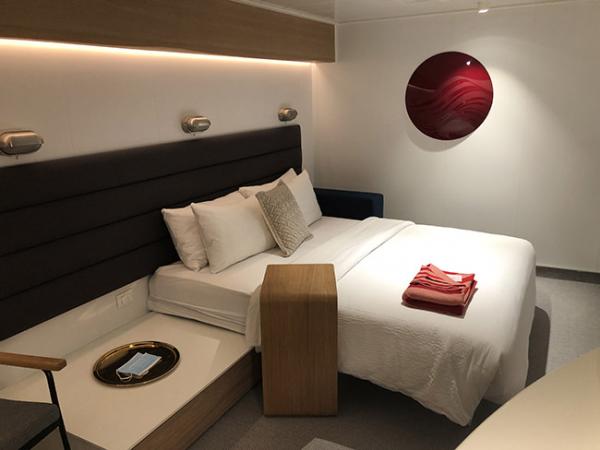 We've sailed on Scarlet Lady before, and even have ship tour and cabin tour videos so you can get an idea of what it's like onboard.  While we don't mind the rooms at all, there is always room for improvement.  Many other sailors for more strongly though, calling the rooms cold, with many even saying they felt like they were outfitted by Ikea.  Another common issue raised was that there wasn't enough storage - though we found the storage to be plenty, albeit it staying clutter-free is trickier than on some other ships due to the lack of drawers near the desk.
1/25/2022 - Storage Update
We reached out to Virgin about the storage and they responded:
"Hi Billy! Our Sailors expressed the need for small items like underwear, socks, tshirts, shoes and loose items like gifts they'd bought in the destinations we visit. To accommodate that, our design team has added four drawers to the wardrobe and a couple of loose baskets to the top shelf. They also dedicated a drawer under the bed for Sailors to store these items."
While those aren't monumental updates, we're sure guests will appreciate them.  Whether Valiant and Resilient Lady, the next two ships, will have more significant storage changes (which can't be easily done to a ship already in service), remains to be seen.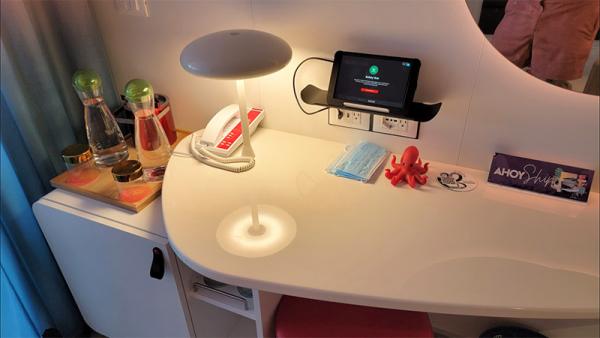 Scarlet Lady Cabin Refresh Details
So what changes are in store?  More storage, some wood beams, and additional nods to the line's obsession with tasteful nautical themes.  Below is what Virgin has to say:
Named Cruise Critic's best new ship for 2021, Virgin Voyages' Scarlet Lady offers a dynamic cabin design with intelligent, evolving architecture. Both Scarlet and the brand's second ship, Valiant Lady, feature an impressive 1,330 cabins and 78 RockStar Quarters with 86 percent of cabins offering a balcony and 93 percent featuring unparalleled ocean views. Between custom Seabeds, specially engineered for Virgin Voyages, rain showers and ambient lighting to fit any mood -- be it "Pump Me Up" or "Zen" -- Virgin Voyages' cabins are designed to meet the needs of today's modern Sailors.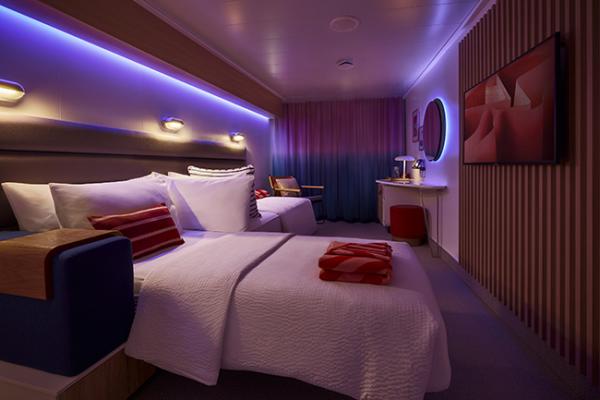 In a move to elevate the design even further, Virgin Voyages is refreshing its cabins on both Scarlet Lady and Valiant Lady, bringing a warmer energy and more sophisticated feel. Building on the nautical nature of the ships, the refreshed interiors feature beautiful wooden beams and additional wood finishings along with handpicked artwork that embodies Virgin Voyages' playful and contemporary nature. The Seabed and the incredible sea views continue to be focal points of the cabin, urging the design team to keep the nautical stripes ever present in the decorative throw pillows. Increased drawers and storage space round out refresh, perfect for Valiant Lady's seven-night European itineraries.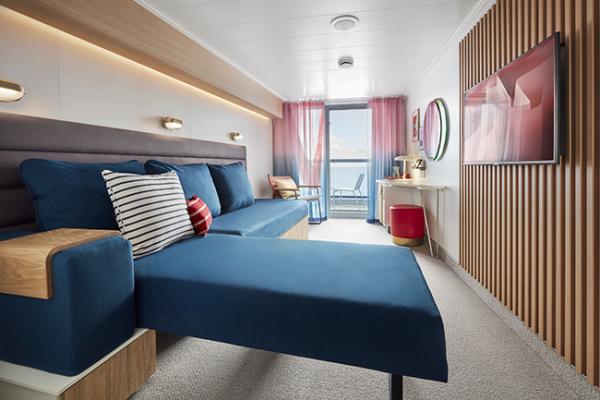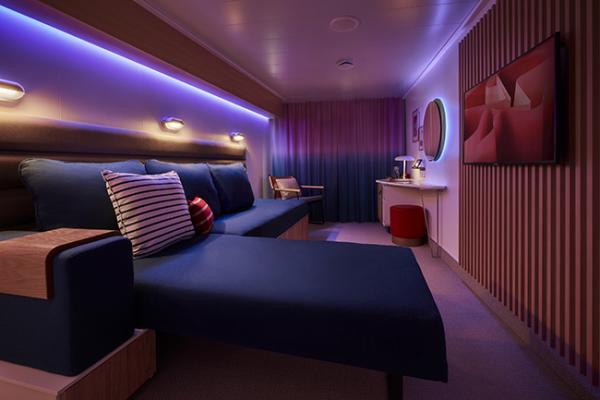 More than half of the cabins have been completed on Scarlet Lady with the project slated to wrap in the spring. Valiant Lady's cabins will be complete before she enters service this March from the UK.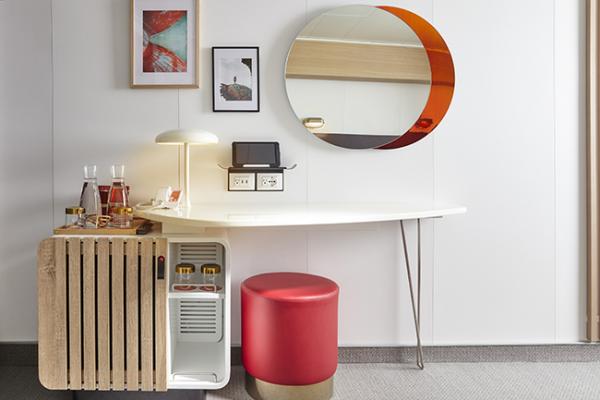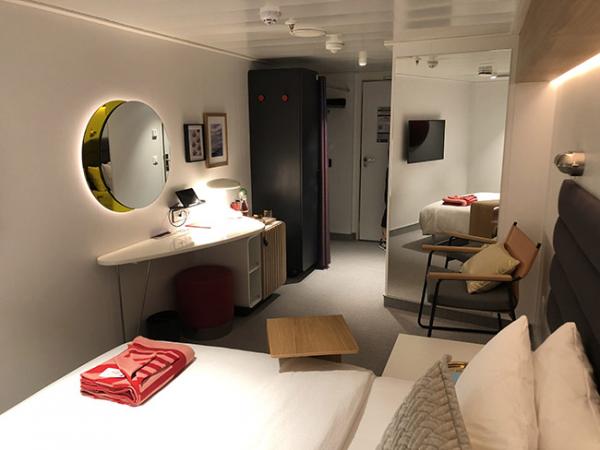 In the photos we're struggling to see more storage, they'd be welcome additions - even if we still long for a small shelf or drawer by the desk.  The wood additions though, do look very nice.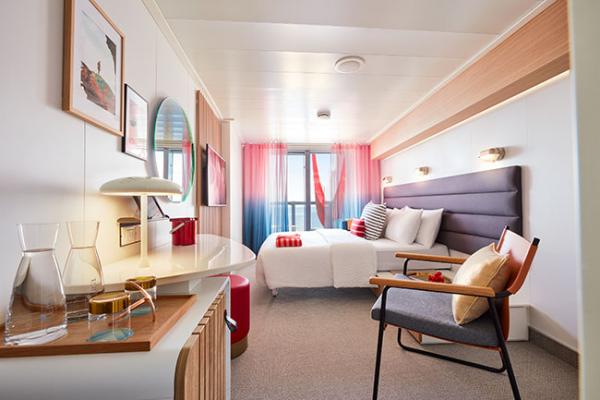 Checking it for Out Ourselves...and You
We're shocked to read that half of the rooms have already been updated - something we'd not heard anything about until now, nor saw signs of on our Dec 24 Scarlet Lady cruise.  On a recent video we published about things coming to Virgin Voyages in 2022, we shared that their new bespoke terminal at PortMiami, Terminal V, will be ready on February 13.  We hope to catch a glimpse of the new facility, and we'd love to get a closer look at some rooms at the same time.  If you want to check out the rooms in person though, we've got a great opportunity for you to do so, with us!  Join on this July for our group cruise on Scarlet Lady.  We'll have exclusive events and offers for those joining us, and we'd love to talk ship with you in person.  You can get more information at VirginVoyagesGroupCruise.com.