Author: Bill June 2, 2017, Updated: June 8, 2018
MSC Cruises, a Swiss-based Italian line, and the largest privately owned cruise line in the world, had several big pieces of news this week.  From details of their 200,000 gross ton "World" class of ships, to Cirque du Soleil on Meraviglia, to taking delivery of their latest ship, there is a lot to unpack.
To keep things from getting confusing, it should be noted that the name of this class of ships is "World", so when I say World Class I mean "World" class, not the world-class. Not confusing at all, right?
MSC's LNG-Powered World Class
This week, in front of French President Emmanuel Macron, MSC and STX France signed a memorandum of understanding, committing to the order of two 200,000 gross ton ships powered by liquefied natural gas (LNG), with the option of ordering two more.  The two (or four) new ships will make up MSC's "World" class of ships.  At the signing several details were announced about the technologically advanced vessels, including their use of a new-generation waste-water treatment system.  The mega-ships will feature 2,760 staterooms and offer a maximum occupancy of 6,850 guests, the highest of any cruise ship in the world.  They will be delivered in 2022 and 2024 (the optional vessels in 2025 and 2026) and will be 1,083 ft by 154 ft.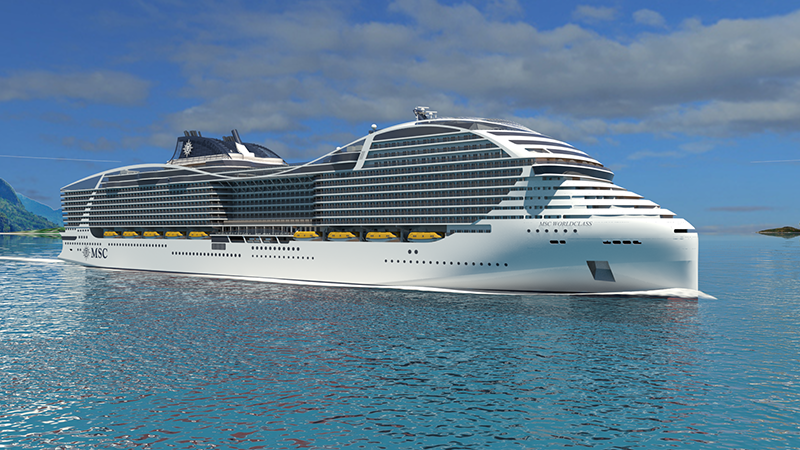 Speaking at the MSC Meraviglia Flag Ceremony, Pierfrancesco Vago, MSC Cruises' Executive Chairman, said: "Today, as we unveil MSC Meraviglia, a new vessel that marks the start of the next phase of our growth, we are delighted to confirm another key component of our ten-year investment plan: the World Class. These new vessels will further expand our partnership with STX France all the way to 2026, with up to seven additional innovative ships to be built during this period."
STX France's CEO Laurent Castaing commented: "Once again, MSC Cruises has chosen to put their trust in our capacity to support their growth and expansion as well as in our ability to conceive, develop and build the world's most modern and technologically-advanced cruise ships. By adding the new World Class to the four previous ship classes that we have delivered over the past 15 years, the number of vessels in their fleet built by STX France in Saint-Nazaire is set to reach 20. Our exceptional industrial partnership continues to benefit an entire region."
Billy's Thoughts on Design
The ships' unique "G" hull is designed to increase stability, reduce drag (increasing efficiency), and make guests happy with a smoother sailing.  This, along with other technical innovations such as LNG-power, and the new wastewater treatment systems are all great innovations. We're curious to see how the world receives the hull design, as with so many improvements over the classic design being used in other types of ships, it seems like cruise lines have been scared to break the mold, and a mega-ship of this size and capacity would seem to really benefit from these enhancements.  Other features of the design, such as the "Y" split shape allow for an even higher percentages of balconies, which is good for revenue.  This, along with the panoramic aft and glass pool lounge lend further support to our earlier assessment that cruise ships designs are once again putting more importance to views of the sea and an open feeling - even on large ships.
MSC Officially Takes Delivery of Meraviglia - A New Phase The Line's Growth
After nine million man-hours of labor the Meraviglia was handed over this week from STX France to it's owners, MSC Cruises.  The 172k gross ton ship is the largest ever built by a European line and carries up to 5,714 passengers.  This is the first of six vessels MSC will be taking delivery of between 2017 and 2020, an unprecedented display of growth and confidence.  As four of these vessels will be built in France, and the ceremony hosted the announcement of the new World class of ships this represents a big moment for France as well as the cruise line, which, with the assistance of STX, grew 800% from 2003 to 2013.
"MSC Meraviglia's coming into service marks a key milestone in the history and future of our Company," said Pierfrancesco Vago, Executive Chairman of MSC Cruises. "She represents the first realization of our long-term vision for further significant growth, which, in its first phase, culminated with MSC Cruises becoming two years ago the number one cruise brand across all of Europe, while on its way to further global growth."
At 1,034 ft by 141 ft she is equipped, like several MSC ships, to operate in all seasons, with a retractable roof over one of the pool and deck areas.  This will serve her well as she sails the world, sized to be large enough to fit a wealth of amenities, including an aquapark, but also to be able to visit any number of destinations. Meraviglia's christening will take place in Le Havre on June 3 before starting her inaugural season sailing the Mediterranean.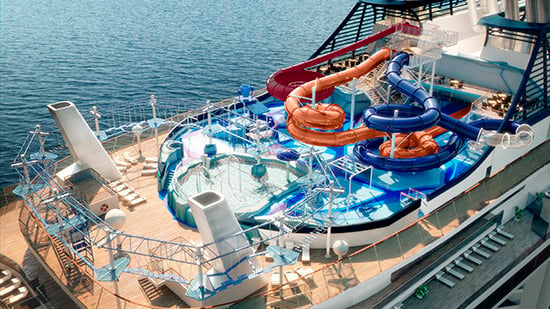 Shows From Cirque du Soleil Coming To Meraviglia
Rounding out MSC's big news week is word that the just-delivered Meraviglia will be host to two new shows from Cirque du Soleil, the first such arrangement the Canadian entertainment company has had with any cruise line.  Viaggio is said to be a poetic adventure into the world of color; a painter's journey into his imagination, and Sonor, with sound at its heart, is said to take guests on an auditory adventure.
"We are committed to creating unique opportunities that elevate the guest experience to new heights and, for this, we work with innovative, world-class leaders in their sector. It was thus only natural that, when it comes to entertainment, we would look to partner with Cirque du Soleil," said Gianni Onorato, Chief Executive Officer of MSC Cruises.
"Today we are delighted to reveal the concepts and inspiration behind the Cirque du Soleil at Sea shows that will soon premiere on our new flagship MSC Meraviglia. By creating two different shows for each of the four Meraviglia and Meraviglia-plus generation ships, we will make available exclusively to our guests something new and exciting with each ship's launch. Moreover, these shows will be a true first at sea," added Onorato.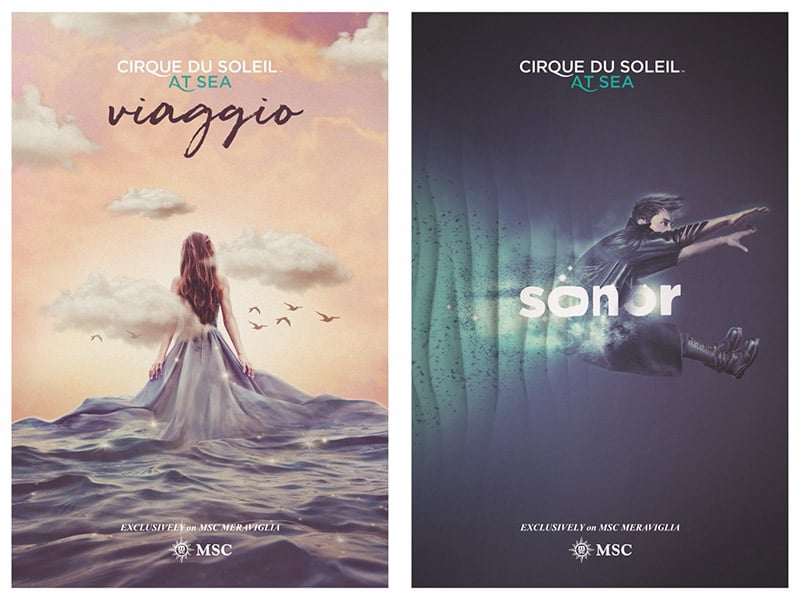 The two shows are said to be very different from one another, with unique concepts, ambiance, storyline, costumes, and make-up.  Impressively, the shows will see two performances each night, six nights a week - so there is no reason every guest can't catch each of the performances.  More than just a theatrical performance, each will also offer a unique cocktail or dinner experience.  In said experiences, each aspect from the cullinary creations and cocktails, the table settings and visual effects are all tied to the specific performance.  The dining experience will start one hour before the show begins, and the "Cocktail & Show" experiences will begin 30 minutes prior to the performance.  
Cirque du Soleil at Sea needs to be pre-booked by guests either before the cruise or once on board. The theater is limited to 413 seats, so guests should book early to secure a space and enjoy the experience.
Billy's Take on MSC's Big Week
MSC has tried hard over the past decade to get traction with the North American market, getting varied reviews in the process.  Their style of cruising seems a bit more European, at least in the service, though it seem that those who go in with the proper expectations enjoy the product.  With such impressive ships and aggressive expansion in the coming years it's hard to imagine that cruisers on the west side of the pond won't be very tempted to dip their toes into the MSC pool.  That in mind, MSC has had no lack of success with the European market, for sailing both in and out of Europe, so the risk is real, though potentially lesser than American eyes may see it.
It's refreshing to see mega-ships that look to the sea, and the partnership of Cirque du Soleil seems quite fitting for the line.  I'm confident we'll see even more new builds announced by MSC in the next year, but what remains to be seen is how exactly they'll be distributing so much new tonnage.  It's also going to be interesting to see, as more of this tonnage moves to serve US & Canadian guests (though it should be noted their current sailings out of Miami often have a largely European clientele) if MSC tries to match the feel of the American cruise market, or if they'll try to strike a tone that guests are looking for but not finding on the big three (Norwegian, Royal Caribbean, and Carnival).  I personally would hope they stand somewhat alone to offer something unique, though only time will tell how they'll shift those mixed reviews to vocal advocates.  The bottom line however, is that competition is great for consumers, and I personally will be making an effort to see what MSC has to offer.