Author: bill August 11, 2021, Updated: August 12, 2021
Today we boarded Mariner of the Seas for a two night simulated voyage from Port Canaveral.  We were fortunate to be one of the few invited, and we mean few.  With only around 515 guests on the 4,000 passenger ship it's wonderful to be onboard, and a bit like having the ship to ourselves.
Embarkation for the Simulated Voyage
We stayed in the Cocoa Beach area last night so we didn't have to stress about a two hour drive in the morning, and had a noon embarkation.  Arriving a bit after noon we parked at Terminal 1 and paid to park.  There is a three night minimum, so it was $52.  Right in the parking garage as you approach the building the staff was checking for proof that you recently tested negative for COVID.  Once that was worked out, we went into the building to show our documents once more and confirm the health questionnaires (have you had a fever, etc).  About five minutes later we were onboard.  The majority of the time was spent simply walking through the terminal, which was very strange to see completely empty.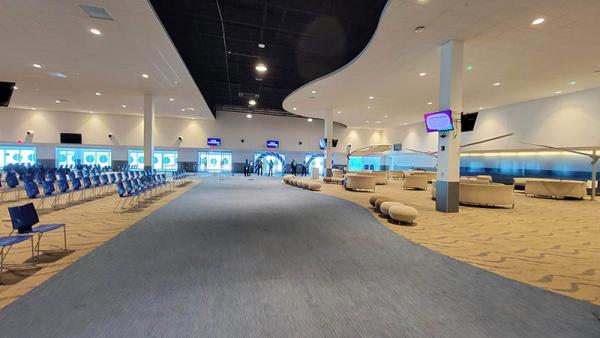 First Impressions of Mariner
It's been since Jan of 2020 since we've been on a Royal Caribbean ship, so after being on four Celebrity cruises since then, it was quite different - and I've never been on Mariner..  The Royal Promenade is beautiful lit, as on all their ships, and it looked like there were as many crew members as guests.  We went right to our rooms to find a welcome back letter as well as a QR code which you could scan to request towels for tomorrow, when we're at Coco Cay.  That's a neat touch, as it allows you to request however many you need without finding your stateroom attendant or leaving a note.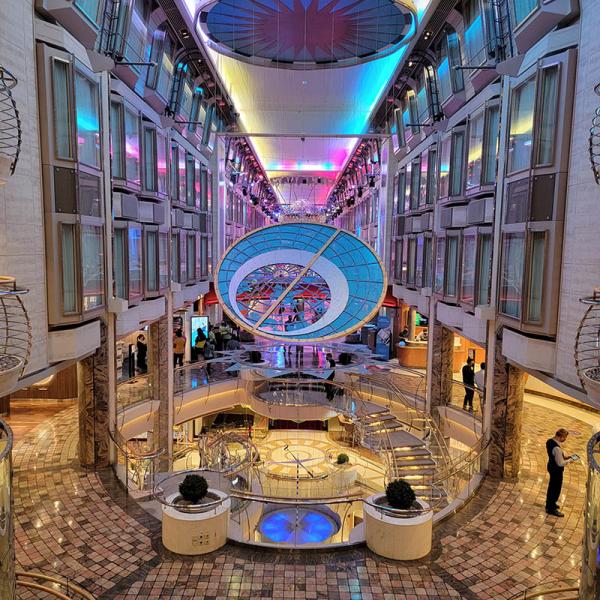 Muster was exactly the same as on Celebrity, with the new virtual muster/Muster Drill 2.0.  This was something Royal Caribbean Group was working on years before the pandemic, but allows guests to watch the safety drill on their smart phones, then simply check in at their muster station anytime the first few hours of the sailing.  It's a wonderful change - no more closing bars and taking names, at least one some lines.
Walking around after muster I immediately came to love some of the refurbishments during the ships, "Amplification".  The solarium aesthetic seems more contemporary than some Royal Caribbean ships, and functional changes were made, like adding a Starbucks in the unused space across from Boleros.  There is another change I love, but more on that in a bit.
We were assigned a standard verandah stateroom - which is perfectly spacious, and has a glass enclosed shower (seriously, let's get rid of those curtains everyone).  The room was perfectly clean, but I'll confess that it feels a bit dated with some of the colors - especially the beige plastic switches and pinkish bathroom - but honestly this is nitpicking, as the room is comfortable and certainly has a light and tropical feel.  I did ask for a mattress topper as I find the mattresses on Royal Caribbean - but that's just a personal preference.  
A Relaxing Sail Away
Just before we left the port I had some work to do so I sat at the Schooner Bar, one of the "vaccinated only" spaces on the ship, to do some work...and sample beer.  It's nice having these vaccinated spaces where masks aren't required - though I'm not sure how long that will last.  I finished my beer, and work, and got changed before we dropped lines.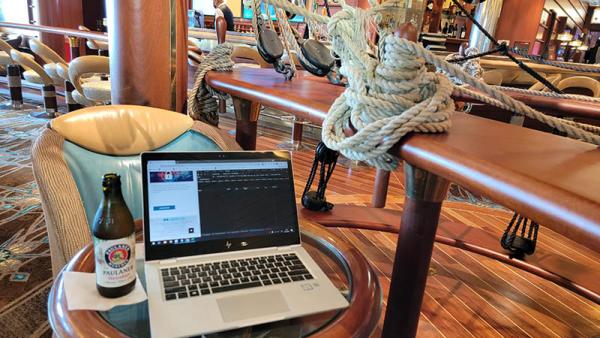 Usually as we sail I'm rushing to see and do it all, unpack, etc.  On this trip though there is little to unpack (it's just two nights), and after a brief Facebook Live video, I jumped in one of the Solarium hot tubs to relax my back as I slept a bit funny last night.  As I watch the port pass us by (that's how that works, right?) we approached Disney Fantasy, which was anchored just off the coast. While relaxing I chatted with a few folks in the tub and it seems there is a nice mix of folks onboard - some big cruisers, agents, etc, but some with little cruise experience - including a couple I'm overhearing at the bar as I type this.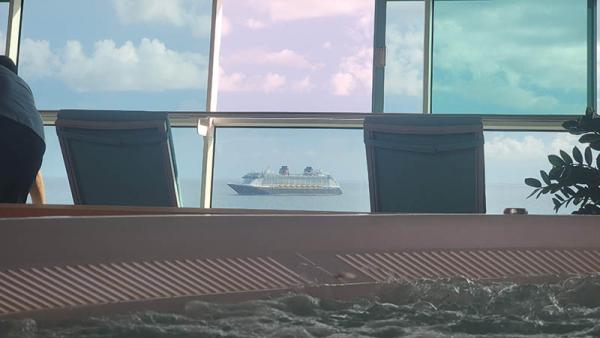 Jamie's Italian for Dinner
We opted for Italian tonight at Jamie's Italian, a specialty restaurant located just outside of the Windjammer Buffet on this ship.  For my main course I had eggplant parm, which was unique as it wasn't this breaded adn fried unrecognizable eggplant, but instead an actual eggplant that seemed...slow roasted?  It was adorned with great pomodoro sauce.  We also order roughly 47 appetizer, and I'm having only some regrets. The food qas good but quite filling, and while I enjoyed it all, there was a piece of cheesecake at the end which was just absurdly large...and delicious.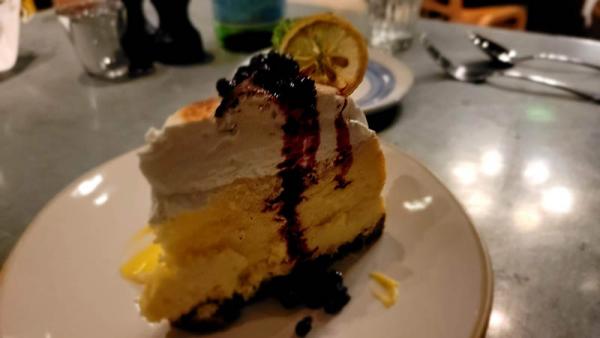 Service was as good as the food, though at the end we were reminder that in a way, these simulated voyages aren't just required by the CDC, but they're shakedowns to see how things work as the ship and crew return.  There was an issue with the point-of-sale system and they simply couldn't charge my room for dinner.  After much back and forth they asked if they can charge me later - which was fine with me.  Again, no big deal at all, but we're glad they have these non-revenue sailings to iron things out.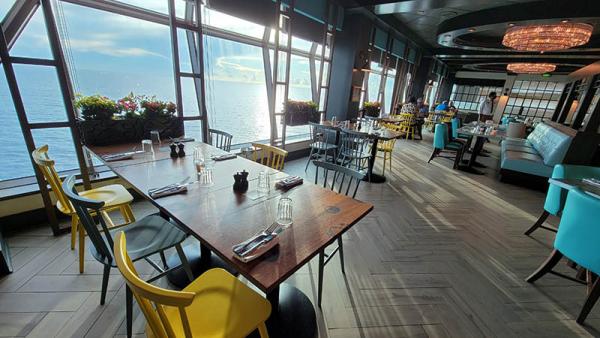 I've Found my Place: Bamboo Room
When this ship was refurbished they added a space only found here and on Navigator of the Seas: the Bamboo Room.  This is a tiki-themed bar, with some great visual and auditory tricks which I don't' really want to spoil - but also, amazing lighting at all-star bar staff.  Many of the drinks are sweeter than I prefer, but the bartenders make great suggestions and substitutions to suit personal taste, and I'm at least three of these suggestions in.  There are no drink packages on these sailings, but drinks are 50% off, so that helps.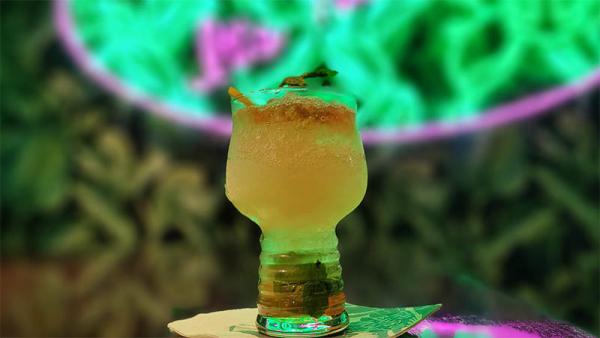 I really like the vibe and the staff here, so i think it may be my home base for this and future trips on Mariner and Navigator.  Right now, it's serving as CruiseHabit World Headquarters.  I think this will work well for tax purposes.
Tomorrow is a Real First for Me: Coco Cay
I've sailed Royal Caribbean nine times (give or take one) and have never been to Coco Cay.  I'm not avoiding it, it's just not happened.  This private destination has changed a ton over the years, going from a rustic island (like Great Stirrup Cay, which I love) into lovely baches, but also a giant pool, water park, cabanas, etc.  The cruise line was nice enough to make access to the water park free, so we'll try out everything we can on our visit so we know what to spend time doing next month when we visit again on Odyssey of the Seas.
Stray Observations
This is my first sailing on a ship not operating with 95%+ vaccination rates.  In addition to masking in most places indoors, social distancing is definitely observed, with parties kept separate in the Windjammer Buffet, limits on elevators, etc.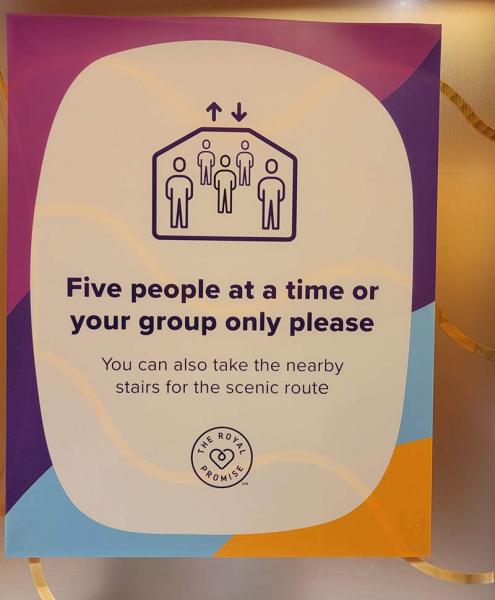 I also noticed they're really pushing room service.  The menu was laid out prominently, though there is still a charge.  What there is not a charge for is continental breakfast to your room - which we like taking advantage of as it serves as a forced alarm clock.