Author: bill March 14, 2018, Updated: September 1, 2021
Celebrity has already released a lot of exciting details about the upcoming Celebrity Edge, but up until now, and except for Eden, they'd been mum on dining information.  Recently however, at an event in NYC, they'd spilled the beans on some of the exciting options available on this promising ship.  We'll dive in to the 29 palate-pleasing venues in store for Edge guests and talk about a revolutionary venue that combines, cuisine, technology, and entertainment to create a journey, rather than just a meal.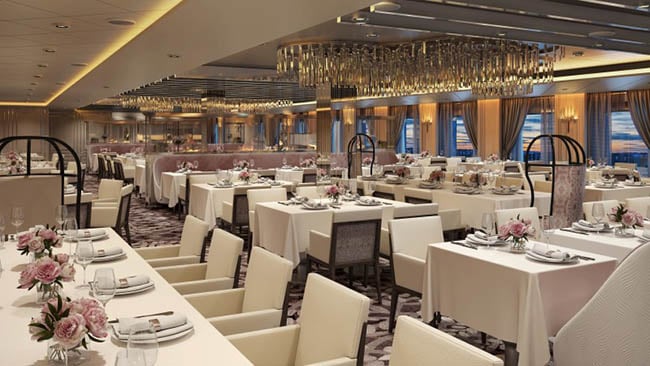 Complimentary Dining
While cruise lines continue to add specialty dining venues to ships, offering up great food and experiences at an additional cost, Edge offers up a number of complimentary venues which we'll cover first. 
Edge's Main Dining Rooms
Celebrity Edge will feature not one, but four complimentary main dining venues, each designed to evoke the ambiance of a different part of the world.  More than just décor, though, the menus in each restaurant will feature unique selections which showcase the flavor of the restaurant, in addition to some of the favorites that past Celebrity cruisers may have enjoyed on other vessels in the fleet.
Tuscan Restaurant, a nod to Celebrity's Tuscan Grille, will featured Italian dishes, including freshly made pastas
Normandie Restaurant, similar in concept to the brand's French restaurant, Murano, will feature French cuisine
Cyprus Restaurant, a nod to Celebrity's Greek heritage, and designed by Patricia Urquiola will allow guests to enjoy flavorful Mediterranean fare
Cosmopolitan Restaurant will feature "new American cuisine"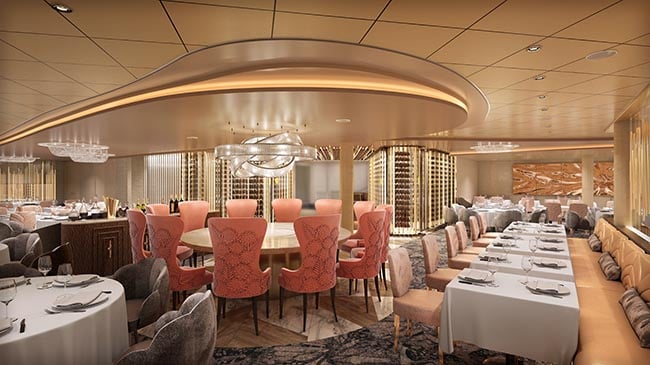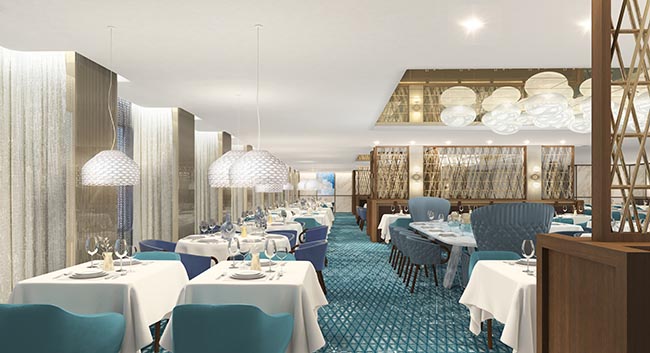 Together, these menus offer the line's largest selection of dishes ever, in addition to regionally inspired wines, cocktails and dishes exclusive to these venues, and served nowhere else onboard.
"Once again Celebrity Edge is solidifying, amplifying, and putting a superlative on our award-winning culinary experience, allowing our guests to explore the world without ever leaving their table.  From the amazing destinations we visit globally, to the local ingredients sourced to satisfy the visionary recipes created by our Michelin-starred chef, Cornelius Gallagher, we open up the world through our unique culinary offerings. - Lisa Lutoff-Perlo, President & CEO of Celebrity Cruises
Two Ways to Choose When & Where You Dine
Want to dine at the same time with the same wait staff each evening?  Celebrity Traditional Dining allows guests chose early or late seating and get assigned to one of the four main restaurants – but maintains the flexibility to dine in the other venues upon request.  This means that fixed seating can actually allow you to enjoy multiple restaurants and menus.
For some additional flexibility, Celebrity has renamed their "anytime" option, Celebrity Select Dining program, to Celebrity Select Dining Plus.  Dine in any of the four main dining rooms you choose, whenever it suits you – just make a reservation.
Note from Billy: Most cruise lines have anytime dining options now – and we often prefer this, though we're really bad at making reservations.  If you tend to dine at off-peak times, and are not a large group, we usually find very reasonable waits for walk-ups.  If you're with a group and looking to dine at peak times, you'll definitely want reservations.
Special Complimentary Venues for Suite Guests?  Sweet!
Dining on
Celebrity Edge
is an exclusive affair for Suite Class guests, with access to a private restaurant, Luminae at The Retreat, an evolution of the highest-rated restaurant in the Celebrity fleet designed by visionary Kelly Hoppen.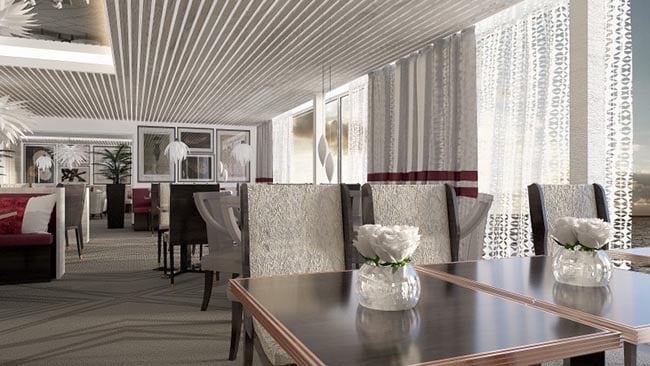 As on other Celebrity vessels, guests booked in AquaClass suites will have the option of enjoying the crisp flavors of the award-winning Blu, a spa-inspired restaurant featuring a healthier take on dining, without any compromises.
Additional Unique Options
Beyond the new main dining rooms and suite dining experiences, you'll find five other complimentary options on Edge. 
Oceanview Café - A multi-station buffet restaurant and a great place for a casual meal with a view.  On Edge this spot offers even more "live action" stations than other ships.
Mast Grill – Grab a bite by the pool with burgers, snacks, and more.
The Grand Plaza Café – Coffee before a show? A mid-day pastry (you know, to keep your vacation energy up)? In the middle of everything you'll always find options.
The Spa Café and Juice Bar – Whether a healthy snack or a post-workout replenishment you this spot in the Solarium is great for casual bites with tons of flavor and none of the guilt
Eden Café – In Eden, the revolutionary entertainment and dining venue at the aft of Edge where you can grab your morning coffee, or a post-yoga snack.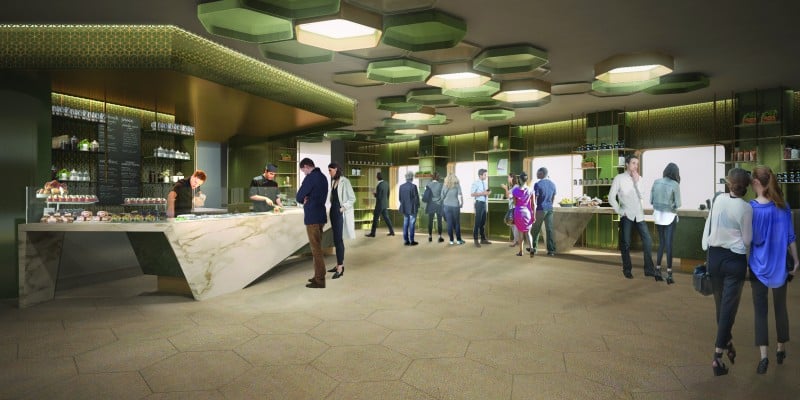 Specialty Dining on Celebrity Edge
Celebrity designed six new specialty restaurants just for Edge and also features several Celebrity favorites.  Some are new takes on traditional experiences, and others offer as much dining as they do entertainment and experience.
Fine Cut Steakhouse – serving prime and premium cuts cooked to order
Rooftop Garden Grill - backyard BBQ far from the pasture
Eden Restaurant  - part of the "Chillful. Playful. Sinful." experience is dining taken to exciting new places with an open-air kitchen and menus that deliver "experiential offerings" served by performers known as Edenists
Raw on 5 – this raw bar is a blend of St. Tropez and New England seafood and becomes a one-of-a-kind al fresco adventure with the best views on any ship when visited by the Magic Carpet.
Dinner on the Edge - when the Magic Carpet is positioned at the very top level it becomes an even more exciting experience known as Dinner on the Edge with ingredients sourced from ports of call by the onboard chefs
Le Grand Bistro – for breakfast and lunch this boulangerie-patisserie offers handmade macaroons, artisanal cheeses and freshly baked bread available on-the-go. At night the lights come down for an activity never before experienced on land or sea
Celebrity has partnered with TableMation Studios, featuring Skullmapping's, "Le Petite Chef." The animated 3D chef appears on guest's plates and prepares their meals before their eyes. This entertainment and dining experience will be offered once or twice per saling in the Grand Bistro and is sure to be something guests will be talking about that is currently not offered on any other ship in the world – but it will be rolled out to other Celebrity ships soon, starting with Celebrity Reflection.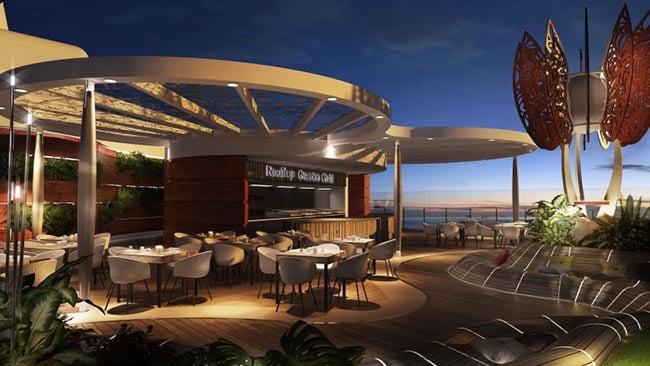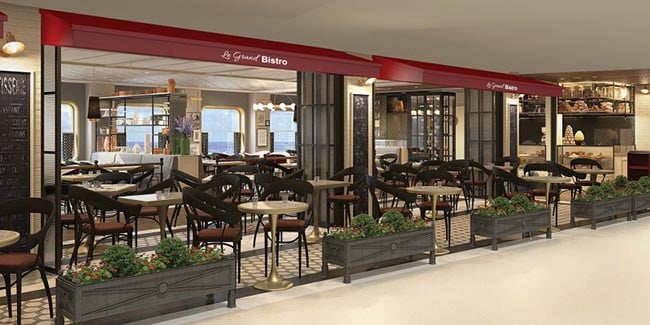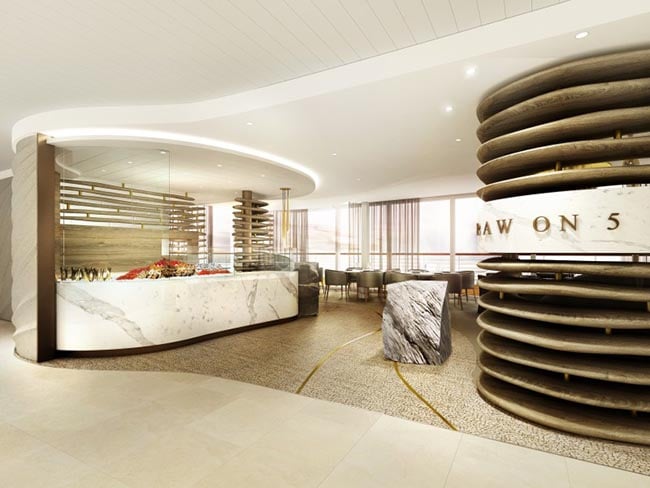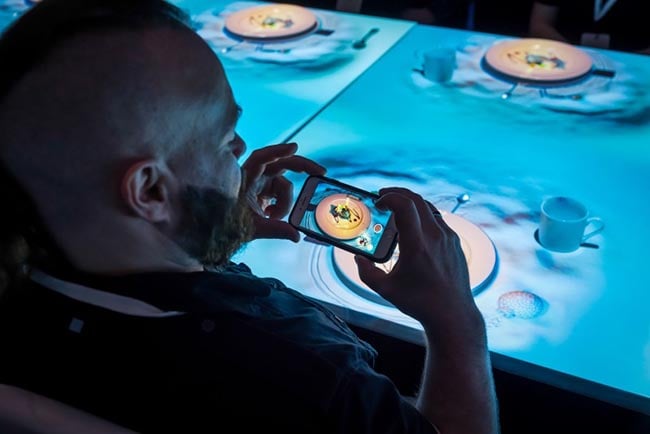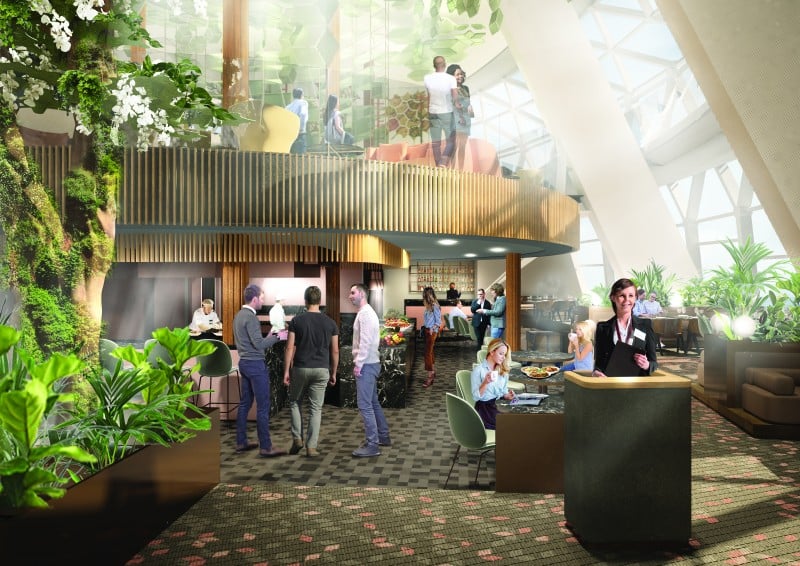 Many cruise lines now offer a fantastic variety of dining options, especially in specialty restaurants, but Edge includes a number of restaurants that seem to be about the experience rather than just the food.
"We are known for our world-class culinary offerings – our guests tell us this is what sets us apart and the prestigious awards we win affirm that – and on Celebrity Edge, we've combined unique concepts, expansive menus, and incredible design to serve a platter of exciting new dining experiences never before seen at sea."- Brian Abel, VP, Hotel Operations, Celebrity Cruises
Drinking Around the World – Even on a Seven Night Cruise
Celebrity Edge will feature 11 unique bars and lounges - including the much-loved Martini Bar and the Eden Bar (featuring fresh ingredients in a unique atmosphere). If it's wine you fancy, Celebrity has increased the size of their wine list from approximately 350 offerings to 500. The expansion is thanks so their new Ancient World wines list, sourcing wines from less-common destinations like Israel, Turkey, and China, and even India and countries in Eastern Europe.
Additionally, guests on Celebrity Edge will enjoy The Theater Bar; The Casino Bar; The Club; Café Al Bacio, the place to lounge and socialize over specialty coffees and complimentary pastries; The Pool Bar and Edge Cabanas; Sunset Bar; and Il Secondo Bacio.  Suite Class guests can also head to The Retreat Lounge and The Retreat Pool Bar, for exclusive experiences.
Billy's Take
It's exciting that we continue to see not just new venues and dishes, but experiences.  So much about Edge seems to revolve around the experience – she'll even be carrying tenders with bucket seats and windows, ensuring every step of the journey is a pleasant one.  Meals in Eden will come as part of a show, and Skullmapper's Le Petite Chef will even prepare your dinner in virtual reality.  While ships continue to increase options in terms of both dining and entertainment, Edge is really beginning to seem like a cohesive strategy that we suspect will become a new reality for Celebrity and perhaps others.  That in mind, the low capacity of the virtual experience in Le Grand Bistro with Le Petite Chef makes us wonder about the cost, and how diners feel about a meal that might seem a bit less social – though one everyone is sure to talk about after.
Absent from Edge's dining is Ocean Liners, a specialty restaurant included on past Celebrity ships where an individual liner inspired the décor, such as the Celebrity Constellation's dining room adorned with art of and artifacts from SS Île de France – considered one of the most beautiful liners of its time.  This isn't unexpected, as in late 2015 Celebrity announced it would be phasing out Ocean Liners, but we loved the concept and we're sad to see that it's really going.
One thing we'll be looking for is just how different the experience between each of the four main dining rooms will be, and if you'll actually need to dine on a specific floor to get certain dishes.  On one hand we love the idea of having multiple options in different spaces, but similar concepts quickly faded away on ships belonging to Celebrity's sister company, Royal Caribbean International, leaving slightly different décor on each floor of what is essentially the same restaurant. 
Overall, we love what we're hearing, and can't help but imagine two steps ahead to how this all plays out on Celebrity Beyond, Edge's sister ship – as traditionally the second vessel in a class tend to have some notable changes as experiences are ironed out.  Despite this, we're confident we'll live in the moment and share the experience with you when we sail on Edge in less than a year.  Perhaps that's what innovation like Edge is all about – learning of exciting new things and then wondering, "what's next?"
What do you think about the new options announced on Celebrity Edge? What are you most excited about trying on Celebrity's newest ship?  Comment below, or reach out on Twitter or Facebook.