Author: bill March 30, 2020, Updated: May 2, 2020
May 1, 2020 Update: Please see our tracker for the latest dates that cruise lines will start sailing again.

In the first part of March just about every cruise line suspended operations throughout the globe because of the global spread of COVID-19.  Now lines are putting the brakes on cruising for even longer, some into June.  In most cases this also means generous future cruise credits for those expecting to cruise in the future, rather than simply taking a cash refund.  Keep reading for more information on these updates, including details on what you should do if your sailing is impacted.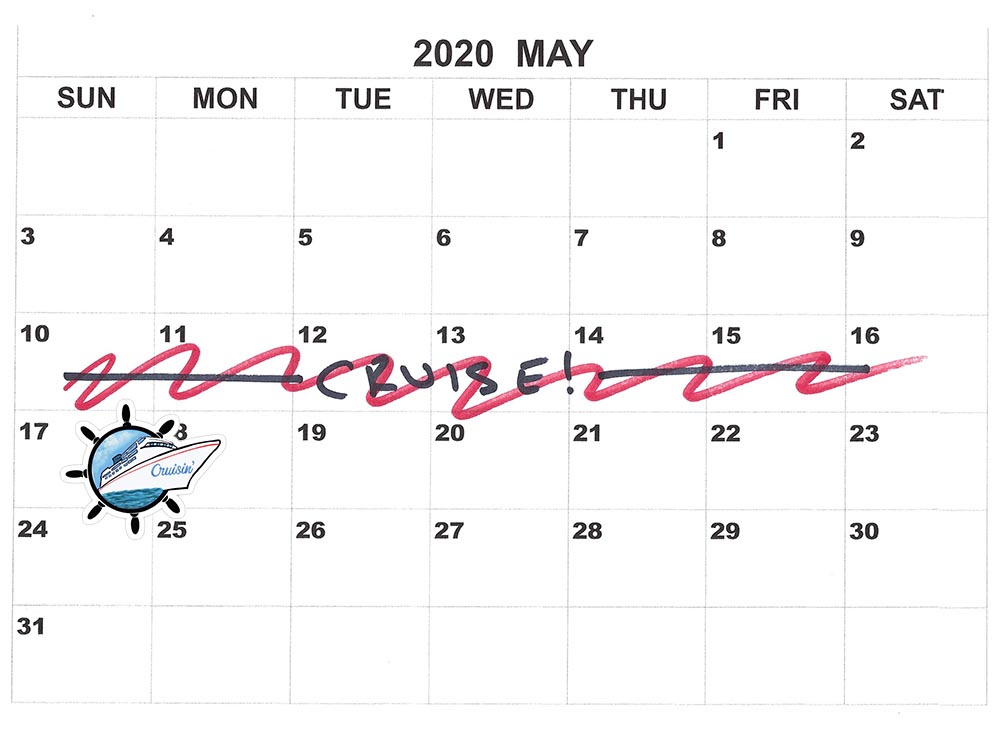 You can click to find the line(s) you're interested in here:
Carnival - Royal Caribbean - NCL - Celebrity - Oceania - Disney

Carnival Cruise Lines Cancels All Sailings Through May 11, 2020 - Some Through End of 2020
Carnival has currently suspended operation of sailings through May 11, as well as a number of other sailings where Canada and/or CA are involved, some through the end of the year.
As the COVID-19 situation continues to evolve, we regret to inform our guests that Carnival Cruise Line is having to cancel the following sailings:

All ships sailing March 14 - May 11​

Carnival Radiance sailings through and including Novermber 1

Alaska sailings through and including June 30

Carnival Legend sailings through and including October 30

We truly value our guests and appreciate your patience and understanding. To that end, we want to provide flexibility as you think about your future plans. Below are two options for guests whose cruise has been canceled to consider, including a bonus value offer. We look forward to welcoming you on board, when the time is right for you.

Carnival will honor this offer for any guests who were previously booked on these voyages and canceled their booking on or after March 6, 2020.

If you are booked on one of these sailings, please make your selection here – there is no need to call.

Regardless of the option you select, your taxes, fees and port expenses, Carnival Vacation Protection, pre-paid gratuities, pre-purchased Carnival shore excursions, beverage and Wi-Fi packages, and Fun Shop purchases will be automatically refunded to the original form of payment.

If you purchased your own flights for getting to your cruise, we encourage you to contact your airline or travel agent about your options as the airlines are being flexible with change fees.

Royal Caribbean Extends Global Suspension of Cruising
Royal Caribbean is currently planning on sailing again starting May 12 2020, though sailings for Alaska/Canada, and Canada New England won't start again until at least July 1.  It should also be noted that Voyager of the Seas, in Singaport, is schedule to return to service in June.  You can find more information at the Royal Caribbean Blog.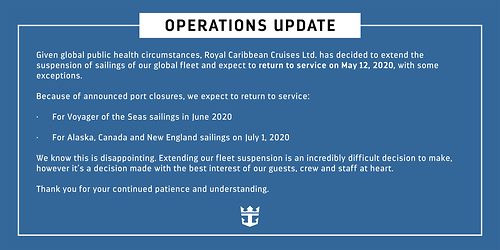 MIAMI, March 24, 2020 - Given global public health circumstances, Royal Caribbean Cruises Ltd. has decided to extend the suspension of sailings of our global fleet.

We are working with our guests to address this disruption to their vacations, and we are genuinely sorry for their inconvenience. We are also working with our crew to sort out the issues this decision presents for them.

We expect to return to service on May 12, 2020. Because of announced port closures, we expect to return to service for Alaska, Canada and New England sailings July 1, 2020.

Norwegian Cruise Lines Extends Suspension to All Sailings Through May 10
In addition to suspending sailings through May, Norwegian and offering generous future cruise credits of 125% and 150%, they're offering an additional 20% discount if you use book using your future cruise credit by April 14th!.  This is a great deal for affected guests looking who know they'll be cruising in the next 20 months.
Updated 03/30/2020    Your safety is our #1 priority—both on and off our ships. Due to the current global environment, we are extending the suspension of all sailings across our fleet through May 10, 2020 and plan to relaunch cruise operations with embarkations beginning May 11, 2020. We are thinking of each and every one of you, and together we will return to our favorite place — the ocean, stronger than ever.

Guests who were booked on suspended cruises will automatically receive a 125% or 150% refund of their cruise fare in the form of a Future Cruise Credit which can be applied towards any Norwegian Cruise Line voyage through December 31, 2022. Future Cruise Credits will be applied to your account by April 1, 2020.

We're also giving an additional 20% discount when you book by April 14, 2020 using your Future Cruise Credit on cruises embarking July 1, 2020 - December 31, 2022! This discount will be automatically applied when you book online.

Guests who do not prefer to take advantage of a future cruise credit will receive a refund to be payable after 90 days from completion of the Refund Form below. Refund requests must be submitted by April 27, 2020 for all suspended sailings.

Please note that if your suspended sailing was scheduled to embark between April 12 - May 10, 2020, you will not be able to request your refund through this form until April 13, 2020.

Celebrity Cruises Announces Global Suspension of Cruising Through May 11
Celebrity has canceled sailings through May 11, as well as Alaska and Canada/New England sailings through July 1st.  In addition to offering future cruise credits of greater than the cruise fare, for a limited time they (and Royal Caribbean) are allowing guests the option to get 125% the value of items purchased in their Cruise Planner (such as drinks, WiFi, excursions, etc) in the form of onboard credit, instead of a refund.
Extraordinary times call for extraordinary measures. We have now suspended all global sailings through May 11, 2020. In addition, due to port closures, we are suspending Alaska sailings through July 1, 2020; and Canada/New England sailings departing May 19th, May 28th and June 16th will be modified. We understand the severity of the public health crisis confronting us around the world and want to ensure that we play our part and take appropriate action. We are working with all guests impacted by these changes and appreciate the patience and understanding of all those involved during these unprecedented times.

Guest Letter from President & CEO, Lisa Lutoff-Perlo

For impacted sailings, compensation of 125% Future Cruise Credit (FCC) will be processed automatically. Future Cruise Credit is good through December 31st, 2021. If you prefer to forfeit the higher value of the 125% Future Cruise Credit for all of the guests in your reservation and instead accept a 100% refund, you may contact us anytime up until the expiration date of your FCC.  

If you pre-booked any shore excursions, beverage, internet, specialty dining or other onboard packages, through Celebrity Cruises, you will have the option of receiving 125% Onboard Credit (OBC) to be used on your next sailing, or you may choose a 100% refund.  In order to select the 125% Onboard Credit please click here to submit your request.  If we have not received your choice of compensation for these pre-booked items by April 8th, you will automatically receive a full refund to your original method of payment.  Guests with independent shore excursion arrangements should contact their tour operators as soon as possible. 

Oceania Cruises Extends Cancellations Through May 11
Oceania has suspended sailings through May 11 2020.  They're offering refunds for canceled sailings, in addition to a 25% future cruise credit.  They've also modified some itieraries as noted below.
Insignia: The ship's Around the World voyage will operate a revised itinerary that charts a southerly course for Australia and New Zealand before heading across the South Pacific to Polynesia and Hawaii and concludes in California and New York on the original schedule. Passengers sailing on the full world cruise have been provided goodwill compensation in addition to a future cruise credit.
Regatta: Sailings out of Papeete, Tahiti, have been canceled due the closure of ports to cruise ships in French Polynesia.

The safety, security and well-being of our guests, crew and communities we visit is our number one priority.

We continue to closely monitor the COVID-19 coronavirus situation and the global health environment. With COVID-19 continuing to impact communities and ports around the globe, we have extended our voluntary temporary suspension of voyages. Our suspension that was for voyages embarking March 13 to April 11 has been extended to now include all voyages embarking through May 10, 2020. We plan to recommence operations beginning May 11, 2020.

COVID-19 TRAVEL AND HEALTH PROTOCOLS FOR VOYAGES EMBARKING MAY 11, 2020 ONWARD

We have proactively implemented a comprehensive set of preventative measures outlined below to address concerns regarding COVID-19. We will continue to consult with The World Health Organization (WHO), the U.S. Centers for Disease Control and Prevention (CDC) and other global public health and industry associations and will take additional preventative actions as deemed necessary.

Disney Cruise Line Suspends Sailings Through April 28
Disney is offering similar future cruise credit options as other lines, though interesting they've not yet canceled Disney Wonder sailings which are schedule for Canada, which is not receiving ships until at least July.   

With the well-being of our Guests and team members our top priority, and in line with the direction from health experts and government officials, Disney Cruise Line has decided to extend the suspension of all new departures through Tuesday, April 28, 2020.

Guests currently booked on affected sailings will be offered the choice of a cruise credit to be used for a future sailing within 15 months of their original sail date or a full refund. These Guests and travel agents will receive an email from us outlining details and next steps.

Guests who booked their reservation through a travel agent should contact them directly with any questions. Those who booked directly with Disney Cruise Line and have questions after receiving their email from us should call us at (866) 325-2112 or (407) 566-3510.