Author: Bill October 30, 2020, Updated: November 2, 2020
The US Centers for Disease Control (CDC), which has for months been extending its No Sail Order, preventing cruising from returning the US, is allowing that order to expire at the end of October, meaning they'll allow a phased approach to the resumption of cruising - but don't pack your bags yet.  The below section of the CDC website was updated today, October 30th, 2020.
Update: We've dug into the new rules and next steps and you can read all about it here.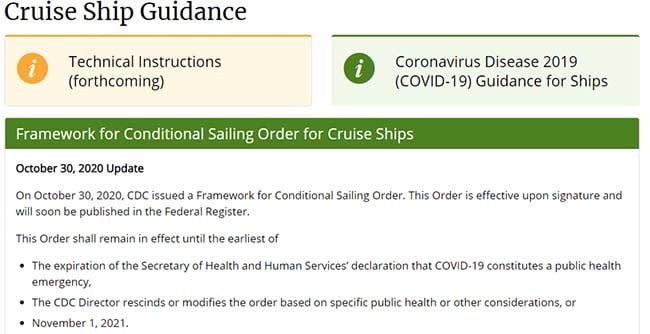 The phased approach means that three basic steps can occur:
Testing and other measures will be put in place and acted upon to ensure the safety of crew (and those in contact with them).
Cruise lines will demonstrate their ability to follow guidelines outlined by the CDC and other agencies on "simulated voyages", to ensure that they can conduct things, "in a manner that mitigates COVID-19 risk among passengers, crew members, and U.S. communities."
Ships can gradually return to service with guests (shorter sailings with capped capacity and other restrictions).
Resumption of Cruising
Of course it will take some time to get everything in place to ensure compliance, return crew members to ships, ready supplies, bring shoreside operational staff back, etc.  The CDC has also not yet posted the "technical instructions" or exact guidelines - and it will be interesting to read those along with the documents they've already provided, to find out how in line they are with findings from Royal Caribbean and NCL's "Healthy Sail Panel" and other groups researching the best path forward.  Because many steps have already been taken by cruise lines to improve inside air quality, enhance surface disinfection protocols, and more, the greater alignment of these plans the more prepared lines may be to start up again.  All of these steps though are potentially slowed by quarantine periods and other logistical challenges.  In short, while this is great news for cruisers, don't start packing your bags and expect sailings to start next week.
You can see a summary of the CDC guidelines so far: These Are the New CDC Rules for Cruising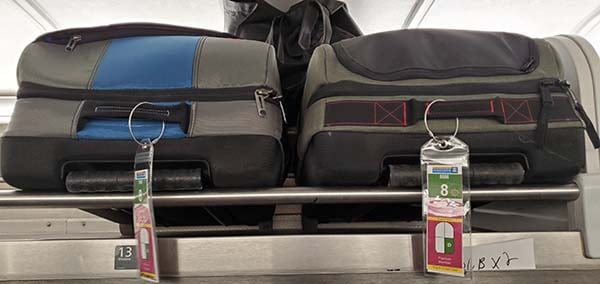 In fact, most cruise lines have already cancelled all November 2020 sailings, and some still don't have plans to resume until the spring - but shorter sailings with other restrictions, to ports allowing cruise guests, could begin before too long if everything goes as hoped.
Just yesterday, Richard Fain, CEO of Royal Caribbean Group, announced that they expect to have non-revenue cruises (meaning no paying guests - could be employees or other invited persons) starting first, and that they'd be evaluated by third parties, before regular sailings start.
Once paying guests are onboard though, we can expect across the industry to see not only fewer guests on ships, but even large lines may only sail a small number of ships as processes are worked out, ports re-open, and demand increases.
We're tracking cruise lines scheduled return to service dates on this tracker.
Next Things to Watch For - Billy's Take
In addition to cruise lines updating procedures based on new protocols and carefully bringing back crew, we can expect other restrictions to be announced.  Not only did the CDC spell this out, but logically, while much research has been done to show how we can minimize the risk of cruising, increasing infection numbers on land will make potential cruisers and regulators apprehensive.
Read About Steps NCL Took Early On to Enhance Safety
Cruise lines want and need to carefully temper expectations.  Of course they want to communicate that cruising is a safe and fun way to get away, but they also know that doing this RIGHT is really critical, as are setting expectations.  We've seen that it's pretty impossible to guarantee that there won't be infections, so while executives and PR teams tout safety, they'll also want to show that they have a plan for when something doesn't go as planned.  Making cruisers comfortable with this will be critical to ensuring that the first time someone does test positive on or after a cruise, the public sees this as a well-handled unfortunate circumstance, rather than a failure of process.  Luckily, we already have some idea of what works and what doesn't based on the experience cruise lines have had in Europe, which started operating in the past months.  You can read more about that here: Which Cruises Have Started Again and What Are They Doing to Prevent COVID?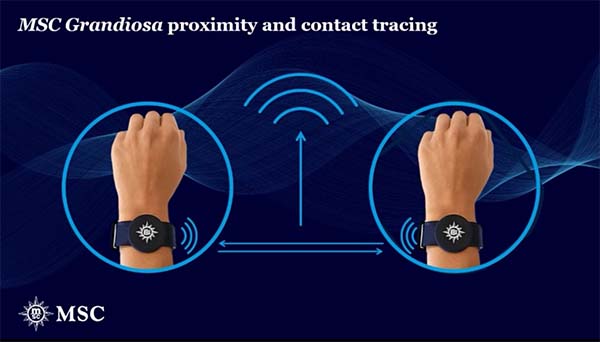 Finally, and similar to what I mentioned above, it's entirely possible that any number of circumstances could push cruising out months, even without a no sail order.  We certainly hope that doesn't happen, and we'll be booking the earliest cruises we can, but they might again change, and some ships are never coming back.  Once things do start though, we're personally confident that the industry has so much skin in the game that every reasonable effort will be made to ensure the safety of guests, crew, and local communities - and we can't wait to tell you about it as we sail away and watch the port get smaller in the background, whenever that might be.