Author: Bill
If Google or Facebook has ever noticed you type the word "cruise", you're likely already aware of today's festivities just miles from Port Everglades. As such, we'll keep this short and offer some links to videos and other articles.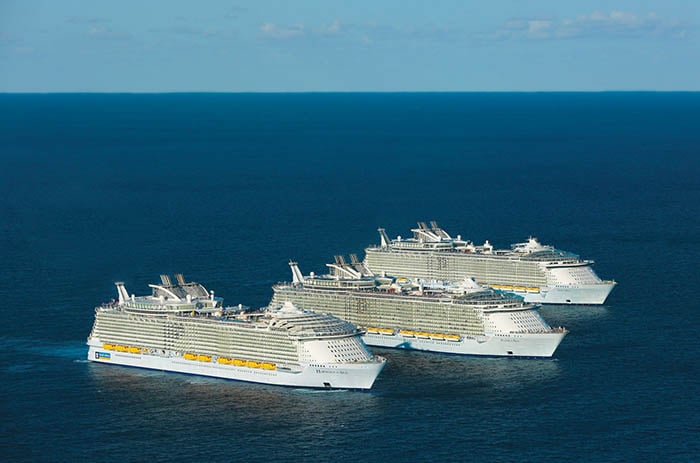 In case you didn't live your day tied to a screen (not...that I do that), after a nearly two week journey across the Atlantic, Royal Caribbean's newest ship, Harmony of The Seas, arrived just off the coast of Ft Lauderdale this afternoon. The occasion is noteworthy not only because it marks the arrival of the world's largest cruise ship to her new home town, but because she posed with her sister ships, the next largest, Allure of The Seas and Oasis of The Seas. This means the picture you see above represents a total guest and passenger capacity of nearly 18,000!
The Oasis just completed her final sailing out of Port Everglades, her home since entering service. At today's event she carried no passengers and she heads to Port Canaveral Florida, her new home port. Allure heads to Nassau for her final night of an otherwise routine seven night sailing. Harmony will embark on a three night sailing tomorrow, and then two media/VIP sailings, each two nights, before beginning seven night Eastern and Western Caribbean sailings out of Port Everglades.
RoyalCaribbeanBlog.com is a great site with coverage pertaining to all things Royal Caribbean, and several passengers today captured great video of today's event. As such, I'll give you some basic facts below about Harmony of The Seas, and otherwise point you those fantastic sources. Oh, and if you want your own awesome feed of live videos from ships, checkout RCPeriscopers.live.
Harmony of The Seas Stats
Build Cost: US$1.35B
Laid Down: May 9, 2014
Builder: STX France SA
Tonnage: 226,963GT
Displacement: 120,000 tons of H2O
Length: 1188.1 ft
Beam: 217 ft
Darught: 30.6 ft
Guest Capacity: 6,780
Crew Capacity: 2,300
Links & Videos
Videos from the Allure by our friend Ron and the great Mark Swisshelm
A discussion of today's events and many other things Royal Caribbean by my friend and personal Drupal tech support Matt of RoyalCaribbeanBlog.com
Royal Caribbean's Own Periscope Footage
RoyalCaribbeanBlog.com's post on today's events