Author: Bill March 13, 2020, Updated: November 22, 2023
Royal Caribbean Cruises Ltd and their brands Royal Caribbean, Celebrity, Azamara, and Silversea have followed Norwegian Cruise Line's announcement, suspending cruising due to coronavirus.  
This was first reported by Royal Caribbean Blog, our preferred and recommended source of Royal Caribbean information.  Their site is having a bit of trouble keeping up with the traffic, but you can see Royal Caribbean's press release below.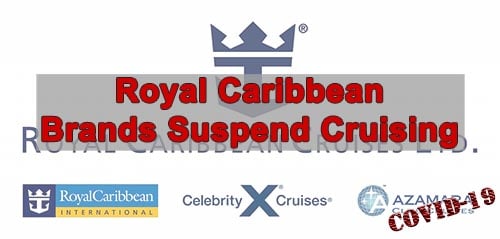 MIAMI, March 13, 2020 – Today Royal Caribbean Cruises LTD. announced that it is suspending cruising in the United States for 30 days.
We understand the gravity of the public health crisis confronting the country. And this is our part to play. So, beginning at midnight tonight, we are pausing the fleet's US sailings for 30 days. 
We are reaching out to our guests to help them work through this disruption to their vacations, and we are truly sorry for their inconvenience. We are also communicating with our crew to work out the issues this decision presents for them. We know this adds great stress to our guests, employees and crew, and we are working to minimize the disruption.
Cruises that depart US ports before midnight tonight and international cruises will operate their scheduled itineraries. US ships already at sea will finish their itineraries as planned.
Our business is providing great vacations and creating great memories. We look forward to getting back to work as soon as we can.
Other Royal Caribbean Brands such as Celebrity Cruises
Royal Caribbean International, Celebrity Cruises, Azamara Club Cruises, and Silversea Cruises, all Royal Caribbean Cruises Ltd brands, are all canceling all sailings from the US for the next 30 days.
Billy's Take & Additional Information
Essentially only one large cruise company, Carnival Cruises Ltd is left sailing (along with some smaller companies - though many have them have also suspended operation).  If and when Carnival, who already suspended operation of Princess Cruises, will make further announcements remains to be seen.
Once Norwegian Cruise Lines made their announcement earlier today, it seems likely the other large companies would follow.  Those impacts have a lot to consider and understand about their future cruise credits and other options, something we cover here.