Author: bill September 6, 2022, Updated: October 13, 2022
Recently, the adult only cruise line Virgin Voyages created a new add-on to allow sailors traveling as couples to enjoy themselves even more.  The new "A Splash of Romance" package includes VIP access, spa access, pressed juice, champagne, and more.  Is it worth it?  Does it add romance, or just perks?  We tried it on the very first cruise to offer this option.  
October 13, 2022 Update: The experience we write about below was in early September when the package was first launched.  Since then some modifications have been made.  This isn't a surprise given the value the package represents and the demand seen from sailors.  We've noted in bold, in each section, what we know to have changed since our review.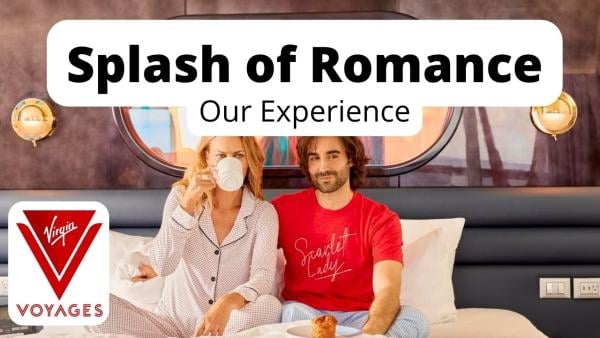 What's Included
Before we talk about our experience, let's start with a quick rundown of what is included and the objective value of some of the offerings.
As Explained by Virgin Voyages
Expedited boarding with a dedicated line at the terminal

A stylish and exclusive wristband to wear in addition to The Band so our Crew knows to surprise and delight you

Daily cold-pressed juice cabin drops
Juice is now available for pickup during a dedicated window, and is no longer delivered to guest staterooms as part of this package.

A 3-Hour Thermal Spa Pass per Sailor

A Shake for Champagne

Access to Let's Sail Away party on Richard's Rooftop
This party has recently been hosted in other locations, especially just below The Athletic Club on deck 15 aft.

Aphrodisiac bites to keep the romance flowing

Value Breakdown
Pressed juices run $7-8 each (food and drink menus with prices here), so we'll call that $15 (since there are two guests) times five, since we're testing this on a five night cruise.  $75

A three hour thermal spa pass runs $39, so that's $78

Shake for Champagne is really just a fun way of delivering a bottle of Moët & Chandon (by shaking your phone, someone shows up with the bottle and glasses).  $100
Of course we can't assign numbers to other parts of this package.  VIP boarding and the sailaway party at Richard's Rooftop, for example, may be great for some, but not something you can generally add on to your cruise (though both are included if you're a Rockstar - a sailor booked in a suite).  What "aphrodisiac bites" are was a mystery for us.  Also immeasurable are any "surprises."  
If you were to buy the things we can put a price on, that's $253.  The package cost?  $200.  Keep reading to find out if the other experiences added more value.
Virgin has said that the price will change starting on November 1, 2022, but the new price has yet to be announced.
Our Experience with A Splash of Romance
A quick note: As this was the very first time this was offered, and it happened to be the busiest sailing in Virgin's history so far, there were some elements that I suspect, but can't promise, will be smoother or better moving forward.
Expedited Boarding
I expected that this perk would have us using the "VIP & Rockstar" queue and lounge at Terminal V, but on arrival there wasn't any signage indicating what to do.  When we approached this area the terminal employee had no knowledge of the package (nor the new "Sailing Club," which also offers expedited check-in).  Our app screen didn't indicate anything different with check-in, either.  Several other guests had the same inquiry, and given our polite persistence and confidence, and the fact there were multiple parties with this claim, she let us check in with Rockstars.
So, the start of these benefits was less than ideal, but I'll give Virgin the benefit of the doubt that there was simply a communications gap with the folks at the terminal, which hopefully, will get worked out for future sailings.
There is now a dedicated line, but NOT with Rockstar check-in.  Guests have been assigned the first boarding group, so they can board immidiately after Rockstar sailors.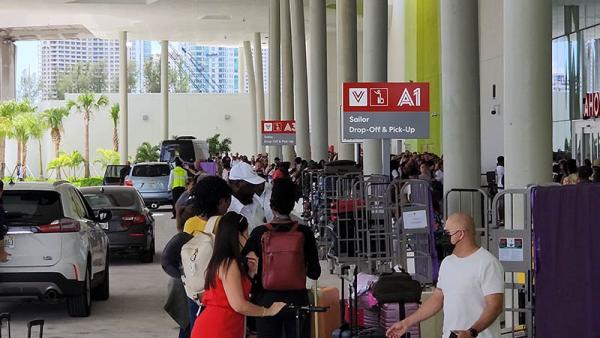 Did this save us time?  On other sailings I'd been on this wouldn't have saved us much (if any) time.  Because this sailing's check-in seemed overall more hectic, perhaps in part to the record-setting occupancy (about 1800 sailors), it did end up being a nice perk - something that, once they iron out the communications bugs, seems potentially valuable as the line becomes more popular.  In short, I actually think this could be very valuable in the near future.
Surprises
Virgin Voyages' sailors all get wristbands used for opening cabins, charging privileges, and embarkation/disembarkation.  With this package they also give us cloth wristbands so that crew can easily identify us.  We've seen them use similar wristbands for parties and even COVID testing.  
Did it make a difference?  Not on this cruise.  A couple of crew and entertainment staff, including in the Happenings Cast (the collective group that Virgin uses instead of a Cruise Director) mentioned it, but it didn't result in any "oh wow" experiences.  In fact one or two inquiries were really just asking us how the new package was treating us.
Cold Pressed Juices
On embarkation day we got a message in the app from Sailor Services, asking about any allergies to keep in mind.  I hadn't received this message in the past, and it did seem to be a human asking, so I suspect this was about the juices and "aphrodisiac bites." 
On the first morning we didn't think we got juices - but I later realized we slept in very late and had the DND light on, so I suspect they just didn't want to bother us.  We opened the door to leave and found a Ship Eats bag with our juices.
Juices are now available for pickup at a specific venue during a window of time each day, and aren't delivered to sailor rooms as part of this package.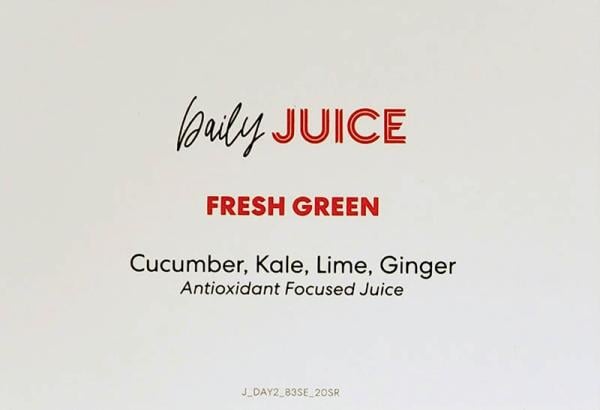 It's definitely worth reading the card that explains what juice you're getting, because while they've all been delicious, some have a lot of ginger, which is a surprise in the morning, when you're not expecting it.  Am I a "big juice person"?  No, and I don't think I've ever paid for cold-pressed juice before, but this was a nice treat.  
In fact, Virgin takes the win on this, as in the future I suspect I'll be spending some of my bar tab on these juices.
Thermal Pass
That might sound strange to spa lovers, but this was actually my first time in the thermal spa onboard this or any ship. I was excited to see why people go to thermal spas.  With this package, you get everything you get as if you paid for a three hour pass: a sauna, steam room, a small pool, a hot tub, two ice pools, a mud room, a salt room, and an area (with beautiful views) that has heated hard surfaces you can lie down or sit on. I spent time in all of these except for the salt room, and I only dipped a finger into the ice pools - they're seriously cold.  The folks at the spa couldn't have been nicer, and I can absolutely see the appeal.  In fact, while I don't know if this particular experience resonates with me, I can see coming back just to enjoy the area with the pool and warm surfaces, as it is such a pretty and tranquil space.
You should probably reserve a slot ahead of time for the spa, especially if you want to go on a sea day.  I was a little surprised no one reached out to me to book my time, since I'd essentially prepaid it.  Also, don't take photos in steam rooms or mud rooms.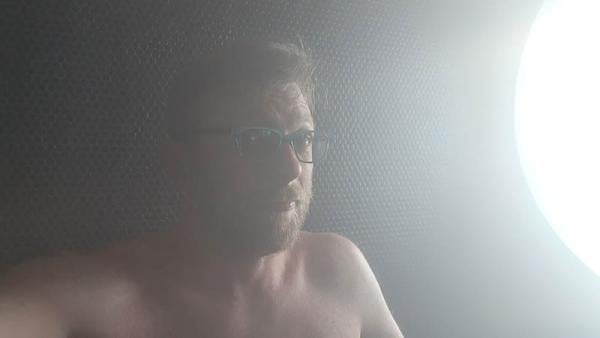 Shake for Champagne
This was a slam dunk for us, as we're not ones to turn down champagne.  If it's not your favorite, however, they seem to load this onto your account as an extra $100 in bar tab (prepaid credit for drinks), so it seems, at least for now, like you could easily use this for whatever drinks you want, whenever you want them.  We wanted champagne.  In that way, it lowers the net price for most sailors to $100 right out the gate.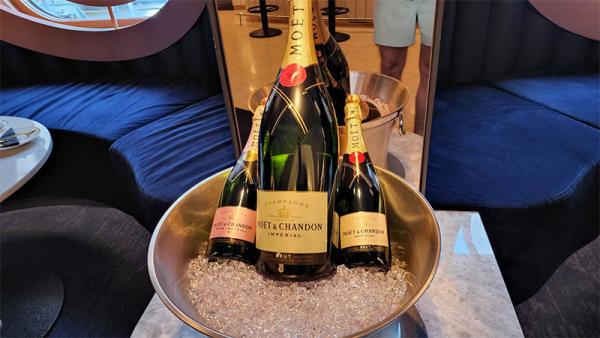 Let's Sail Away party on Richard's Rooftop
On the top deck, all the way forward, is an outdoor suite area called Richard's Rooftop.  We got to enjoy this when sailing in a suite back in July.  While it's a lovely, and very tranquil place to relax, we didn't spend a ton of time there, and in fact, we didn't even go to the sail-away party.
On this trip we had to try it, especially since we only had access during the party.  Virgin serves complimentary sparkling wine for all during sail-away, which is a nice treat.  At the Rooftop party, however, they pour Moët & Chandon - not a bad upgrade there, and their's a more relaxing vibe overall.  This was actually pretty nice.
We did notice some fine print that they may move this to The Perch (deck 17 aft) at their discretion, depending on how many people are booked.  
The party is no longer advertised as being at Richard's Rooftop, and seems to be held on deck 15 aft, just below The Athletic Club.
Aphrodisiac Bites
On the third and fourth nights of the sailing we had some sweet treats brought to our room.  This included macarons, jellies, chocolates, and more.  They were all quite good, and a welcome treat.  I did think it was a bit strange that this was just for two nights of a five night sailing, and obviously the "aphrodisiac" label is really being thrown around here.  In the end, however, anything that includes chocolate is a win for me.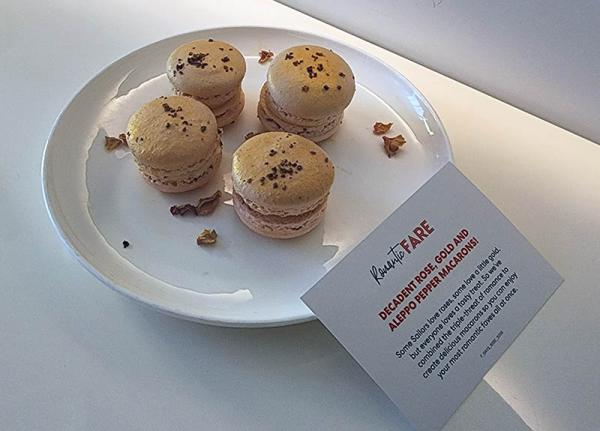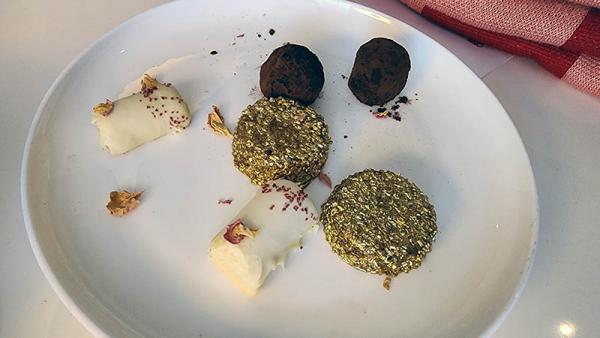 Purchasing A Splash of Romance
At launch, the line announced that this package would cost $200, and would only be offered to 50 cabins per sailing.  Your travel agent can easily add this to your existing booking, or you can call Virgin Voyages (though we hear lately their wait times have been rough - another reason to use a good travel agent).
Interestingly, the response was apparently overwhelming, because just a couple of days in, Virgin had to stop selling this package while they retooled how it could be purchased.  They'll reportedly start selling it again during the week I'm publishing this, and in the meantime, sailors can pre-register by filling out a form on Virgin's website.  We'll be interested to see if they make any adjustments, given the popularity.
Our Take on the "A Splash of Romance Package"
While Virgin was going for something whimsical here, I think they ended up with something very practical.  If you are planning to purchase at least $100 in drinks, two thermal spa passes, and some pressed juice, then this is a no-brainer, because you're at least breaking even right there, and get to enjoy the rest of the benefits.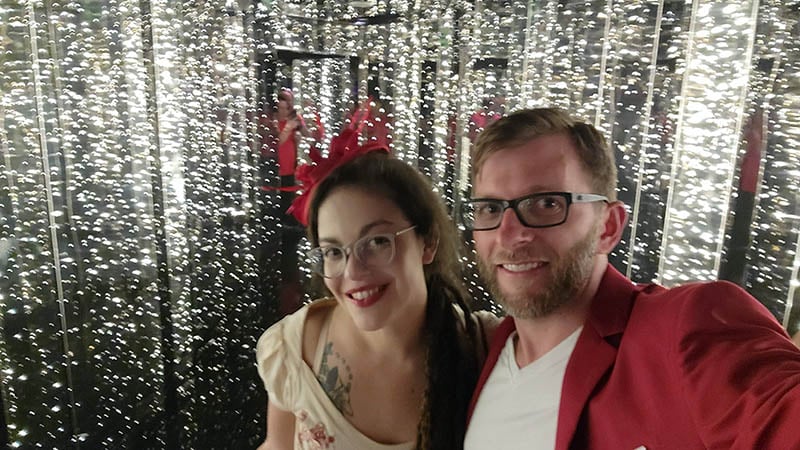 Did it really add a romantic ambiance?  No, and aside from the labeling it would not have been awkward if I had purchased this package while sailing with a platonic friend - but that's okay.  Virgin already has a great cruise product for all sorts of traveling parties, including couples - so while I'm not sure this package makes it more romantic, I think they do a good job of that already, so you just have to decide if the benefits are of interest to you, for the way you travel.  My suggestion would be to think of this more as a "relaxation package" - a way to speed up check-in, enjoy the spa, and enjoy a few extras on your cruise.