Author: Bill March 14, 2017, Updated: September 1, 2021
Royal Caribbean Cruises, Ltd (parent company to Celebrity Cruises) and Port Everglades have signed a memorandum of understanding (MOU) providing the framework for a long term deal between the two entities.  This agreement includes customized renovation of Port Everglades' Terminal 25 by October 31, 2018.
"Our cruise line customers are becoming more sophisticated in the way they think about the guest experience, as we saw when Royal Caribbean partnered in the construction of Cruise Terminal 18 for their Oasis class of ships," said Port Everglades Chief Executive Steven Cernak. "We value the company's partnership and confidence to bring the newest ships from Royal Caribbean and Celebrity Cruises to Port Everglades."  
This MOU still needs to be approved by the Broward County Board of County Commissioners, and once set, the agreement will expire September 30, 2026 with options to extend the agreement for four years, and then optionally, another five. This comes on the heels of Royal Caribbean Corporation's agreement with Miami-Dade County to build a new facility at PortMiami to facilitate Symphony of The Seas and Allure of The Seas.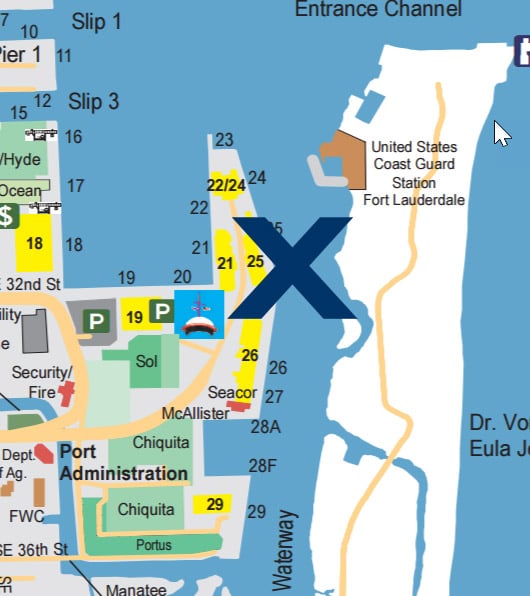 My Take
It seems fairly clear based on the target completion date that Terminal 25, which is already home to various Celebrity and Royal Caribbean ships while in Port Everglades, will be where the new Celebrity Edge will berth.  The vessel already seems to set a new standard in the industry, and the inclusion plans which allow passengers to disembark in ports of call through the Destination Gateway and Magic Carpet onto Edge Launches, air-conditioned tender craft, mean that guests will continue to enjoy fantastic accommodations throughout each step of their trip.  A new terminal designed with Edge in mind would extend that consistency of service and style to the initial check-in and embarkation process.  This would likely benefit Royal Caribbean passengers as well, who currently have, at least esthetically, a sub-par embarkation process when using Terminal 25 compared to Terminal 18 which has been built from the ground up for Oasis Class ships.  Terminal 29 is most commonly used for non-Oasis Class RCI ships, and it has been in some state of renovation for several months.
How much difference does the embarkation terminal make in your cruise experience?  Let us know in the comments below, or reach out on Facebook or Twitter!