Author: Bill February 19, 2022, Updated: February 27, 2022
When cruising out of Port Canaveral, it's convenient, and often more relaxing, to get a hotel in Cocoa Beach the night before you sail.  We've stayed at multiple hotels near the port, but we keep going back to one of them, Hilton Cocoa Beach Oceanfront.  Let's look at what frequently makes this hotel the right choice for us, so you can see if it is right for your next trip.
Hilton Cocoa Beach Oceanfront Location - Close to Port Canaveral
The hotel is located at 1550 N Atlantic Ave in Cocoa Beach, FL.  This puts it less than six miles from Port Canaveral's cruise terminals.  It's also, importantly, on the ocean side of the island, which means it's on the beach, and you can walk from the downstairs lobby and restaurants, right onto the sand and into the water.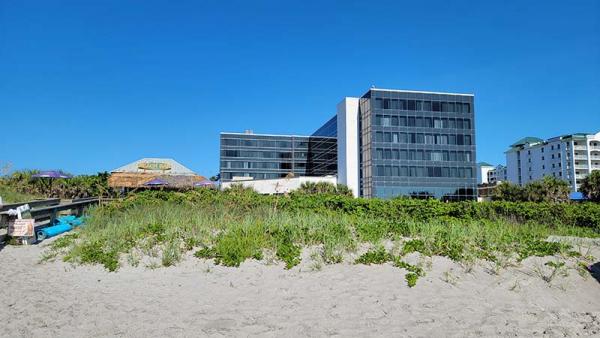 Cocoa Beach is on a thin barrier island - so you've got water just a couple hundred feet (or less) from each side of the main drag, Atlantic Avenue.  It's bordered to the north by the city of Cape Canaveral, which is very small.  In fact, things blend pretty seamlessly from Cocoa Beach, to Cape Canaveral, to the port.  While there are accommodations on the mainland, it's far more relaxing (and pretty) to stay in Cocoa Beach and enjoy what, to this Florida native, feels like "old Florida."
You can see more about why I love this area on my post on TouringPlans.com: Benefits of Sailing out of Port Canaveral
Getting There
The hotel is about 50 miles east of MCO (the largest of the city's airports), and about 60 miles from Walt Disney World.  You can get to the area either by renting a car, taking an Uber, or arranging private transport.  Shuttle services exist, but they often aren't idea.  Shuttles operate on their own schedule, not yours, and may have stops for guests going to different destinations.  Additionally, they frequently charge per passenger, which can get steep.  Your travel agent can help arrange private transportation.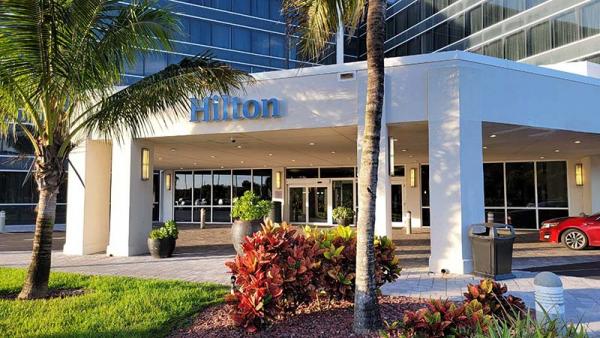 One thing you should note, as I know it's a popular question, is that the Hilton Cocoa Beach Oceanfront does not offer a complimentary shuttle to the nearby cruise port - and I don't think this is something that most guests should care about.  Why?  Hotel shuttles run on their schedule, not yours.  When you're looking at a hotel that's this close to the port, a ride via Uber is only about $15, so you'll limit your choices, and potentially pay more, if looking only at hotels with shuttle service.  In fact, in one of my first YouTube videos years ago I discussed a similar consideration for Park & Cruise packages at hotels.
Amenities at Hilton Cocoa Beach Oceanfront
If you're just needing a place to lay your head the night before sailing, then you probably don't need much, but even when using the hotel largely for this reason, I found they had a lot to offer.  While we didn't take advantage of the hotel's meeting rooms or fitness center, I've definitely tried out the hotel's food and beverage options.
You'll find Cool Beans coffee shop (serving Starbucks products and other snacks) in the lobby, which is excellent to pep you up when one of you is raring to go for that pre-cruise beach walk and the other still needs more sleep.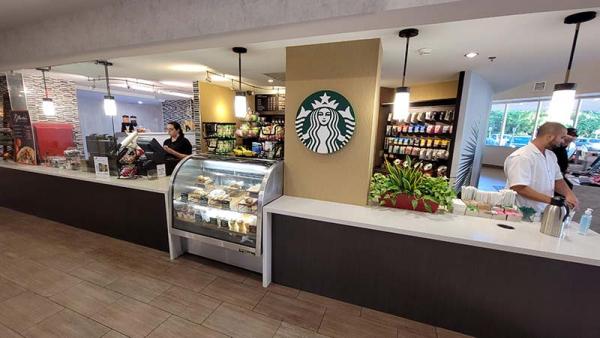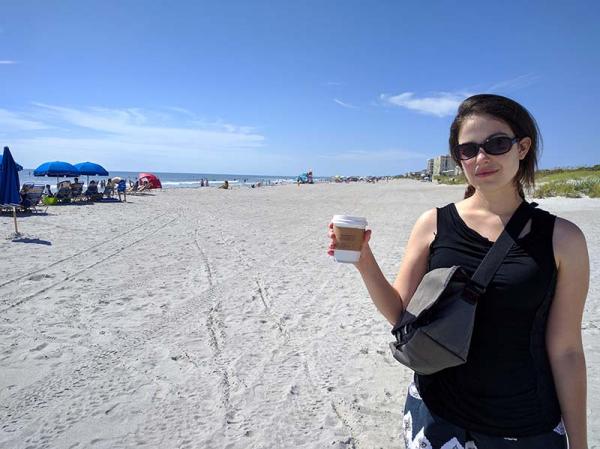 Right next to that is Gilberto's Gelato & Creamery if you're looking for something sweet.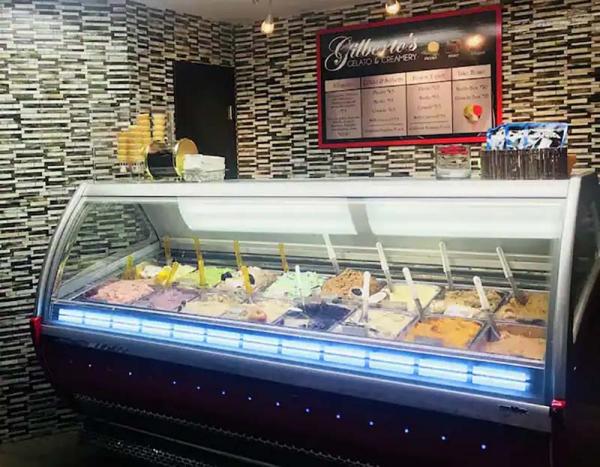 The whole lobby is actually quite nice, with lots of comfortable seating, a business center, and, like all things in this part of Florida, a rocket.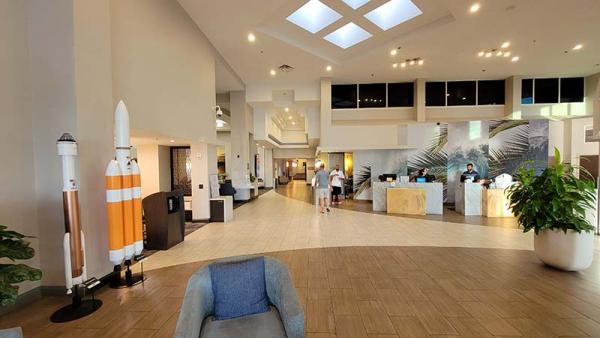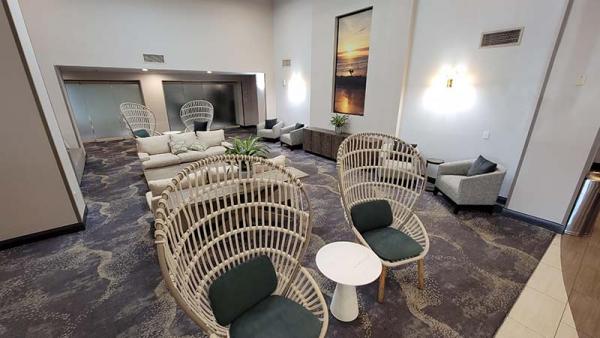 On the first floor opposite the lobby is Salt Restaurant (and the associated Salt Lounge). This is one of the high points, as I've often found that the food at even decent hotels is just…meh.  Salt has some great items and uses fantastic quality ingredients.  For example, my breakfast came with a fruit plate that wasn't just canned fruits in a bowl, or a ton of melon and three grapes, but really fresh cut fruit, including pineapple, citrus, and strawberries.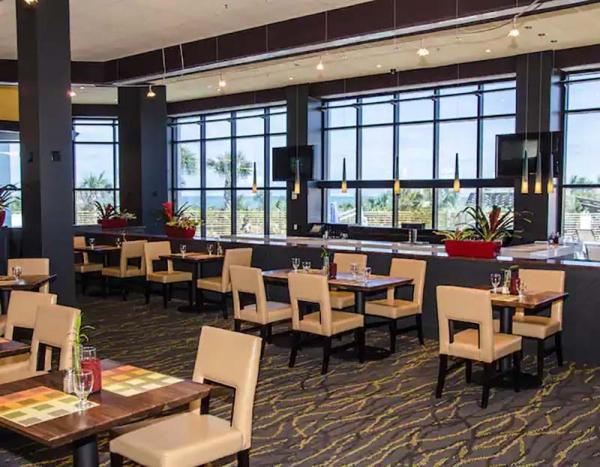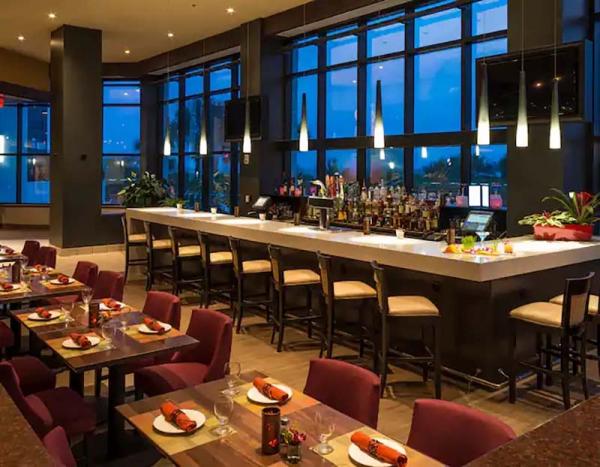 If you're a Hilton Honors Gold or Diamond member, then you'll enjoy a generous daily credit for food and beverage, which you can use at Salt.  If looking to spend some time outdoors, though, you can also use that credit at Longboards Tiki Beach Grille, a large tiki bar near the Hilton's pool, which serves cocktails, beer, frozen drinks, as well as a variety of food - though I don't think I've ever eaten here.  I definitely have enjoyed the drinks, and it stays open through the evening, which we liked.  During the rare-but-lovely cool Florida nights, they even have fire pits to keep you warm.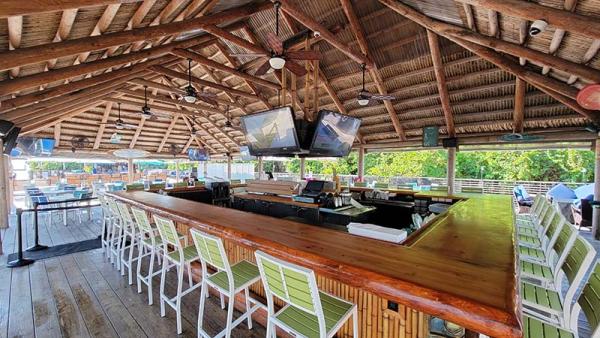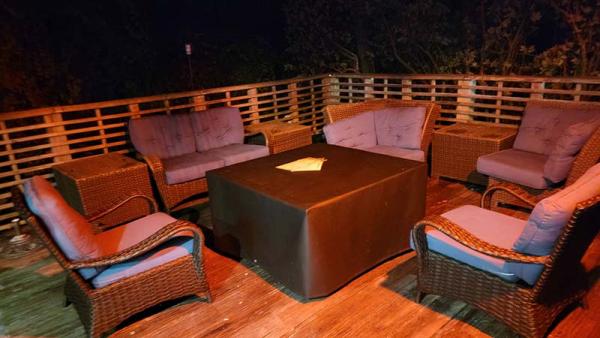 The nearby pool area has a good number of loungers for laying out in the sun.  While not very large, I also didn't ever see the pool or this space fill up.  So, don't expect a water-park experience at all, but if you want to lay around and cool off, but not in the ocean, then this will certainly fit the bill.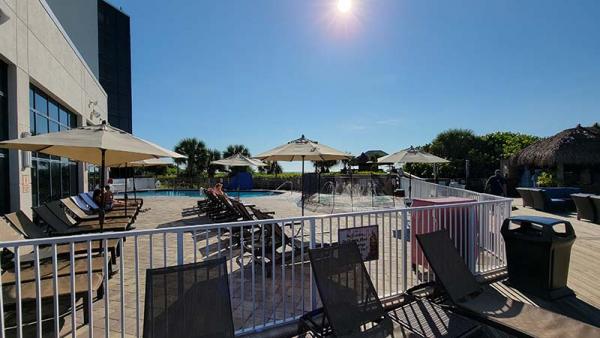 From the tiki bar and pool area you can walk out onto the boardwalk and enjoy some time on the beach.  Cocoa Beach is among my favorite stretches of Florida's coast, as beaches are wide, quiet, and have very soft sand.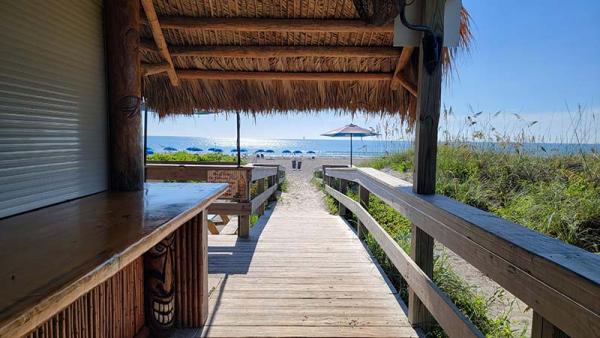 It's a gorgeous place to take a stroll in the evening, too.  At night you might even catch a ship on the horizon - but if there isn't enough of a breeze, you may also catch a lot of mosquito bites, so keep that in mind.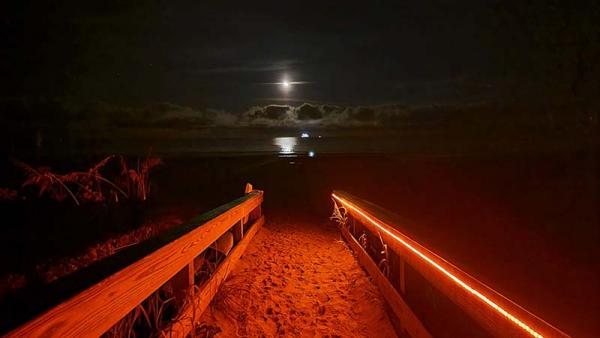 When inside the property, there is excellent WiFi available throughout the public spaces and rooms.  As someone who often works right up to embarkation (or even after I board), this has been handy, and I've enjoyed being able to get things done at the desk in my room, or down by Salt Lounge.
Rooms at Hilton Cocoa Beach Oceanfront
All rooms feature a large TV, desk/vanity with extra outlets, a sitting area, a bed, a wardrobe, and a pretty standard but small hotel bathroom.  In some rooms (all those I recall staying in at least), there is small area approaching the bathroom that is a handy place to get ready or store other toiletries.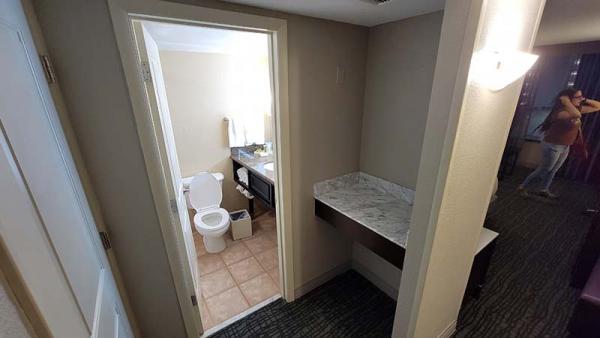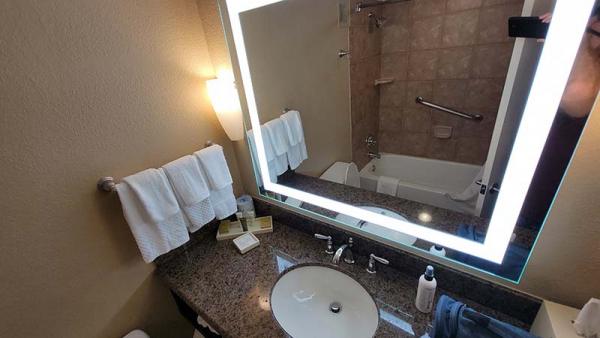 The decor is modern and understated - not an over-the-top beach motif.  While we have found the typical stack of menus and property guides, on our more recent stay they did have a QR code with room service menus, which I preferred to extra clutter.
On that recent stay we enjoyed a test cruise on Royal Caribbean's Mariner of the Seas - Read our Mariner Live Blog & More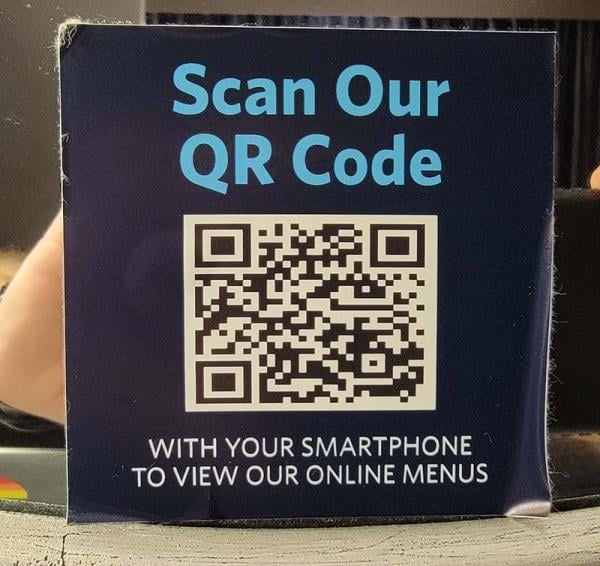 I've never requested any special rooms on our stays at this property, and we've always found accommodations to be comfortable and clean.  The beds don't have the best mattresses I've slept in at a hotel, but they're at least as good, if not better, than those at other nearby properties we've stayed out.  While not something I necessarily seek out in a hotel, I do appreciate that the rooms are very well lit.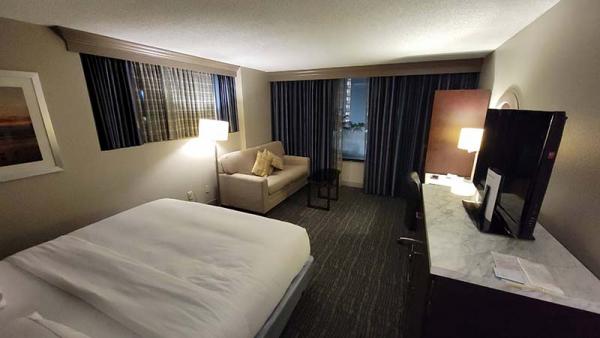 If you'll be spending some time at the resort during the day, then it may be worth inquiring about rooms that face the ocean, rather than those facing the parking lot or adjacent properties.  I once had a room at the end of the hall, which did mean an extra window, but since it was facing another hotel, it didn't serve much purpose.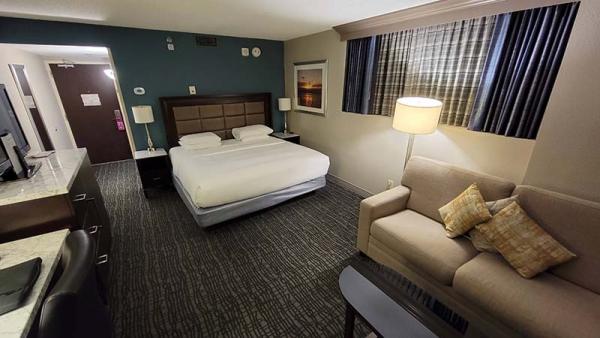 The rooms are carpeted, which is something I'm often hesitant about - but the carpet has always been clean, and the interior corridors probably help.  In terms of size, I'd say you'd have absolutely no issue with a party that has a lot of luggage in tow (say, for a back-to-back cruise).  We were even able to stow some bags in the wardrobe, with clothes hanging above them.  Some of the rooms do have sofa-beds, and adjoining rooms as well as suites are also available.
Conclusion
I love the Cocoa Beach area, so while Port Everglades is much closer to where we live, I never think twice about heading north, sailing from Port Canaveral, and trying to squeeze in at least a few relaxing hours in town the day before we sail.  The one thing that's bothered me is that there aren't as many hotels - or at least hotels I've liked, as one would expect.  The Hilton Cocoa Beach Oceanfront, however, has never let me down.  I know I can get a clean room, good food, and enjoy a nice stroll on the beach.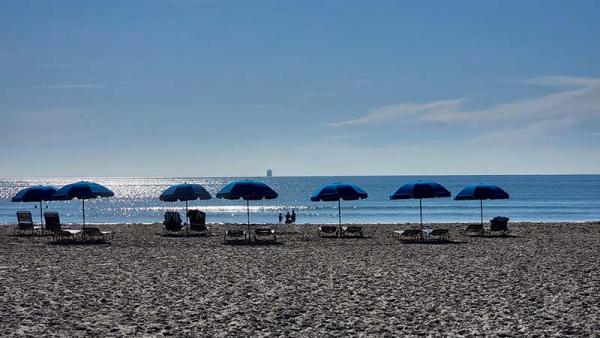 Cruise lines seem to feel the same way and book many guests here - you may even see cruise line representatives on hand.  I prefer to ask my TouringPlans travel agent to help me with the planning, because sometimes booking the hotel with your cruise stay can represent a savings, and other times it may cost even more.
If after this review you're thinking that maybe you should tack on some extra time in Cocoa Beach, I don't think it's a bad idea, and while you're at it, check out the nearby Kennedy Space Center.  You may find yourself in the mood when enjoying Florida's Space Coast.