Author: bill July 26, 2020, Updated: July 30, 2020
Port Everglades in Ft Lauderdale, Florida has received Broward Country's renewed approval of their 20-Year Master Plan to expand the busy cruise, cargo, and fuel port, and add some impressive new features.  The $1.6 billion plan was initiated in 2014 but is updated every few years, and outlines over fifty projects to be completed at different points over the next two decades. The goal? Strategically growing the large commercial port, which among other feats, welcomed over 3.7 million cruise passengers in 2019 alone.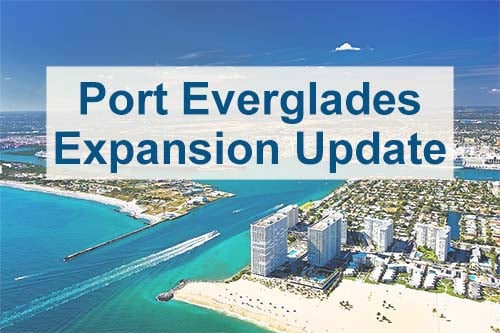 "This 20-Year Master/Vision Plan update is comprehensive and strategically paves the way for future growth and progress at Port Everglades. Cruise, cargo and fuel operations generate billions of dollars of economic activity and create [SIC] thousands of jobs and personal income" said Broward County Mayor Dale V.C. Holness.
Many of the projects are specific to cargo and fuel operations, such as the purchase and installation of three new post-Panamax container cranes and the addition of larger cargo berths - others benefit the cruise industry, and those are the things we'll be focussing on. Be sure to read to the end to check out Billy's take on the updates.
Traffic and Parking at Port Everglades
One of the findings of researchers early on was that significant congestion issues exist at the port, especially on days with multiple cruise ships calling on the port.  There are some road construction projects that are slated for completion in 2023, and others slated for 2026/2027 (they're dependent on other efforts), which should help reduce some of the bottlenecks in the multi-use port.  These will directly impact commercial traffic, but that should make access to the Midport cruise area a bit smoother.  Additionally however, the completion of the Terminal 2/Terminal 4 parking garage (where Princess ships typically dock, closest to the 17th St Causeway Bridge on the north end of the port) should reduce the transitive traffic, allowing guests on those ships to enter the garage almost directly after security.
In all, four cruise terminals are being renovated, in addition to those modernized in the past ten years: Princess/Carnival Terminal 2, Royal Caribbean Terminal 18 (specifically built for mammoth Oasis class ships), and Celebrity Terminal 25, which should mean that all of the most-commonly used cruise terminals at the port will be ready for the more modern and comfortable embarkation experience that cruisers are coming to expect. 

Cruisers will have to be patient, as Terminal 26 and 29 along with their garages aren't expected to be completed until 2030, while Terminal 30 is estimated to be completed in 2038.  There are some other things coming however, which could greatly reduce passenger vehicle traffic into and out of the port.
Automated People Mover Between Ft Lauderdale International Airport and Port Everglades
We've discussed various ways of getting between the airport and cruise port, and have often wished there was a train connecting the two.  In fact, part of the Port Everglades Master Plan involves synergies with a plan at the airport to build an Automated People Mover (APM) that goes in a loop to various terminal, car rental facilities, and other areas of the airport.  Included in this plan is the ability and intent to build an intermodal center that would further connect the APM to the Midport area of Port Everglades (where cruise ship terminals are), and the Broward County Convention Center.  The intermodal facility could also allow for remote check-in, security screening, and baggage drop off.
This is still in the planning phase, but it appears the goal would be to have this intermodal facility and expanded APM built before 2030.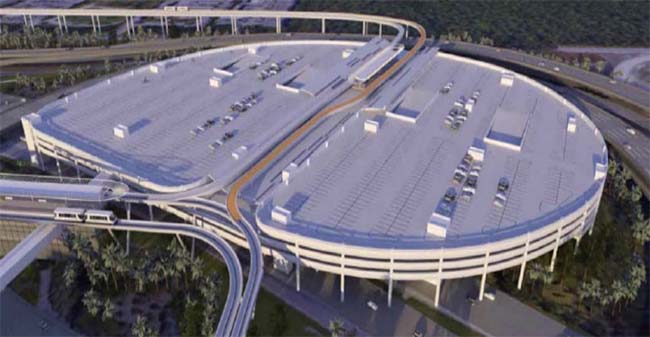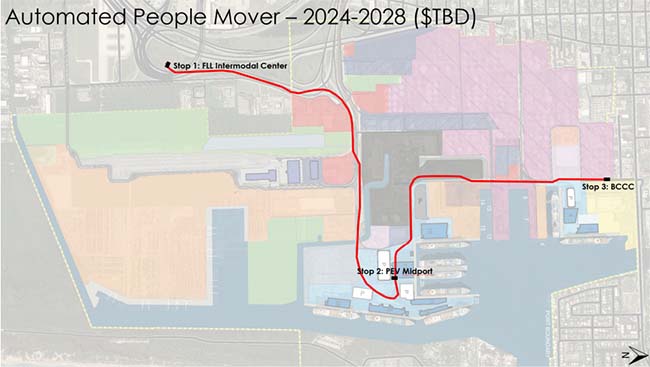 LNG Bunkering Facilities - Or Not
An increasing number of cruise ships and other vessels are being built to run on Liquefied Natural Gas (LNG).  Carnival Corporation's AIDA and Costa brands already have ships running on LNG, MSC has LNG vessels under construction, and Disney Cruise Line and Norwegian have plans for future LNG-powered vessels.  These efforts are critical in reducing greenhouse gasses and lowering operational costs, but of course LNG bunkering options in North American cruise ports have so far been limited to Ship-to-Ship (STS), where LNG is pumped from a barge to the other vessel.  This is the most common way in which ships are currently bunkered with fuel oils.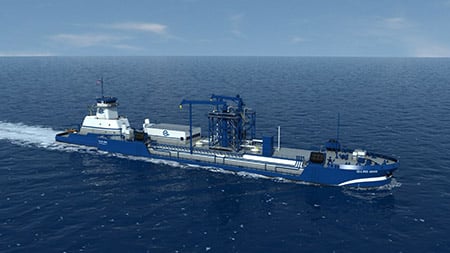 Port Everglades doesn't currently have a plan to build LNG tanks and cryogenic pipelines to route fuel to ships, but they acknowledge that the possibility of such a need should remain part of updates to the master plan.
Additional Projects with the US Army Corps of Engineers
Much like the FLL synergies, other entities are at play, including the US Army Corps of Engineers which is responsible for the waterways themselves.  The Corps' Navigation Improvement Project is an ongoing effort to deepen and widen the channels at the port, and received congressional approval in December 2016.  This project is being coordinated with Port Everglades as well as the US Coast Guard, who is having a new larger facility built at the port, and needs to relocate as part of the widening efforts.  While the deepening and widening will be ongoing for some time, the new USCG facility is expected to open in late 2020.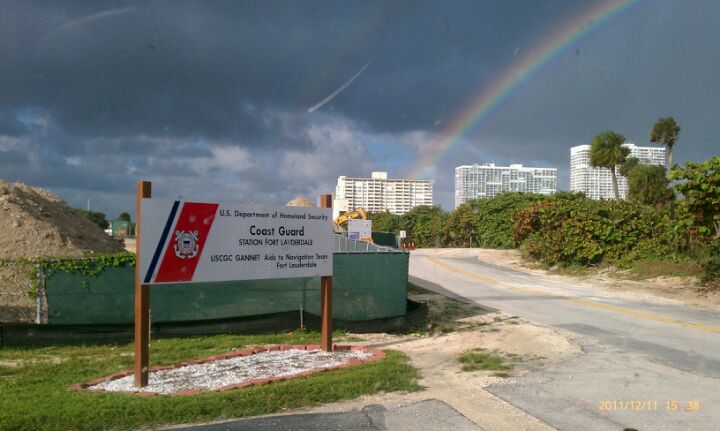 For those wondering, CruiseHabit wasn't able to identify any updates to jetty just outside the port, at Dr Von D Mizell - Eula Johnson State Park.  The Corps' maintains this jetty, and it continues to serve its purpose as a breakwater, but it has been closed to the public since Hurricane Irma in September 2017.  Despite this, the park still remains a great place to relax, get a drink, and enjoy cruise ship sail-aways.
Billy's Take
I hope I've saved you from reading through hundreds of pages of reports and plans - as that's certainly what your intention was before reading this, right?  Many of the ambitious plans for Port Everglades are uninteresting to the cruising public, but it's good to see that efforts are continuing to things that will help make embarkation and/or disembarkation more pleasant.  While we're local to this facility, it's probably a safe bet that many cruisers will be excited at the possibility of an automated transport system between the airport and cruise terminal - though we wonder how transportation providers feel about this.
It's not unlikely that projects outside the scope of this plan will come to reality in the next few years as well, as we've seen cruise lines and governments putting a lot of attention on the end-to-end cruise experience - something abundantly apparent in the newly designed and branded terminals at PortMiami.  Despite the recent economic challenges, especially around cruising, it seems a safe bet that this trend and these projects will continue.  Projects like these will hopefully be seen as imperative to getting people back to work, especially in tourism-based economies, and we can't wait to do out part to help by setting sail.