Author: Bill August 25, 2018, Updated: August 26, 2018
OceaniaNEXT
Oceania Cruises announced that they're going to be doing significant work to "re-inspire" four of the line's six vessels in a $100 million project that is just the first project in an initiative they're calling OceaniaNEXT.  The project will mean that the 684 guest R-Class ships, Insignia, Nautica, Regatta, and Sirena, will each have 342 suites and staterooms redesigned with a whole new look, custom furnishings, a refreshed color pallette of soft sea and sky tones, lush carpets, and more.  Further, they'll introduce new décor in bars, lounges, and restaurants.  "OceaniaNEXT will be the most extensive and comprehensive suite of product and guest service enhancements that we have ever undertaken," said Oceania Cruises President and CEO Bob Binder.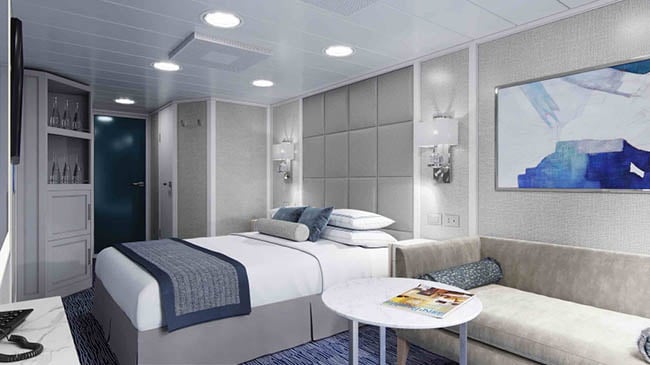 South Florida Based Studio DADO Leading the Redesign
Oceania Cruises, as well as their parent company Norwegian Cruise Line Holdings are based in South Florida, and have found good neighbors in Studio DADO, a firm specializing in luxury interior design for the hospitality industry.
"The Studio DADO team was initially commissioned to completely redesign just the public rooms on board the Insignia," said Binder. "They blew us away during our first meeting. Experiencing their energy and passion was delightful, and exactly what we needed for OceaniaNEXT. We immediately enlisted them to also design 342 staterooms and suites that were stripped down to the steel. They nailed the designs within the first shot, and in only two weeks."
"The moment we stepped on board, we were impressed by the ambiance and attention to detail," said founding partner of Studio DADO Yohandel Ruiz. "The guests we spoke with kept telling us how dearly they loved the ships, so it was important that we kept the intimacy and warmth in the redesign. What we landed on provides a modern and airy atmosphere, similar to what you would find in an elegant estate home."
Re-Inspiration by the Numbers
66 Days
$100 Million Dollars
1,368 New Suites & Staterooms
1,400 New Marble Bathrooms
8,00 New Light Fixtures
12,0000 New Sofas & Chairs
1,000+ Artisans & Craftsmen
Inspired by Their Own Riviera and Marina
Oceania's O-Class ships, Riviera and Marina, offer plenty of inspiration for the new look of the beloved R-Class ships.  Effortless style in an elegant atmosphere will define the characteristics of the mid-ship Reception Hall and Upper Hall - the two-story area first seen when guests step aboard the 684 passenger R-Class vessels.  The frequently photographed grand staircase will be redesigned to feature intricate railings and crystal accents below a hand-painted glass chandelier.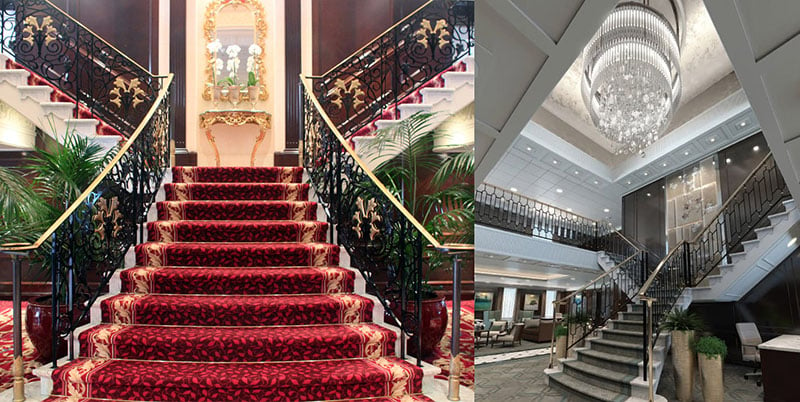 The Grand Dining room will get plenty of sparkle with new soft-leather chairs containing metallic bronze thread, intended to catch light from the rooms centerpiece, a crystal chandelier.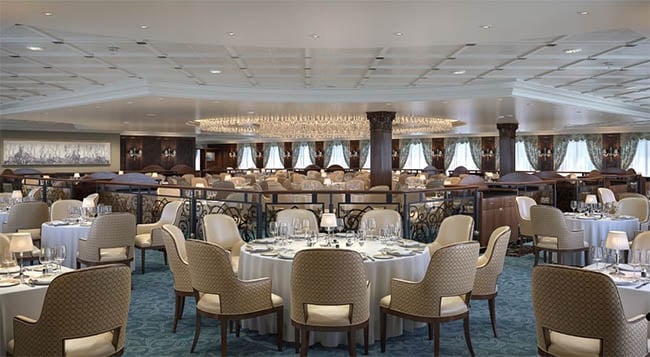 Martinis, the R-Class ship's casino-bar and lounge (smoke-free) will be brightened up from it's dark leathers and woods with a pallette inspired by Santorini, with blue, sienna, and chocolate browns along side pewter, silver-white marble, and tobacco quartz - all while keeping the signature walnut paneling.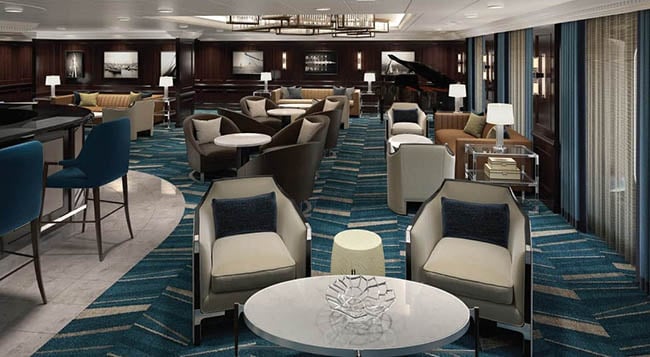 A Totally New Look for R-Class Staterooms & Restrooms
The staterooms will be much brighter than current designs, while also being more spacious.  Rooms will be completely stripped down to bare metal and modernized with custom furnishings, stone, and woods.  There will be some technological enhancements as well, with new televisions, on-demand entertainment systems, USB charging ports, and more.  
This year Oceania announced enhancements to internet connectivity across their fleet, and began complimentary access for all guests - read more here.
"The staterooms and suites are the most dramatic of the transformation," said Ruiz. "They now feature a very clean design with a sophisticated air. Enhanced by nuanced shades of the sea and sky, the tones are warm and soothing, incorporating silvery greys and greens alongside vivid sapphires and taupes."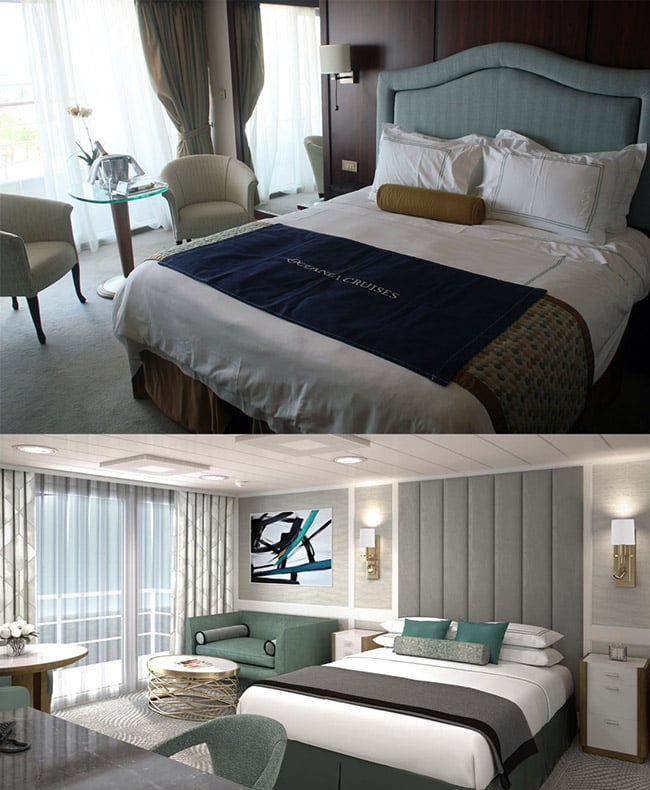 Inside the bathrooms guests will find all new fixtures, designer lighting, and glass shower enclosures.  Penthouse, Vista, and Owner's Suites will be feature Carrara marble, granite, and onyx.
Coming Soon - Plus More!
Insignia will be the first to show off the new look on Dec. 7, with Sirena following in May 2019, Regatta in September 2019 and Nautica in June of 2020.  More announcements on OceaniaNEXT are expected as early as this year.
Billy's Take
Oceania is one of our favorite lines - for many reasons.  One thing that is remarkable about their ships is that they feel like a home rather than a hotel (not our home, we don't think 'Ikea at Sea' would hold up).  Their R-Class ships are amazing vessels (you can read our thoughts on Regatta here), and while we really enjoy their smaller feel compared to the still-modestly-sized O-Class ships, the decor feels warm and rather like a classic country-club, whereas O-Class ships feel a bit more contemporary.  It looks like the aim is to make the R-Class ships feel as modern yet comfortable and familiar as the Riviera and Marina (O-Class).  Keeping a somewhat "homey" feel is critical, as not only does Oceania feature many longer-voyages, but has an extremely loyal following; on our sailings it wasn't uncommon at all to meet guests who'd sailed with the line scores of times.
These differences are, at the moment, especially apparent in staterooms, where it is clear that the R-Class ships were built and outfitted to feel like ships rather than homes.  This is in fact the case, as R-Class ships were originally built for Renaissance Cruises before the creation of Oceania.  Take the restrooms, for example: they're perfectly adequate and well-appointed, but like most ships, lack drawers and are modular in design.  When Oceania founder Frank Del Rio (now CEO of parent company NCLH) first discussed their commissioning of the O-Class ships, he took special care to talk about the amenities in the restrooms and staterooms that made them like no other ships at sea, noting among other things, that having a restroom without drawers made things "messy."  He aimed to break paradigms that couldn't be broken on the R-Class ships without the type of radical overhaul happening as part of OceaniaNEXT.
What is impressive to us is how proactive Oceania is being with these changes, as despite the R-Class ships' 20 year vintage, they're already in impeccable condition and don't feel tired in any way.  In fact, Sirena was freshly refurbished when she was brought into the Oceania fleet just two years ago.  Also important is the line's work to keep their ships in top condition, but true too is that the ships were built with a rather progressive design for the times - with open spaces and the majority of staterooms featuring ocean-view verandahs.  
One thing we haven't learned is whether Regatta, Insignia, and Nautica will feature Red Ginger, an Asian-fusion restaurant that we fell in love with on Marina, and that is currently only featured on Marina, Riviera, and Sirena.  The restaurant proved far more popular than anticipated when introduced on the O-Class ships, so this would be a fantastic addition to the specialty (though complimentary) dining options offered on the three other R-Class ships.
What Bob Binder says in the below video is true - Oceania guests love their ships, the furnishings, the decor, and especially the mattresses (seriously - they're the best mattresses we've slept on).  This means that some guests, not wanting to fix something that isn't broken, may be worried about these changes.  We're confident however that changes coming soon will only enhance the guest experience, and we look forward to testing that out for ourselves.