Submitted by

Bill

on Sat, 11/19/2016 - 00:13
This past weekend we were lucky enough to see five ships sail out of Port Everglades. This gorgeous day was made all the more special as it was the first day Holland America Line's newest ship, MS Koningsdam sailed out of Port Everglades on a regularly scheduled sailing (she just came off a sailing in South Florida, but it was a short welcome itinerary). Reader Brett Goolsby just got off the Koningsdam and was nice enough to share some pics of this beautiful vessel. We're definitely looking forward to checking her out soon.
Take a look below for the stats on the ships we watched sail out, this weekend's video, and then the gallery, including the shots from our friend Brett! Be sure to follow us on Periscope so you can catch us live each weekend!
Regal Princess


Maiden Voyage: May 2014
Size: 143,000 Gross Tons, 1083'x106'
Capacity: 3,560 Passengers, 1,346 Crew
Factoid: P&O's Britannia is based on Princess' Royal Class ships
Royal Caribbean Line's Allure of The Seas (Oasis Class)


Maiden Voyage: December 1st 2010
Cost of Build: $1.2B USD
Size: 225,000 Gross Tons, 1187'x198', 16 Passenger Decks
Capacity: 6,300 Passengers, 2,400 Crew
Factoids: The Allure of The Seas is the world's second largest cruise ship and reaches 236' above the water line.
Koningsdam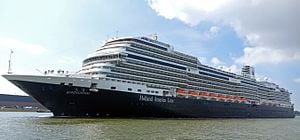 Maiden Voyage: April 8, 2016
Size: 100,000 Gross Tons
Capacity: 2,650 Passengers, 1.036 Crew
Factoids: The name Koningsdam honours Willem-Alexander, the first King of the Netherlands
Caribbean Princess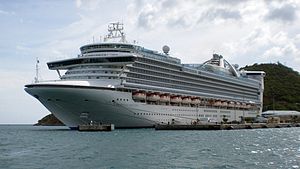 Maiden Voyage: April 3, 2004
Cost of Build: $500M USD
Size: 113,000 Gross Tons, 951'x118', 15 Passenger Decks
Capacity: 3,142 Passengers, 1,200 Crew
Holland America Line's Niew Amsterdam (Signature Class)


Maiden Voyage: July 4th 2010
Cost of Build: $450M USD
Size: 87,000 Gross Tons, 935'x105', 11 Passenger Decks
Capacity: 2,106 Passengers, 929 Crew
LIVE on #Periscope: Let's talk ship and watch the new Koningsdam and other cruise ships sail-away - www.CruiseHabit… https://t.co/DX2fLVU7vN

— CruiseHabit Bill (@CruiseHabit) November 13, 2016