Author: Bill August 18, 2017, Updated: August 20, 2017
This week Norwegian Cruise Lines unveiled more details about their upcoming 16th ship, the Norwegian Bliss.  The Breakaway Plus class vessel will feature several superlatives, including the largest competitive racetrack at sea and open-air laser tag.  Let's dive into some of the new and unique features that will be gracing the seas around Alaska and the Caribbean, and as always, wrap it up with our take.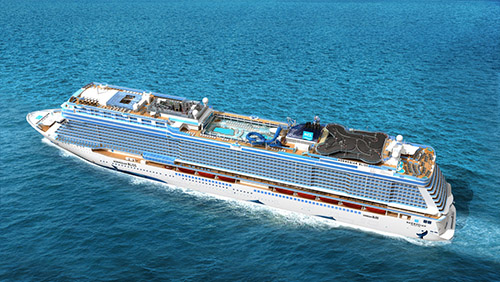 The Basics
The Norwegian Bliss will be sister ship to the Norwegian Escape and the Norwegian Joy, both Breakaway Plus class vessels, though with some very different features.  The Joy and Bliss however will have much in common.  In fact, the Joy was initially to be named the Bliss, but was renamed and sent to the booming Asian cruise market before being launched.
The Bliss will come in at roughly 167,800 gross tons, carry 4,000 guests, and 1,700 crew.  She's being built at the Meyer Werft shipyard in Papenburg, Germany ahead of her delivery in Spring of 2018. 
High Activity
A decade ago, cruising made most people think of calm and tranquility, but lately ships target both kids and adults looking for thrills.  To accommodate those guests the Bliss will feature the largest competitive racetrack at sea.  Spanning a significant part of her top deck, the nearly 1,000 foot long track will take drivers through non-stop twists and turns in cars that have four modes which will bring speeds as high as 30mph with a "turbo boost" available each lap.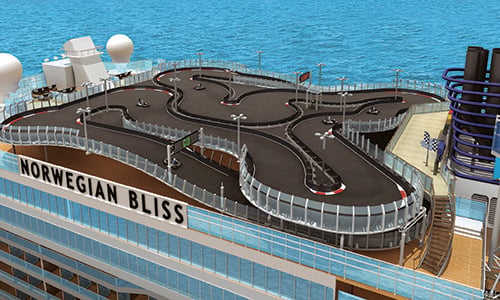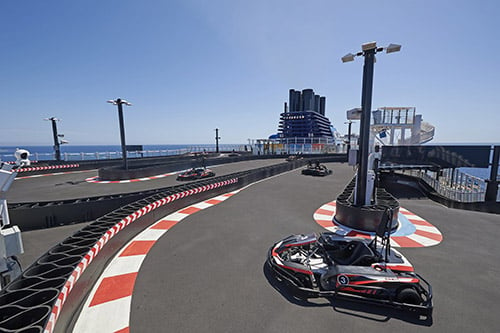 Those looking for more than just a relaxing drink by the pool can also stay active at the Bliss' open-air laser tag course.  With what Norwegian calls, "state-of-the-art laser guns", guests can stealthily complete day or night in an area themed as an abandoned space station with elements which bring the experience to life.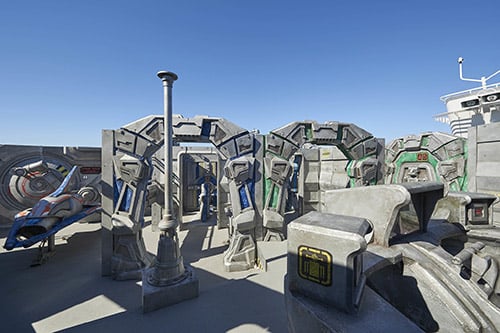 Traditional Doesn't Mean the Same Old Thing
On decks not covered in asphalt and obstacle courses you'll find two pools, but impressively, six infinity hot tubs, along with Bliss' "Aqua Park".  The park includes two multi-story watersides.  Not your [now] standard offering though, they feature two loops, including one that extends over the open-water and another see-through loop that stretches to the deck below.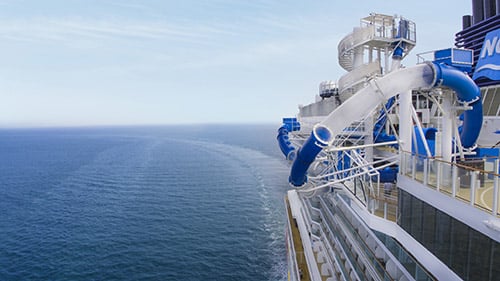 The "Aqua Racer" slide allows guests to race side-by-side on inner tubes for over 360 feet, some of which goes through a translucent section providing ocean views as guests race by.
Of Course We Must Talk Food
Like her sister ships, Bliss will feature a full complement of bars and restaurants which NCL guests have grown to love, including Margaritaville.  Unique to this ship however, is the option for guests to dine in an a la carte specialty Texas smokehouse, "Q".  In an urban setting with pop-country hits in the background, guests will enjoy authentic Texas BBQ and all the fixin's.  After dinner (or maybe instead of – we're not here to judge), guests can head to A-List Bar, named for Andy Stuart, a 30 year industry veteran and current CEO of Norwegian Cruise Lines.  A-List will be the place for hand-crafted cocktails, wines, and premium spirits.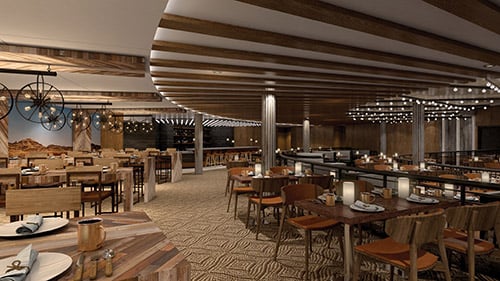 Miscellany
Not quite a first, but a first for a ship that will be spending time on the West coast of the US, is The Waterfront, a popular feature which debuted on the Breakaway in 2013.  Also not a first at sea but worthy of mention is a full service Starbucks for specialty coffees as well as snack.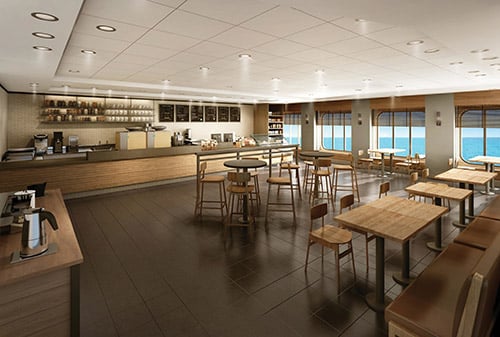 Billy's Take
I'm always excited to see new things available to cruisers.  In this case, some of the impressive features are not new to cruising, or even NCL, but to the North American market as the Bliss is stacking up to have a lot in common with the Joy in Asia.  The amount of space taken up by the race track will be something I just need to see in person, as when we visited Escape last year it seemed the top deck was dominated by the ropes course and other features that guests seem to enjoy, but made for a somewhat cramped pool area.  I do recall thinking at the time that when a similar ship came to Alaska she'd need to enclose that area, perhaps with a retractable-roof pool like we see on some other ships purpose-built for two climates.  That in mind I don't imagine cool whether being much of a deterrent for those wishing to lay down some rubber. 
The laser tag area is an interesting concept, and I look forward to seeing how the abandoned space-station theme meshes with the open-air concept, but so long as the area is large enough I could see this being fun for both kids and families, and being a space that the line could reconfigure reasonably simple at each dry-dock for a new layout and experience.  Like the race track however, it does seem like the guest density in this area will remain quite low despite taking up a lot of valuable real estate.
What guests haven't been starved for the last decade on cruise ships is water slides, a feature that has seemingly become table-stakes for the industry, and I can't figure out why it took so long.  The Bliss really seems to have upped the ante here – I mean loops?! On a water slide?  Though I can't help but hope they'll find more creative names than, "Aqua Park" and "Aqua Racer" before she sees her first guests.
In terms of dining I'm actually glad to see Q, the Texas smokehouse.  Some readers who know I'm vegetarian may find this funny, but it does seem like ships have been void of good BBQ options save for Guy's Pig & Anchor on Carnival Vista, which seems quite popular.  I do like giving guests options and this would seem to resonate well with a market that has been longing for such an option while at sea.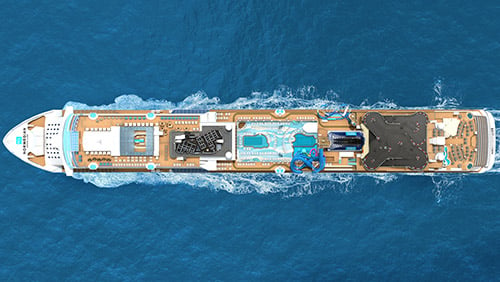 Largely for me, providing guests options is what this ship seems to be about.  Not much jumps out at me as, "I've got to cruise Bliss to try that out!", but I'm glad they're doing it as I recognize there are probably many guests who will eat this up, especially those who may have thought an Alaskan cruise was too slow paced for their family vacation.  I do have to wonder however if leaving so little deck space to pools and loungers, when she spends two thirds of the year in the sunny Caribbean, is something that will keep guests coming back.  Maybe that's okay – like many of the more "out there" features we've seen on newer ships, if they bring on board passengers that wouldn't have taken that first plunge into cruising, they may find at the end that they liked the activities, but next time be happy to just relax in many of the venues down below…and enjoy more of the specialty dining venues of course.  Either way NCL has been doing something right, as just this week they reported their best quarter in history, and we hope that keeps them innovating so the rest of the industry is likewise motivated to try new things…perhaps while we relax at Maltings Beer & Whisky Bar on Bliss.
What do you think of the Norwegian Bliss?  Does a race around the top deck interest you?  Let us know in the comments below, or reach out on Twitter or Facebook!