Submitted by

Bill

on Fri, 05/04/2018 - 13:43
Norwegian Cruise Lines (NCL) recently revealed that they've been working with DeCurtis Corporation to develop a new technology platform known as "Cruise Freedom™" in an effort that they hope, "meaningfully enhances the guest experience from the moment of booking throughout [guests] Norwegian cruise."
The announcement should come as little surprise as NCL has been testing various new technologies onboard, including their 2017 partnership with in-flight entertainment provider Global Eagle as well as their implementation of new mobile apps for guests on Norwegian Sky and the recently released Norwegian Bliss, an effort in which DeCurtis has been involved.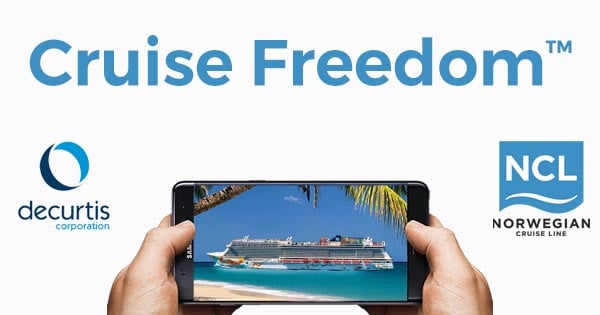 NCL's Cruise Freedom
The partnership with DeCurtis is the second stage in NCL's ongoing objective to 'elevate the guest experience and push the limits of innovation via technology,' the line said Friday, at the US debut of Norwegian Bliss and an investor conference on board the ship. In December NCL announced the fully integrated Cruise Norwegian app.
"Innovation has always been at the core of Norwegian's philosophy and with technology ever advancing, we too are tasked with reaching the forefront of technological advancements," said NCL president and CEO Andy Stuart.
"This partnership with DeCurtis is an advantageous opportunity to rapidly advance our own efficiency and allow both tech-proficient and less tech-savvy guests to navigate their experience seamlessly on board and throughout any point in their voyage with us—from dreaming to cruising."
Frank Del Rio, CEO of parent company Norwegian Cruise Line Holdings, said the new technology has "potential to position us as the leader in our industry, and further pioneer new cruising experiences that result in increased guest satisfaction."
DeCurtis isn't new to this game as a company who creates, "proximity based guest experience solutions" for hotels, banks, and others. In fact they tout clients such as Carnival Corp. & plc as well as Royal Caribbean International. This makes sense, because with all the biggest players racing to leverage technology to stay competitive, learn as much as possible about guest preferences, and enhance service, NCL needs a plan to match with Carnival Corp's Ocean Medallion program (which has debuted on Princess), Royal Caribbean's Project Excalibur, and MSC Cruises' MSC for Me app.
Billy's Thoughts
Technology will continue to become a bigger factor in guest experience, even for those who don't consider themselves tech savvy. From ordering groceries for delivery or getting a ride, to making purchases and tracking packages, every day we have enhanced expectations for what we can accomplish simply by grabbing our phone. This doesn't just mean internet connectivity either (though that is certainly a big focus as well). My 87 year old grandfather controls his front door lock and house lights with his smartphone and his voice, no internet required there. When on vacation we shouldn't have to make tasks like these require any more effort or complexity than we've become accustomed to - especially when the cruise line (NCL in this case) leans so heavily on their guests having options, and the freedom to do what they want, when and how they'd like to.
Choice is key here, as I realize many cruisers of all generations still want to disconnect and not see their phones during their getaway - and that's okay, because technologies like these only add options, not requirements. Further, much of the technology will continue to be used by cruise lines, not only guests, meaning a guest's experience may be better because of how staff was able to help them, or because of what was learned from the habits and preferences of other guests who did chose to leverage technology on their cruise. My grandfather can still hit a light switch when he feels like it, and we're confident that no matter how high tech cruisers become, you'll still be able to simply ask a friendly waiter for your drink - unless you prefer robot bartenders.
Do you feel technology plays a part in your experience on cruises? Comment below or reach out on Twitter or Facebook!