Author: Bill September 26, 2017, Updated: September 26, 2017
If you participate in our interactive broadcasts you may have seen us in Peppers of Key West back in May.  We were visiting on our Cuba cruise and had a great time with our friends and the staff as we tried some of the hottest sauces around.  It was a fun broadcast to watch, so we've included it later in this post.  Why are we bringing this up now?  As you're probably aware, the Florida Keys, like several places, were dealt a devastating blow by Hurricane Irma, and Peppers of Key West, a great local business, is donating 25% of all sales through September 30th to local charities helping those in the Keys most impacted by the storm.  You can read their full e-mail by clicking on the preview below.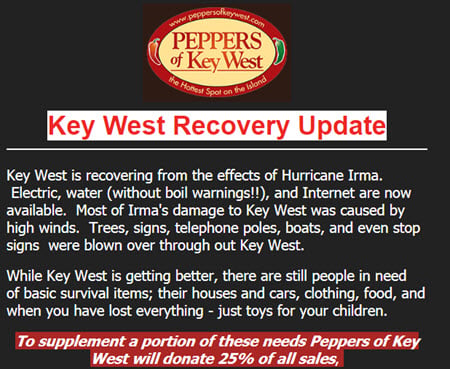 I've enjoyed many sauces, spices, and good times at Peppers of Key West and other places in the Keys, so grab a gift or a snack (remember, hot sauces don't generally expire - so stock up for the holidays) and give the Florida Keys a helping hand.  Oh, and of course, if you want to find more fun broadcasts like the one below, follow me on Periscope, Twitter, and Facebook.
At Peppers of Key West trying the hottest sauces around! #travel https://t.co/uqxv4MWofe https://t.co/VWbvVsYkP0

— CruiseHabit Bill (@CruiseHabit) May 21, 2017