Author: Bill
It's been a wild September, and while we're still catching up, we thought we'd recap what we covered this month on CruiseHabit.com. In addition to everything below, we sailed with RoyalCaribbeanBlog.com on Harmony of the Seas. Checkout the live blogs from that sailing at HarmonyoftheSeas.live! Also check out our Periscope broadcasts from that sailing and more.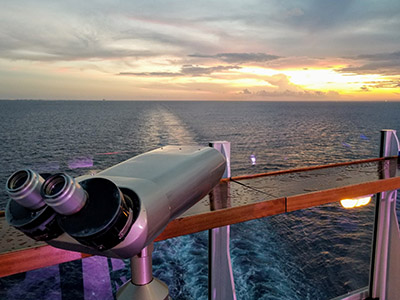 Most weekends we broadcast live from Dr Von D Mizell - Eula Johnson State Park just outside of Port Everglades in Ft Lauderdale, FL. Sometimes we take venture down to PortMiami however to see some different sites, ships, and occasionally bars. Checkout the above article (and video) to learn the easiest way to watch ships leaving PortMiami on your next trip to South Florida.

Shipboard photographers are everywhere on some ships, and completely absent on others. Find out how they work, who they work for, and what we feel about these shutterbugs at sea.

We enjoy covering fun cruising information here on CruiseHabit.com, but sometimes reality does get in the way. This September saw a record number of major hurricanes in the Atlantic, and a number of sailings were affected. With the exception of ports like San Juan and St Martin being bypassed (except for humanitarian missions by cruise lines) things for cruisers are largely back to normal, but you can see here how we tried to help confused and stressed travelers learn whether they'd be sailing, when, and where the ship might be heading. We'll have a summary of all of this coming in the next few weeks. On a similar topic, we saw one of our favorite spots, Peppers of Key West, offer up 25% of their sales to charities helping those hardest hit by Hurricane Irma in the Keys.

Some people are well educated, have experienced the world, and cruise constantly...ship captains! We heard from some Azamara and Celebrity captains on some of their favorite destinations, foods in port, things to do, and more!

Cunard is a great line with an amazing history. While they're in many ways quite traditional, that doesn't mean they're old. The young Cunard fleet is getting a new build, and she'll be the biggest and best yet. Our bags are packed.

Connectivity at sea is important to a lot of folks, and critical to some of the initiatives that lines are working on with planning apps and social media campaigns. Carnival has announced that they're be rolling out what they say will be the best Wi-Fi in the industry. How will it work? Who have they partnered with? Learn this and more.

Every so often we let our thoughts flow freely about cruising, and this is one of those articles. We sat on the deck of the Harmony of the Seas recently, in awe of just how much has changed in cruising over the years. While we miss some things, you can read about some of the innovations that we wouldn't trade for anything.
We'd love to hear from you if you think we missed something we should have talked about, so comment below, or reach out on Facebook or Twitter.