Author: Bill June 10, 2020, Updated: June 11, 2020
Celebrity Captain's Club Members (past guests) can now receive invitations to take a short survey in exchange for "Power Up Points".  These points can in turn add to guests' Captain's Club levels - which afford past guests various perks ranging from a free scoop of gelato, to discount laundry service, all the way up to a free cruise.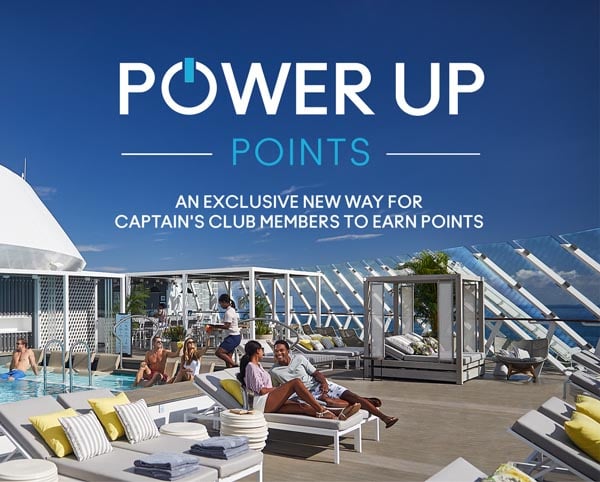 How to Sign Up to Earn Points
Some guests who have subscribed to certain email lists from Celebrity Cruises have already started receiving these opportunities.  To make sure you're on the list, head to this Celebrity Captain's Club page and click the 'Subscribe' button in the upper right corner.  From there you'll provide your basic contact info and that's it.  It's not clear how often these opportunities will come up, and what other emails you might get.
How it Works
Straight from Celebrity:
Here's how it works. We'll email you an activity to participate in and you'll earn a set number of Power Up Points when you complete it. Those points will convert into Club Points and automatically be added to your Captain's Club Points bank. For every 10 Power Up Points earned, you'll get 1 Club Point. For example, if you participate in a survey worth 20 Power Up Points, you'll get 2 Club Points added to your Club Point bank.* The more you participate, the more you'll earn
* All Power Up Points earned in a calendar month will be converted to Club Points and added to a participating member's Club Point balance within 14 days of month's end. View Full Terms and Conditions here.

Below is part of an email describing the new Power Up Points program:
Dear Traveler,

Being a Captain's Club member really does have its benefits. And now, we've added yet another one. Introducing Power Up Points, a new way to earn points—even when you're not sailing.

We'll email you different activities, including questionnaires and social media contests, and you'll earn Power Up Points for participating.
For every 10 Power Up Points earned, you'll get 1 Club Point.

The Survey We Got to Take
Clicking a link in the email we saw took us to a survey.  In the example we were privy to, it was just five questions with multiple choice responses.
How interested are you in taking a cruise in the following timeframes?
When considering your next cruise, what itinerary would be most appealing?
When considering your next cruise, what length of cruise would be most appealing?
When considering your next cruise, what class of ships would be most appealing?
How long of a flight are you willing to take to go on a cruise vacation?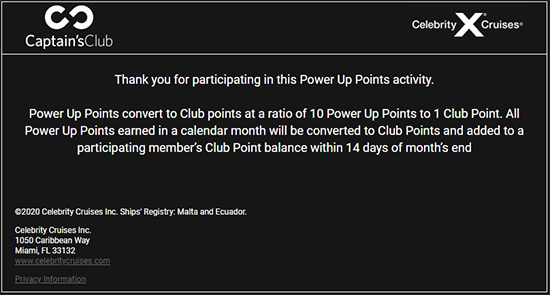 Billy's Take
This seems a great option for guests, and will certainly be a welcome relief for those just a point or two away from a major increase in Captain's Club tiers, allowing them to take advantage of additional perks on their next cruise.  As you can see, completing this survey takes just a minute or two, and earns you 20 Power Up Points, which are worth two Captain's Club Points.  To put that in perspective, guests earn two Captain's Club Points per night when staying in inside or ocean view staterooms.
I've not made any secret about my opinion that most people seem to overvalue cruise line loyalty programs, making purchase and vacation decisions based on them - but we are happy to use the perks we do earn, and if we can earn some without paying a dime or getting up from the couch, then great!
What we don't know is what other opportunities there will be to earn Power Up Points.  Perhaps more curiously - why a separate point system?  Why not simply say you're offering two Captain's Club Points for a survey?  Perhaps something else is in the works here (with lower valuations for example) or maybe they just felt they needed a new branded term.  I guess they could survey guests about the branding, I know I'd offer my opinion for a couple points.