Author: bill October 11, 2017, Updated: September 1, 2021
Today, Celebrity Cruises announced that their captains are now able to perform same-sex marriages at sea.  This is great news - but why isn't everyone doing it?  It has to do with flags...sort of.  Let's learn a little but about about today's announcement and dig into why we don't see it happening across all cruise lines.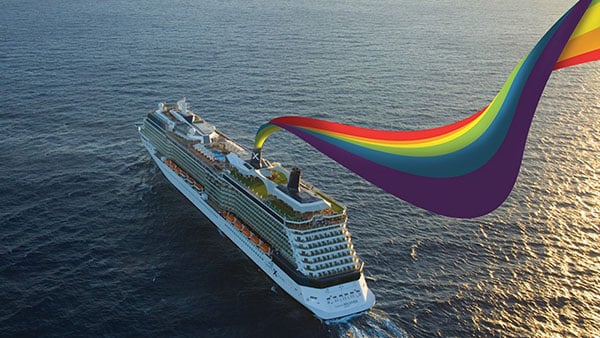 First: The News from Celebrity
Celebrity Cruises announced today that same-sex marriages performed onboard their ships are now legally recognized, a first for the brand which has stood out for their support on issues of equality.  The change is thanks to a historic vote in Malta, where most of Celebrity's ships are registered.  Passing 66-1 in the country's parliament, it approved a long-awaited referendum on marriage equality in that country, which now allows Celebrity captains to perform legally recognized same-sex marriages onboard.
 
"Celebrity Cruises has a long history of supporting the LGBTQ+ community, and I cannot think of a more important time in our history than right now to do all we can to support inclusion. I am absolutely thrilled to announce that starting today, we welcome same-sex couples to marry on our ships while in international waters," said Lisa Lutoff-Perlo, President and CEO, Celebrity Cruises. "This is one for the history books!" 
 
"Celebrity Weddings has already hosted many same-sex weddings in the U.S., Mexico, and the Caribbean, where legal," said Barbara Whitehall, Managing Director, The Wedding Experience. "We are ecstatic that this new Malta ruling opens up marriage equality for anyone and everyone sailing with Celebrity Cruises while in international waters."
 
Celebrity Cruises Has Been Working Towards Equality
Celebrity Cruises has indeed "walked the walk" with regard to LGBTQ rights.  The line has sponsored the Miami Gay Pride Festival (they even won "best float" this past year) and many other land-based equality organizations.  While many lines facilitate LGBTQ meetings, they're often listed on a bulletin board as "Friends of Dorothy", whereas on Celebrity ships they're clearly labeled and found in Celebrity Today, the line's onboard daily program.  They also provide sensitivity training to crew, and have a company cultural which touts diversity.  
"We've always been open to diversity, and hopefully LGBT is just one example of it…. It's refreshing especially when you look at the world we live in to see that; to be working in an environment and see what should be happening is actually happening, and everybody works together to make it happen, it's crazy." noted Hotel Director Christophe Belaubre
Additionally, Celebrity has lead the industry in appointing multiple female ship captains, something unheard of not long ago.  They even boast a female CEO, Lisa Lutoff-Perlo, and in 2016, Royal Caribbean Cruises, Celebrity's parent company, appointed Grant Van Ulbrich to Director of Diversity & Inclusion, a new role within the company.
Why aren't more lines offering same-sex marriages on-board?
All of Celebrity's credentials in mind, they're also lucky to have this opportunity in the first place.  It's likely other lines would like to offer the same options to guests (and PR opportunities to the company), but it's not that simple.  Cruise lines' ships fly "flags of convenience", which means they're registered in countries which make it easiest and most economical to operate their fleet.  For Celebrity, Malta's vote allows for this offering, and several months ago Cunard excitedly offered similar options as their ships are registered in Bermuda - a country which also recently allowed same-sex marriage.  Many lines however operate their ships under the flags of the Bahamas, Panama, and other nations which have restrictions on same-sex marriage, some even maintain archaic "buggery laws" criminalizing same-sex activity.  As of late 2014, Panama only saw 12% support of same-sex marriage, and last year, the Bahamas saw a bill that hoped to allow equality but saw significant opposition.
Billy's Take
I'm happy to see Celebrity continue in this direction.  It will be interesting to see if guests will begin to perceive the relationship that some lines have to countries with repressive LGBTQ policy as a problem, even something that factors into their decisions when spending their vacation dollars.  Could this nudge the biggest lines, Carnival, Royal Caribbean, and NCL to register their ships elsewhere?  Might these same companies begin applying significant pressure to those governments in hopes of reform?  It will be interesting to see how this plays out, but what is almost certain is that these issues will matter more and more to consumers, and the optics of not being inclusive will become a bigger problem with each passing day.  Hopefully this will be an example of the free market driving businesses to work better for everyone, including possibly, non-cruise guests living in countries which currently lack these freedoms.  
Does the country in which a ship is registered influence your vacation decisions?  What about company culture?  Let us know in the comments below, or reach out on Twitter or Facebook.