Author: bill January 26, 2021, Updated: March 26, 2021
As cruise lines stay nimble and plan for a return to cruising from North America, Celebrity has made significant changes and announcements over the past months - including a shift to all sailings including tips, drinks, and WiFi (Always Included).  On a call with travel agents this week, the line announced some details around capacity, vaccines, inaugural voyages, and new itineraries.
New Itineraries & Deployments
The challenges of the past year combined with the complex choreography of their fleet revitalization, Celebrity Revolution, has meant shuffling around many ships.  Some changes were recently announced to Summer 2021 deployments, including new Celebrity Edge Caribbean itineraries shown below.

You can see the full 2021 deployments for Celebrity below.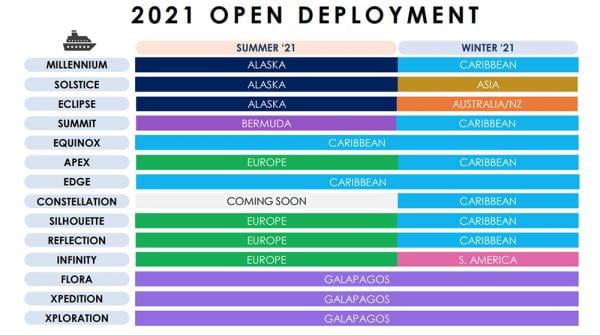 Many guests continue to plan far in advance as well, which is why they are able to book Celebrity cruises all the way into April of 2023, with more availability coming out soon.
Apex Inaugural Sailings
Since she was announced, we've been looking forward to stepping onboard Celebrity Apex, the second Edge Class ship.   It's nearly a year after her March 2020 handover and so far no guests have been able to set foot aboard.  (If you're excited for Apex, make sure you read to the end of this post!) It was revealed however, that there will be two pre-inaugural voyages (one with a naming ceremony) of two-nights each.  The dates haven't been announced yet, but as of now, Apex will spend her first six months in Europe after she begins sailing in May of 2021 (we hope).
We look forward to seeing which inaugural events are set to take place in Europe, and which will take place in North America, as it's common for ships to have multiple inaugural festivities when they split their time between two continents.
March 25 2021 Update: Apex will begin sailing from Athens beginning June 19th.  She'll be sailing from her European home port through September 2021.  You can request more information by clicking here.
Passenger Capacity Plans
Perhaps the most interesting thing we learned this week was regarding capacity, as until now we'd heard only speculation around how full ships might be when sailing returns.
At present, Celebrity expects to sail at 50-60% capacity starting in May, and increase capacity each month with an aim to be to 100% capacity by the end of 2021.  There are various measures the CDC has outlined, including those around distancing, and capacity constraints help there, but Celebrity also noted some of these regulations may soon change for the better.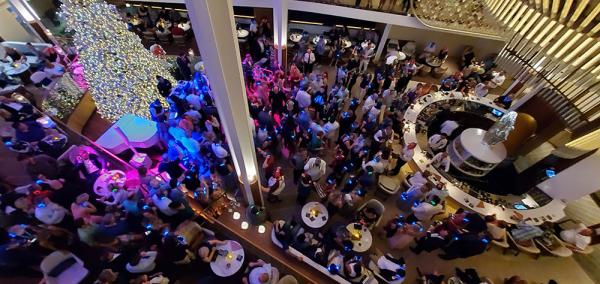 Celebrity Cruises Vaccine Requirements
British cruise line Saga Cruises revealed last week that COVID vaccines will be required in order to sail, and NCLH CEO Frank Del Rio said in December that vaccines would be required for crew, while the company was exploring the legality of requiring guests be vaccinated in order to sail.  Celebrity Cruises hasn't yet committed to this requirement, but certainly seems to be weighing on vaccines changing the game.
Dondra Ritzenthaler, SVP of Sales and Trade Support for Celebrity Cruises, made several references to vaccines on a late January call with travel agents. "Now we know that we're not going to be back into the water until May 1 [2021], and the shot, the vaccinations are coming so much more readily... We believe that Fauci and the WHO, the CDC, believe that vaccines will be readily available by May and June.  Well if that happens, than the protocols that we've all been working on may very well change."
In fact, pretty much every time any of the restrictions were discussed, she noted that they expect the rules to change based on vaccine availability.  Does that mean they expect vaccines to be a requirement for all lines, or perhaps that in conjunction with vaccines they expect some of the more onerous regulations to be eased?  It's not yet clear, but there seems to be consensus that we are getting closer to being able to set sail. 
You Reached the End - Surprise Announcement from Billy!
We've been working on something in the background for a while, and we'll be reaching out on social media to more formally announce it soon.  Since we just talked about some of the things we can look forward to on Celebrity, we'll spill the beans on how you can enjoy Celebrity along with us.
Cruising is relaxing, saving money is great, and vacationing with friends is fun.  That's why in January 2022, you'll have the opportunity to sail with us on the very first CruiseHabit group cruise.  For this Jan, 8, 2022 sailing on the new Celebrity Apex we've worked with our friends at TouringPlans Travel to secure all-inclusive rates that can't be beat.  We'll have surprises just for those booked through the group, and exclusive fun events for cruise enthusiasts.  You can find out more about the CruiseHabit group cruise here, and even though we've been quiet about it, don't hesitate to leak the secret.