Posted on Wed, 12/23/2020 - 18:31
*This ship has sailed.  You can click here for the live blog posts from our group cruise.  Want to join us next time?  Come along as we sail the brand new Scarlet Lady from Virgin Voyages! Info at VirginVoyagesGroupCruise.com*
Want to enjoy the peak of the Celebrity Cruises experience with perks you won't find anywhere else, have first-hand access to passionate cruising experts, at incredible rates?
Join us for the first ever CruiseHabit.com group cruise on the brand new Celebrity Apex!  A no-obligation quote is available by completing the form at the bottom of this page.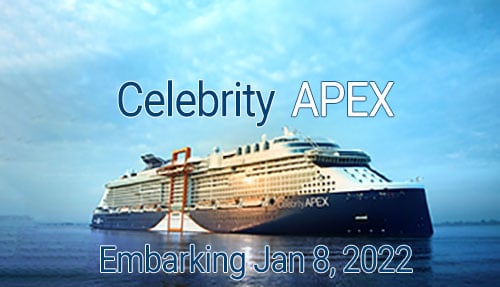 When: January 8th, 2022
Where: Round-trip from Ft Lauderdale, FL
What: 7 Nights on Celebrity Apex, sailing the Western Caribbean
Why Take This Group Cruise?
You want to sail Celebrity's newest ship, at an amazing price, with the opportunity to attend hosted events for cruise enthusiasts, and enjoy a complimentary trip to a gorgeous all-inclusive resort.
Celebrity Cruises is among our favorite lines for their cuisine, decor, service, and entertainment.  Celebrity Apex is their newest ship in the Edge Class, our favorite class of ship, embodying the best of what Celebrity has to offer.  Since sailing on some of Edge's very first voyages, we knew there was only one way to enjoy the experience more: bring friends!
Sailing with us means you'll have exclusive access to group events on land and shore where we can discuss the past and future of cruising, share secrets about the cruise industry's complex operations, learn about exciting destinations, and importantly: have fun.  There might even be some surprises.  If you've ever participated in one of our live broadcasts and thought it'd be fun to continue the conversation in person, on a beautiful new ship, with a drink in hand, then this is for you.
Additionally, working with our friends at TouringPlans.com, we're able to offer some special incentives for booking with the group.  Participation in the group events is completely optional, so if you're just looking for a great deal on Celebrity's newest and most luxurious ship, you can take advantage of this opportunity as well.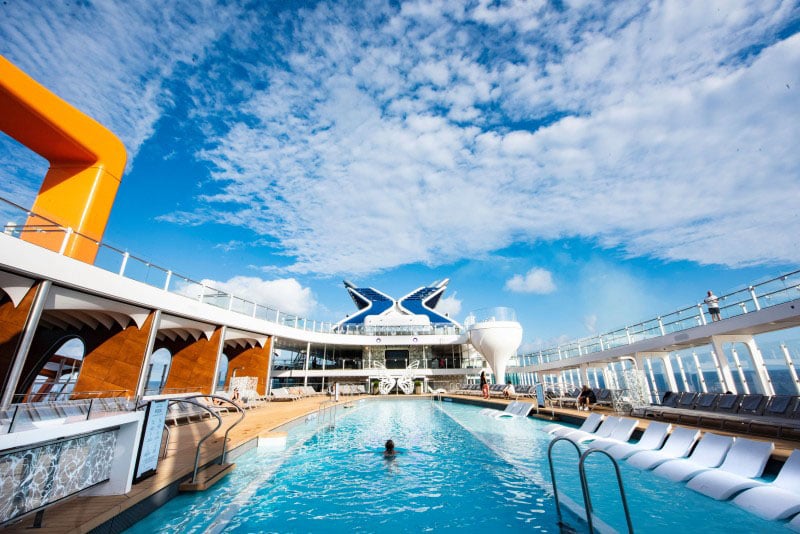 Frequently Asked Questions
What are group cruises?
In this case, it'll be folks who enjoy cruising and love talking ship with other cruise enthusiasts - plus anyone else who wants to take advantage of exclusive rates alone or with friends.  In general, group cruises can be many things.  Check out "How and Why to Plan a Group Cruise" for more information.
How much does it cost?
Rates including drinks, WiFi, and tips included start at just $3024.54 per couple!  There are many types of accommodations available, so fill out the form at the bottom of this page to get a free no-obligation quote and learn about all of your options.  
What if I want to cruise on my own?
You can join us for as many or as few group events as you'd like.  Feel free to book into the group to take advantage of the special rates and do your own thing - you won't even know we're there.
Do I have to book using this form?
In order to take advantage of the booking incentives, and to help support CruiseHabit.com, you'll need to book through TouringPlans Travel - our longtime friends and partners.  You can do this by completing the form below or checking in with your TouringPlans agent if you already have one.  You may have to pay more than our special group rates, but you're welcome to book this cruise however you'd like. No matter how you book, we'll be happy to meet up and chat, but there will be some events that are reserved only for those who book through the group.
What is the full itinerary?
This sailing out of Ft Lauderdale is scheduled to visit Costa Maya (Mexico), Belize City (Belize), Cozumel (Mexico), and Nassau (Bahamas).  
Get more information on this deal!