Author: Bill October 7, 2017, Updated: September 1, 2021
As excitement builds for Celebrity's newest ship (and class), Celebirty Edge, the line, a subsidiary of Royal Caribbean Cruise Line has announced big plans for it's Millennium and Solstice class ships.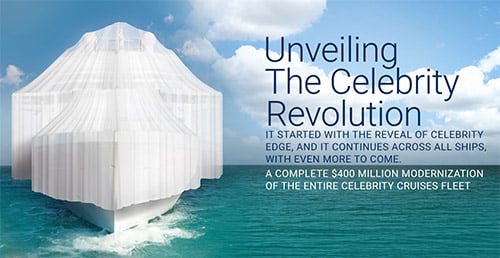 "Celebrity Cruises has always been recognized as an innovative, trend-setting brand, and the Celebrity Revolution is just another instance in which we keep raising the bar in modern luxury travel," says Celebrity Cruises President and CEO Lisa Lutoff-Perlo, who arrives in Sydney on Tuesday for her first ever visit down under. 
"This is the largest investment the brand has ever made to modernize our fleet, and it's all for our guests," continued Lisa. 
The Royal Caribbean will include changes to public spaces as well as staterooms, begining in 2019 and are expected to be completed by 2023.  Staterooms will be reimagined to maximize efficiency, new cashmere mattresses will be brought in, and a number of changes will be coming to suites.  Further, The Retreat Sundeck will be added outside, and The Retreat Lounge inside, both high-end spaces for suite class guests to enjoy. 
"We're not just redesigning the staterooms, we're tearing them down and building them back up,' says Brian Abel, VP hotel operations. 
"The incredible new design by Hirsch Bedner Associates (HBA) is sleek, contemporary and comfortable, and speaks volumes about our commitment to the guest experience."
Millennium class ships can look forward to a new Oceanview Cafe experience, the casual dining venue which already offers a fantastic selection of fare with global influence.  The changes will offer a sleeker and more whimsical ambience to the spaces which already offer fantastic views of the sea.  
Renderings and additional details can be seen below.
Billy's Take
The scale of Celebrity's announcement is impressive for sure, though it's not surprising at all.  Why?  Celebrity Edge.  The new ship and class is highly hyped and anticipated to be something truly impressive.  Many lines have faced this challenge before, where a new ship is announced that begins to make the rest of the fleet seem "second class" (though this isn't how we feel about Celebrity's current fleet at all).  Carnival had it's "Funship 2.0" refurbs, and Celebrity themselves introduced the "Solstification" of their fleet in 2012.  We'll be interested to see what else is included, as lines often use these opportunities to change up specialty restaurants and replace public spaces that never took off.  Interestingly, the Celebrity Reflection, which we covered during last year's Reflection live blog, has some differences from the rest of the Solstice fleet (including an additional deck), which is an example of Celebrity testing new things, so we'll see what learnings are folded into the Celebrity Revolution refurbs. It's also likely that many of the additional details won't come until we learn more of Celebrity Edge, which is sure to be a major influence.
One thing is certain, for those seeing the impressive prices the limited Edge sailings have been commanding, the promise of significant revitalization to the fleet will lure some to experiences they've not yet had on ships they may have already sailed.  Either way we certainly look forward to checking them all out in person. 
What do you think about Celebrity Revolution?  Will this push you to try out a Celebrity cruise?  Let us know in the comments below, or reach out on Twitter or Facebook.