Author: bill April 4, 2021, Updated: May 15, 2021
The CDC has taken the next step in moving forward with the safe return of cruising from the US, but for some, it's not a big enough step.
It's been over a year since the CDC stopped cruise ships from sailing out of the US by issuing a No Sail Order.  In October 2020, this was changed to a Conditional Sailing Order, where steps were outlined that could lead to the approval for lines to resume cruising from US ports. Recently though, there has been increased pressure on the CDC, following the announcements that Royal Caribbean International and Celebrity Cruises will begin cruising from non-US ports in June.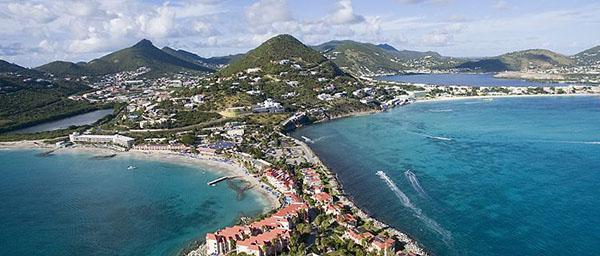 On April 1st, Miami-Dade Mayor Daniella Levine Cava met with CDC officials, including Director Dr. Rochelle Walensky, about the return of cruising.  The Mayor released positive comments about the discussion, suggesting an update soon.  Just a day later, the CDC issued new technical instructions for cruise lines.
Technical Instructions
With many of the requirements outlined in October, the April update comes in several pieces, with much of it relating to how and when people are tested.  This means crew, overnight contractors, guests, and almost anyone else coming aboard.  
In addition, the CDC already outlined a color-code system, where ships are categorized based on their health status.  This color-code system now includes additional levels, and allows ships to move between them more quickly (14 days, compared to 28 as previously outlined).  Without getting into the weeds, this may make it a bit easier for a ship to go from "totally isolated and not taking on passengers" to "ready to sail with guests", no longer needing four weeks to transition.  

As before the updates, know that there will surely be lots of regularly scheduled "screening" tests of crew as well as guests.  These requirements may be more clearly codified than before, but they're largely practices the industry has been taking in Europe and Asia (with great success), since the summer of 2020.
Vaccines
The requirements from the CDC don't, as of now, require vaccines for cruisers or crew - though this doesn't mean cruise lines won't make this a requirement, at least for some sailings.  In fact, all crew, as well as guests 18+ must be vaccinated on the June Royal Caribbean and Celebrity sailings.  The CDC does note that they're recommending all eligible persons be vaccinated, and specifying that vaccinated persons are subject to the same conditions as others, including mask wearing.
If you're interested in the June sailings from the Bahamas, Bermuda, and St Maarten we've got tips and information here.
Simulated Voyages (Test Cruises)
In October, there was much excitement about the CDC mentioning "Simulated Voyages," where persons not paying for passage (nor sailing as a condition of employment) would be on sailings.  The goal was for the CDC to observe that requirements can be adequately met while maintaining the things that make up a cruise: dining, entertainment, housekeeping operations, etc.  
The April updates include mention of Simulated Voyages, indicating that the cruise line must demonstrate that they're not only prepared to take necessary steps onboard, but also that they have approval from local authorities in the port of embarkation as well as any ports of call.  Part of the original guidance explains that various contingency plans and agreements must be in place so that nearby ports are available to assist, rather than turn away ships, in the event of an outbreak.
On Twitter, the CDC did indicate that Simulated Voyages would be the next step on the journey to allow safe cruising to resume.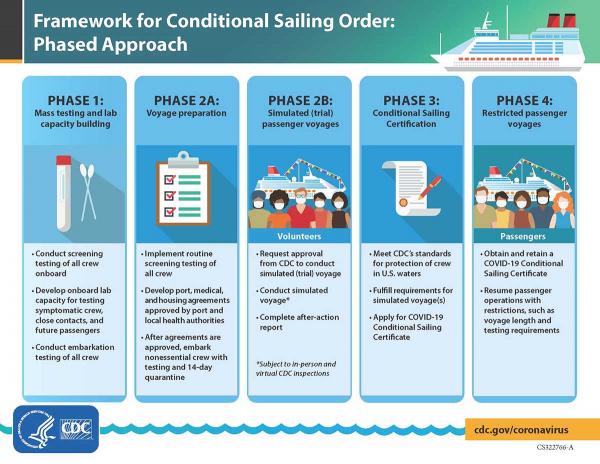 Some Aren't Satisfied
Would-be cruisers following along for months, waiting for these next steps took to social media to express disappointment in the CDC's actions.  The CEO of Port Canaveral similarly chimed in, saying he is, "disappointed that this guidance for the cruise industry appears to be nothing more than an incremental step in a far-reaching process to resume passenger sailings in the U.S., with no definitive or target start date."
It's not reasonable to think that the CDC would have announced this week that cruising could simply resume, or even offer concrete dates.  It's similarly reasonable, however, for those whose livelihoods and communities depend on the industry to remain frustrated with the CDC's year-long shackling of the cruise industry, while hotels, theme parks, airlines, restaurants, and others have partly or fully re-opened.
Adding insult to injury for many is the fact that this same week, the CDC said that fully vaccinated people can travel with low risk of exposure, and without the need to get tested or isolate.  
People fully vaccinated against #COVID19 can travel within the United States and do not need COVID-19 testing or post-travel self-quarantine as long as they continue to take precautions while traveling: #WearAMask, avoid crowds, and wash hands frequently. https://t.co/9uzBuFZyWE pic.twitter.com/C7V8Ip0jJv

— CDC (@CDCgov) April 2, 2021
Despite Frustrations, We Remain Hopeful
Since October the CDC has failed to demonstrate any effort in moving forward with next steps.  While disappointing to many, we can't help but be thrilled with the progress.  We also anticipated the CDC would announce a set of guidelines for the industry to follow, rather than a date by which they can resume service - and that's just what we got.  
On the other hand, the Conditional Sail Order, while now revised somewhat, is still outdated.  It was issued before any members of the public were vaccinated, and before European and Asian sailings demonstrated how incredibly safely lines could operate with layers of precautions.  It's quite hard to simply trust that after over five months of silence from the CDC, followed by their statements of uncertainty in March, they'll promptly review the cruise lines' actions and allow for Simulated Voyages to begin - but we'd be happy to be proven wrong.
The pace of CDC issues guidelines being released so far is such that we are concerned that by the time sailings are authorized many of the required  measures will seem unnecessary or otherwise outdated.  In the end, whatever gets guests and crew back to sea safely is what we want, and we look forward to being onboard.  If you want to return to the sea, and get seafarers, longshoremen, hotel workers, and others back to work, please visit this page where it is easy to contact your representatives.