Author: Bill May 2, 2017, Updated: May 2, 2017
Today at a ceremony in Freeport, officials with Carnival Cruise Line and the Bahamian government signed an agreement to build a record-breaking cruise port on Grand Bahama Island.  This port will be the largest purpose-built cruise facility ever built in The Bahamas and will be funded and operated by Carnival Cruise Line.  While the exact location has not yet been announced, it will include a one-mile stretch of beach, food, beverage and shopping outlets, an array of water-based amenities and other recreational facilities.  Importantly, the port will also feature a pier capable of accommodating two of Carnival's largest cruise ships simultaneously and can expect to see up to 1 million guests a year.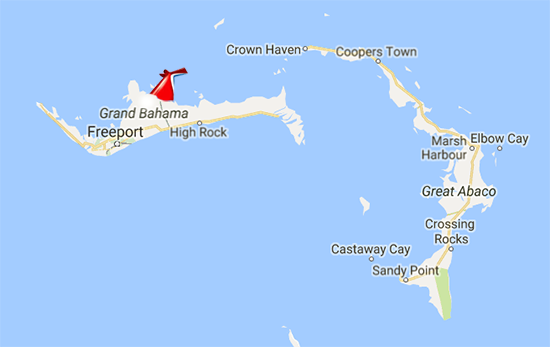 The undertaking will provide significant economic benefit for the country of The Bahamas, as similar projects have in the past which create jobs and other economic opportunities not just during the development and construction but ongoing operation and maintenance.
"Carnival Cruise Line is the leader in year-round cruising to The Bahamas and this new development will not only provide a truly extraordinary and one-of-a-kind destination experience for our guests but it will further solidify our partnership with the people of The Bahamas," said Christine Duffy, president of Carnival Cruise Line. "In 2017, along with Carnival's sister lines, Carnival Corporation will bring close to 3 million guests to The Bahamas via calls to Nassau, Freeport, Grand Bahama, Half Moon Cay and Princess Cays, the latter two of which were developed and are operated by Carnival Corporation brands Holland America Line and Princess Cruises.  Collectively, we represent the single largest cruise company investor in The Bahamas," Duffy added. 
Carnival Corporation President and CEO Arnold Donald said, "When Ted Arison, the founder of Carnival and the modern day cruise industry, embarked on his first cruise, it was to The Bahamas. From that day until now, The Bahamas continues to be one of the most strategic and important destinations for our company." Donald continued, "Signing this agreement today is especially meaningful to me, as we strive to further contribute to the prosperity of the people of The Bahamas through providing experiences that continue to exceed our guests' expectations."
Prime Minister the Right Honourable Perry G. Christie stated, "The Government of The Bahamas has had a long and close association with Carnival which has been of great economic benefit to both parties." He continued, "This new cruise port initiative in East Grand Bahama will deliver a cruise port in the traditional sense, but more than that, its shore project will create a new 'destination' with a distinctive flavour and characteristics that offer the broadest Bahamian entrepreneurial and employment opportunities, representing another phase in the development of Grand Bahama as a viable tourist centre."
Billy's Take
NCL started the "private tropical destination" trend in the 1970s with the lease of Great Stirrup Cay (actually, they first advertised the wrong island - but that's a story for another day).  The appeal is serenity, beauty, and importantly, exclusivity.  Over the years these destinations have become table stakes - you need to have one if you offer cruises in the Caribbean.   

In 1996 Disney Cruise Line upped the ante by building Castaway Cay, a more refined property with far nicer amenities than the competition.  Over the years other lines have improved their offerings, but none as much as NCL with the recent construction of Harvest Cay in Belize.  We should probably write about this project some time, which offers resort-style pools, private houses, a wide variety of restaurants and more.  I thought then that the race was on, so it will be interesting to see exactly what Carnival builds.  What remains to be seen however is how much of Carnival's new project is about "plussing" the experience, and how much is about tonnage and tenders.  With cruising becoming more popular every year, and ships get larger and larger Carnival may simply feel the need to have additional berths.  Carnival's other destination of Half Moon Cay was meant for sister company Holland America Line but has been visited by Carnival more and more frequently.  One downside? It requires guests arrive via tender, the same as NCL's Great Stirrup Cay and Royal Caribbean's Coco Cay (though they recently broke ground on a dock).  Why?  Large ships, carrying 4,500 - 6,000 passengers cannot practically conduct tender operations - it's just too burdensome.  
So, will this port simply offer a new cruise destination with the ability to walk right off the ship onto land or is there something more special in store?  Excursions leaving from the new port?  Private cottages?  A water park?  Either way we're confident that this shows continued confidence in Carnival Corporation's ability to bring larger numbers of beach-hungry guests to sunny destinations.
Are private destinations something that make a difference on when cruising?  Reach out on Twitter or Facebook, or comment below!