Author: Bill June 8, 2018, Updated: June 10, 2018
Could pain at the pump extend to your next cruise?  This week, oil prices closed at $65 a barrel, and we have to wonder if cruise lines will soon begin charging fuel supplements as they have in the past.  About ten years ago operators of cruise ships and airlines had a big problem: the rising price of fuel.  To solve it, they started passing unexpectedly high fuel costs along to guests in the form of "fuel supplements."  Even though it's been years since cruise passengers were charged any of these fees, the option for lines to do this never went away, and we have a hunch you may soon be throwing in some gas money for the next time your ship commences bunkering operations.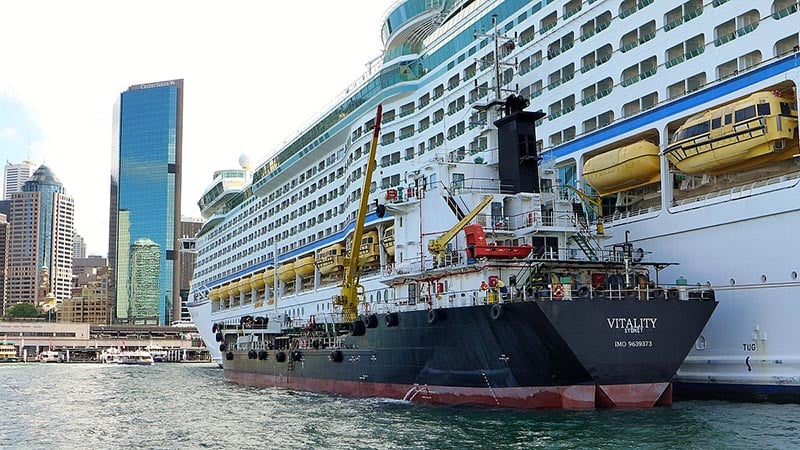 What are fuel supplements?
Fuel supplements are not something built into the cost of your cruise - they're an additional line item that some cruisers have had to pay in the past.  There are a few reasons cruise lines introduce additional fuel costs.  First, many guests book cruises 12-24 months out, when the cost of oil may be very different than it is when it's time to sail.  Another big reason?  Advertised pricing.  In almost any business, the more charges you can exclude from the price you advertise, the more appealing that price is to consumers, and because in this case, we all notice increase fuel costs at the pump (unlike certain taxes or fees elsewhere), it may be a little more tolerated by consumers – though certainly not liked.
Not everything costs more.  Check out these eight things you can bring on your next cruise which will actually save you money.
These aren't blanket fees though - they don't inherently apply to every sailing.  Instead, lines reserve the right to charge these fees if the cost of fuel goes over a certain amount.  This means that when oil prices are low, you won't be at risk, but when they're high, it's up to the cruise line to decide.
Where do cruise lines explain these charges?
When you book a cruise, you agree to a contract.  These cruise contracts are wordy and sometimes complicated, though admittedly less so than the long document you scrolled through just to install an app allowing you to hurl animated birds across your phone screen.  The cruise contract includes things like what the cruise line is promising to offer, what they're saying can change (such as itineraries), arbitration agreements, and yes, even some rights you might have as a guest.  One thing you'll find buried in all of this fun are fuel supplements.  Each line's is different, but below you can see a small part of what is covered in the contracts from Royal Caribbean, Carnival, and NCL – the flagship brands of the three largest cruise companies in the world.
Royal Caribbean
Royal Caribbean International reserves the right to impose a fuel supplement on all guests if the price of West Texas Intermediate fuel exceeds $65.00 USD per barrel. The fuel supplement for 1st and 2nd guests would be no more than $10 USD per guest per day, to a maximum of $140 USD per cruise; and for additional guests would be no more than $5 USD per person per day, to a maximum of $70 USD per cruise.
Carnival
Carnival reserves the right to charge a fuel supplement of up to $9.00 USD, or its equivalent in foreign currency, per person per day, without prior notice, in the event that the price of light sweet crude oil according to the NYMEX (New York Mercantile Exchange Index) is greater than $70.00 USD per barrel of oil.
Norwegian Cruise Lines
Norwegian Cruise Line reserves the right to charge a fuel supplement without prior notice should the closing price of West Texas Intermediate Fuel increase above $65 per barrel on the NYMEX (New York Mercantile Exchange Index)… The fuel supplement charge will not exceed $10.00 per passenger per day.
I've already paid for my cruise, so will this affect me?
When fuel supplements first came about there was uproar from guests who thought their trip was bought and paid for but then got a hefty bill.  This resulted in several lines reaching agreements with the Florida Attorney General that had them returning money to guests who booked before the supplements were instated.  Now however, the language in the cruise contracts is quite clear, and cruise lines do have the option to charge you if the oil prices climb, regardless of when you paid for your cruise.
Do high oil prices guarantee fuel supplements will return?
Not at all.  While lines generally reserve the right to start charging supplements when WTI gets to $65-70 on NYMEX, cruise lines in the US haven't charged these fees in some time, even though oil was trading for over $100 a barrel in 2013 and 2014.  Some British lines did reinstate the supplements around this time however, and any given line can make the decision to apply this however they want.  It wouldn't seem likely that within a given market or geographical area, one cruise line would start charging a supplement unless they thought the others would likely follow.  This of course creates a potential stand-off as cruise lines wonder, "who will be the first to impose the supplement?"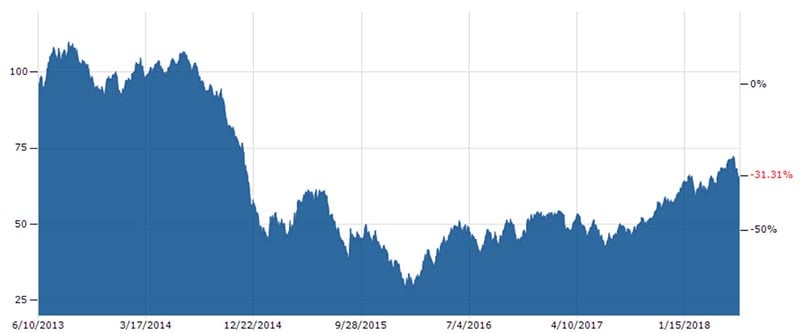 A big part of what cruise lines consider however, isn't just the cost of oil, but how much they've already bought, and how long they think the prices will hold.  Cruise lines hedge fuel prices - essentially buying up fuel when they think it's a good deal, and price increases might be on the horizon.  If a cruise line has already purchased the fuel they'll need to operate for the next year, and expect only a short increase in cost, they may be inclined to wait it out since they don't expect to incur significant costs themselves.  Ultimately it's about timing.  Look at the chart above around the beginning of 2016 - that may be when cruise lines published rates for mid-to-late 2018, though oil prices are now 30% higher than when cruises were priced.
What makes the current conditions different than when oil was $100 a barrel in 2014 and no supplements were charged?
With the reminder that all of this is speculative, and none of us can know for sure what will happen to the price of oil, or how cruise lines will react, the primary factors are market strength as well as budgeted and forecasted oil prices.  Cruise lines are filling ships reasonably well right now.  In 2017 roughly 25.8 million people took cruises, and that number is expected to exceed 27.2 million in 2018.  Compare that with 21.3 million guests in 2013, and you get an increase of nearly 28% over five years.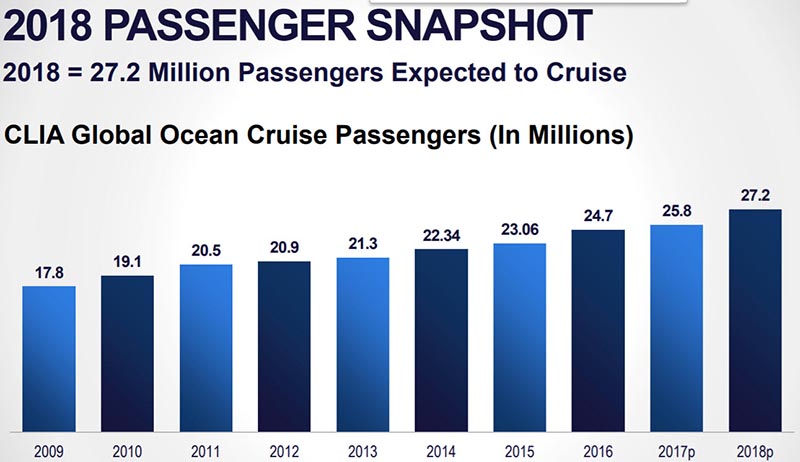 This increased consumer excitement about cruising, thanks in part to amazing new ships, lower jobless rates, and the availability of cruises sailing from ports closer to many guests, means that cruise lines might believe that they can weather the discontent of guests paying an extra ~$10 per person per day and recover some operating costs.  It's true that ships are getting more efficient - liquefied natural gas and technological advancements introduced by ship-builders help a lot.  For example, Harmony of the Seas and Symphony of the Seas are 20-25% more efficient than their only slightly-older sister ships, Allure and Oasis, plus today's larger ships operate with far greater per-passenger efficiency.  Still, those savings are budgeted far in advance, so unexpected increases in fuel costs are just that - unexpected. 
Wrapping it Up
Based on cruise lines' financial reporting, the average cruise line spends about $193 per passenger on fuel for seven nights of cruising - that's 10.8% of their per passenger cost, so this isn't a matter of pinching pennies.  Ultimately, we don't know what will happen with fuel supplements, but the conditions seem right for potential change.  Even in the best of economic times, people speak up when they see costs increase.  Will cruise lines soon give them another reason to speak up?
Would a return of fuel supplements make you less likely to cruise?  What would your reaction be?  Comment below, or reach out on Twitter or Facebook.