Author: Bill September 8, 2018, Updated: October 10, 2018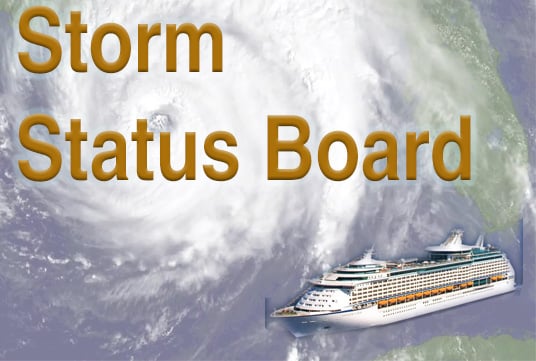 Below find changes and/or cancellations to sailings related to 2018 Atlantic hurricanes as well as current port statuses.  We'll make an effort to keep this current, but if you learn something we don't yet have posted please leave a comment below and let us know so we can keep things current.
If you're schedule to sail on an upcoming cruise be sure your cruise line, airlines, and other tour operators have your correct information on file so they can notify you of any changes via call and/or SMS.  Do not use the below information to modify your plans and always speak with your travel professional about the financial impact of any changes, regardless of whether you not you think your travel insurance will cover changes.
Wondering how cruise lines handle storms?  We answer many of those questions here: Cruising During Hurricane Season
As always, follow us on Twitter or Facebook for the latest in cruise news and more.
Hurricane Related Port Statuses
Operating as Normal
PortMiami, FL
Port Everglades (Fort Lauderdale), FL
Mobile, AL
Jacksonville, FL
Port Canaveral, FL
Charleston, SC
New Orleans, LA
Tampa, FL
Whiskey: Gale force winds (34 knots or 39 mph) are predicted to arrive within 72 hours.
X-Ray: Gale force winds are predicted to arrive within 48 hours.
Yankee: Gale force winds are predicted to arrive within 24 hours. Ports status: Closed to inbound traffic and vessel traffic control measures in effect on vessel movements within the port.
Zulu: Gale force winds are predicted to arrive within 12 hours. Port closed to all inbound and outbound traffic.
Recovery: The storm is no longer a threat to the area, however some damage may have occurred and response and recovery operations are in progress.