Author: Bill March 23, 2022, Updated: March 25, 2022
There is a new cruise line in town - or at least a new cruise experience, and this one builds on a popular brand: Margaritaville.  Let's look at the brand, the ship, and talk about why we're so interested in this new venture (no, it's not because I'm a big Jimmy Buffett fan).
In December it was announced that the 1,680 passenger Bahamas Paradise, of Bahamas Paradise Cruise Lines, would be re-fitted, re-branded, and would take the Margaritaville resort experience offshore as the Margaritaville at Seas Paradise.  Guests can enjoy two-night getaways at sea, leaving from the Port of Palm Beach, with a day spent in The Bahamas,  before returning to the realities of the mainland.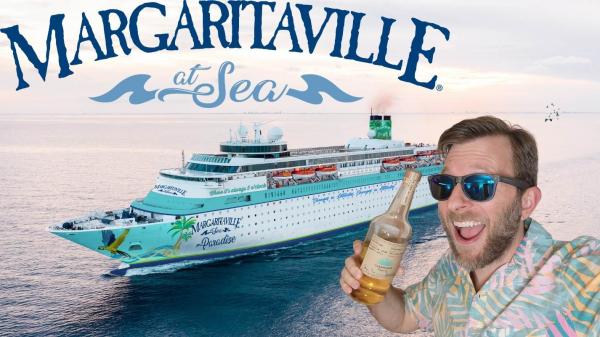 From the cruise line:
Margaritaville at Sea is an all-new vacation destination bringing together the brand's iconic hospitality and resort experiences with the ability to escape and see the world. The brand's flagship vessel, Margaritaville at Sea Paradise, features onboard dining venues, pools, entertainment programming, retail stores, a St. Somewhere Spa, Fins Up! Fitness Center, casino, theater, and more. 
The Brand
Jimmy Buffett's Margaritaville, inspired by a man who embodies relaxing on his terms, is a series of restaurants, hotels, and casinos operating in multiple countries.  They attract couples and families alike looking for a tropical escape (even inland), a cheeseburger, a beer, or now, even a cruise.
Some popular brands that fall under their umbrella include Cheeseburger in Paradise, Landshark Bar & Grill, and Air Margaritaville (located in airports).  These names and concepts lend themselves well to a cruise ship, which is in a way, a floating city that might just have all of these places.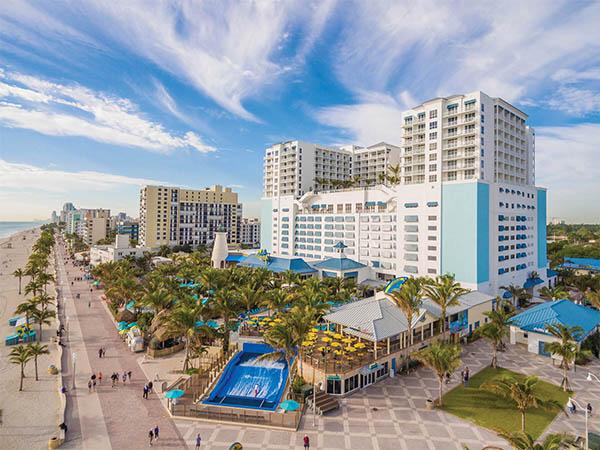 The Ship 'Margaritaville at Sea'
When the ship first sails in late April, she'll have come out of refurbishment to bring elements of the famous Margaritaville brand to the seas.  In her previous life, the 53,000 GT vessel (small by modern standards, but nothing to shake a stick at) sailed as the Costa Classica (and then neoClassica), and the Bahamas Paradise.
You won't find ice-skating rinks, panoramic theaters, or massive and opulent suites, but she seems well equipped for a short getaway.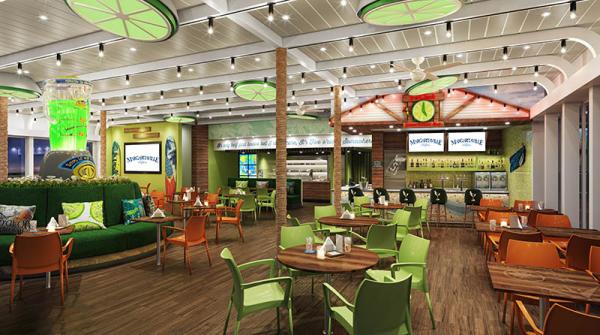 Amenities
JWB Prime Steak & Seafood

Fins Dining Room

5 o'Clock Somewhere Bar and Grill

Frank and Lola's Pizzeria

Port of Indecision Buffett

Margaritaville Coffee & Pastry Shop

Euphoria Lounge

Sunset Bar

The Hangout Bar

Par-A-Dice Casino

Stars on the Water Theater

Various nightclubs

Multiple pools

St. Somewhere Spa

Fins Up! Fitness Center 
The Facts
Built in 1991 with major dry dock/refurbishment in 2014, & 2021/2022

Gross Registered Tonnage: (GRT) 52,926

Length: 723.6 feet

Breadth: 99.9 feet

Speed: 20.0 Knots

Passenger Capacity: (max) 1,680

Crew Capacity: (max) 590

658 Staterooms

10 Terrace Suites (505.9 sq ft)

2 Junior Suites (333.5 sq ft) 

430 Ocean View (152 sq ft) 

216 Inside (148 sq ft)
This Might Actually Matter
Maybe I'm jaded because I write about cruise ships that tout wild features and can cost over one billion dollars, but I don't generally get really excited about or have high hopes for these short Bahamas sailings.  Many cruise fanatics express similar sentiment, thinking they're old and sub-par yet I confess that I've never been on a cruise like this.  That will change.
The difference I see with Margaritaville at Sea, compared to past ventures like those offered by this same vessel, is that there is now a brand identity.  Bahamas Paradise may have offered a lovely experience before, but it was hard to convince myself to spend time and money on an unknown, and I'm probably not alone.  I've never stayed at a Margaritaville resort, but I am familiar with the brand - both recreationally, and while finding that no other options were available while waiting for my flight at the Cancun Airport.  Brand identity offers expectations.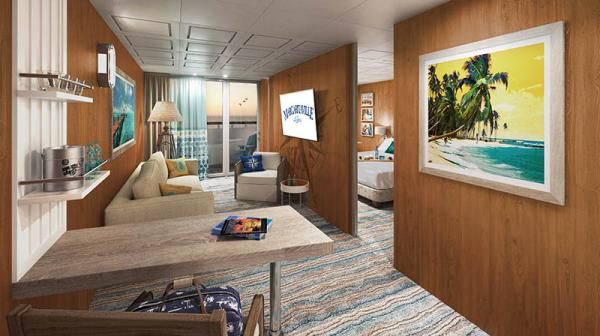 Personally, that is enough to get me to try something new - and I'm sure the line hopes that holds true for others as well.  Maybe they'll attract locals wanting a weekend away, or maybe tourists not wanting to commit to a longer and pricier more "conventional" cruise.  Or, maybe these changes won't move the needle much and the line will remain in some level of obscurity, filled with those looking for an easy way to gamble,or caught up in the excitement of a Groupon deal.  There is only one way for me to find out what type of experience is actually being delivered, and that's the try it out.  
I'm booked on their very first cruise on April 30th.  On that trip I'll be documenting the experience, beginning to end, both here on CruiseHabit.com and on our YouTube channel, so be sure to subscribe and follow along.  I look forward to learning more and sharing my thoughts about the overall quality and will aim to do so looking at it as a unique experience, but of course the comparison to other cruise lines will be impossible to avoid.  Jimmy Buffett's lyrics paint a picture of a lifestyle that doesn't sound bad at all, so it's hard not to look forward to the prospect of sipping a margarita in a comfy chair with a sea view.  What else?  We're excited to find out.