Author: Bill May 3, 2018, Updated: May 7, 2018
For decades, Hawaii has been a popular destination for cruisers and non-cruisers alike.  Norwegian Cruise Lines even has a ship there all year-round, the Pride of America.  What you soon won't find however are thousands of sunscreens with chemicals known to harm coral reefs.  Joining the ranks of various resorts throughout the world, parks in Mexico (including XelHa, Xcaret, Chankanaab, and others), and parts of the Cayman Islands, Hawaii is taking steps to reduce the negative impact to their ecosystem caused by some sunscreens.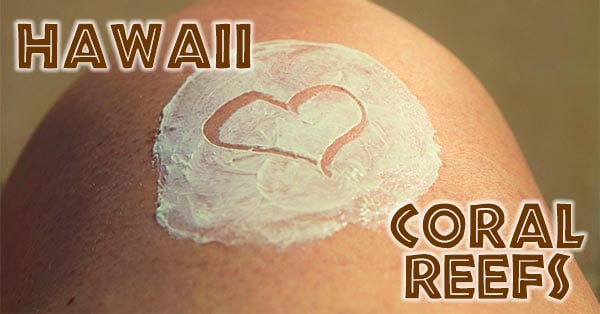 Some Sunscreens Lead to Coral Bleaching
The changes come not only during a time that there is increased focussed on the bleaching of coral in Australia's Great Barrier Reef, but after a study published in the Archives of Environmental Contamination and Toxicology confirmed the environmental danger of some of these products that aim to keep us safe.  Further, the pollution from these products, and the primary components of interest (oxybenzone and octinoxate), were found to be particularly prevalent in the waters around Hawaii and the US Virgin Islands.
In labs, when oxybenzone was exposed to coral at levels similar to what is found in popular tourist spots, the chemical deformed coral larvae by trapping them within their own skeleton, and already established corals leeched the algae living in their tissue, causing bleaching, and frequently leading to death of the coral. 
While reef-safe sunscreens have been available for many years, products from brands such as Coppertone and Banana Boat have been more common.  After the passage of Senate Bill 2571 however, only products free of oxybenzone and octinoxate will be allowed to be sold in Hawaii (unless a doctor prescribes otherwise).  It's important to note that what makes this different than other places where biodegradable and reef-safe sunscreens are required, is that those individual properties or parks have policies in place which restrict the use of certain sunscreens, but outside those places, other types of sunscreen may be purchased even though they won't be allowed in.  This means if you're traveling to Mexico or Grand Cayman, you'll want to bring a compliant sunscreen with you to avoid paying inflated prices on arrival.  The state is instituting a grace period to give retailers and manufacturers plenty of time to comply.
Other Environmental Concerns
A number of factors threaten the ocean's ecosystem of course, including the use of fossil fuels in aircraft and ships.  Recently more and more cruise lines have been installing emission scrubbers and even deploying ships running on liquefied natural gas (LNG).  Royal Caribbean's Harmony of the Seas and Symphony of the Seas have technology which reduces their emissions by over 20% compared to their otherwise identical sister ships.  Cruise lines now have entire onboard and shore-side teams of environmental officers ensuring regulations are followed and often surpassed in favor of conservation.  What makes sunscreen such an interesting challenge is that no matter whether for work or play, whether traveling by land or sea, it has the same impact to an ecosystem which we have come to learn is not only beautiful, but essential to protecting shorelines, facilitating thriving marine-life, and more.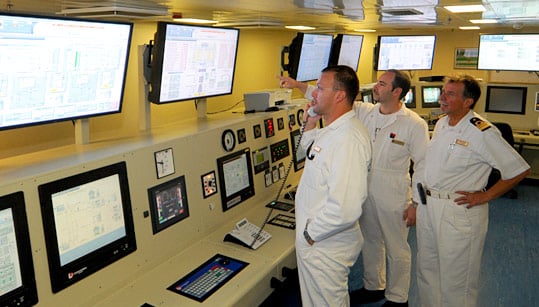 Billy's Take
Hawaii's restrictions may serve as a catalyst for other beach hot-spots, if only by way of the press this move attracts.  It's hard to imagine that this issue will simply disappear; it only remains to be seen if additional governments make similar requirements, or consumer knowledge of the risks (and the alternatives) drive the industry to make environmentally-friendly sunscreens more ubiquitous.  The same is true for ship emissions, where some ports require shore power connectivity and other controls. These things quickly become industry standard even when not required by the law.
As eco-tourism increases in popularity, it would stand to reason that the cruise industry and others will have to not only make advancements, but in some ways, catch up.  It wouldn't surprise us at all to see cruise lines and hotels begin enforcing similar restrictions on sunscreen, as they'd be likely to cause little friction and only help guests think more about the environments they're so enjoying.
We can't of course skip mentioning that we've had Mexitan Coral-Safe sunscreen products available in the CruiseHabit Shop for some time now, and recommend them without hesitation - in fact we use them ourselves at least once a week. (Ever wonder how we don't get charred when on Periscope at the port?)  Why?  For one they don't contain fragrance (and we're a tad sensitive... okay, everything gives Billy a rash) and because more carefully choosing a sunscreen product seems a small price to pay if it has any chance of easing the strain we put on our environment. Further we suspect the products themselves will become more common as we all try and take stewardship of our environment.
Do you use a reef-safe sunscreen? What's your experience? Comment below or reach out on Twitter or Facebook!