Author: bill February 20, 2023, Updated: July 16, 2023
It was less than a year and a half ago that a new cruise line started sailing in North America with the promise of being different.  Suggestive marketing, tech-forward gimmicks like Shake for Champagne, and promoting themselves as a holiday for rock stars were cornerstones of the brand before Richard Branson's Adult-by-Design Virgin Voyages even had a ship in the water.  We're not all young sexy rock stars though (spoiler alert, I know), and this led to a statement I hear a lot, "I don't think they're for me."  Funny enough, I've heard this from all sorts of would-be cruisers - er, sailors, as Virgin calls them.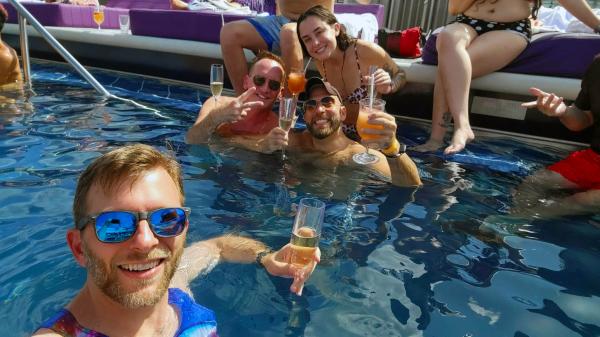 Now nothing is for everyone - and that's important to remember.  Let's start, however, by looking at who the folks actually sailing Virgin are.  This varies a little bit, if we compare Scarlet Lady, who is in the Caribbean all year, and Valiant Lady, who spends half the year in Europe.  For this part, we're going to look at who is sailing Scarlet Lady, and who sailed Valiant Lady when she was in Europe (since she's currently spending the cooler months in the Caribbean…as a rock star would).
Scarlet Lady Sailors:
52% are married and 48% are single

52% have children at home

The average sailor is 44 years old

54% are women, and 47% are men

Scarlet Lady's primary markets are the US, UK and Canada
Wondering what Virgin's ships actually look like?  Watch our full narrated ship tour with lots of info.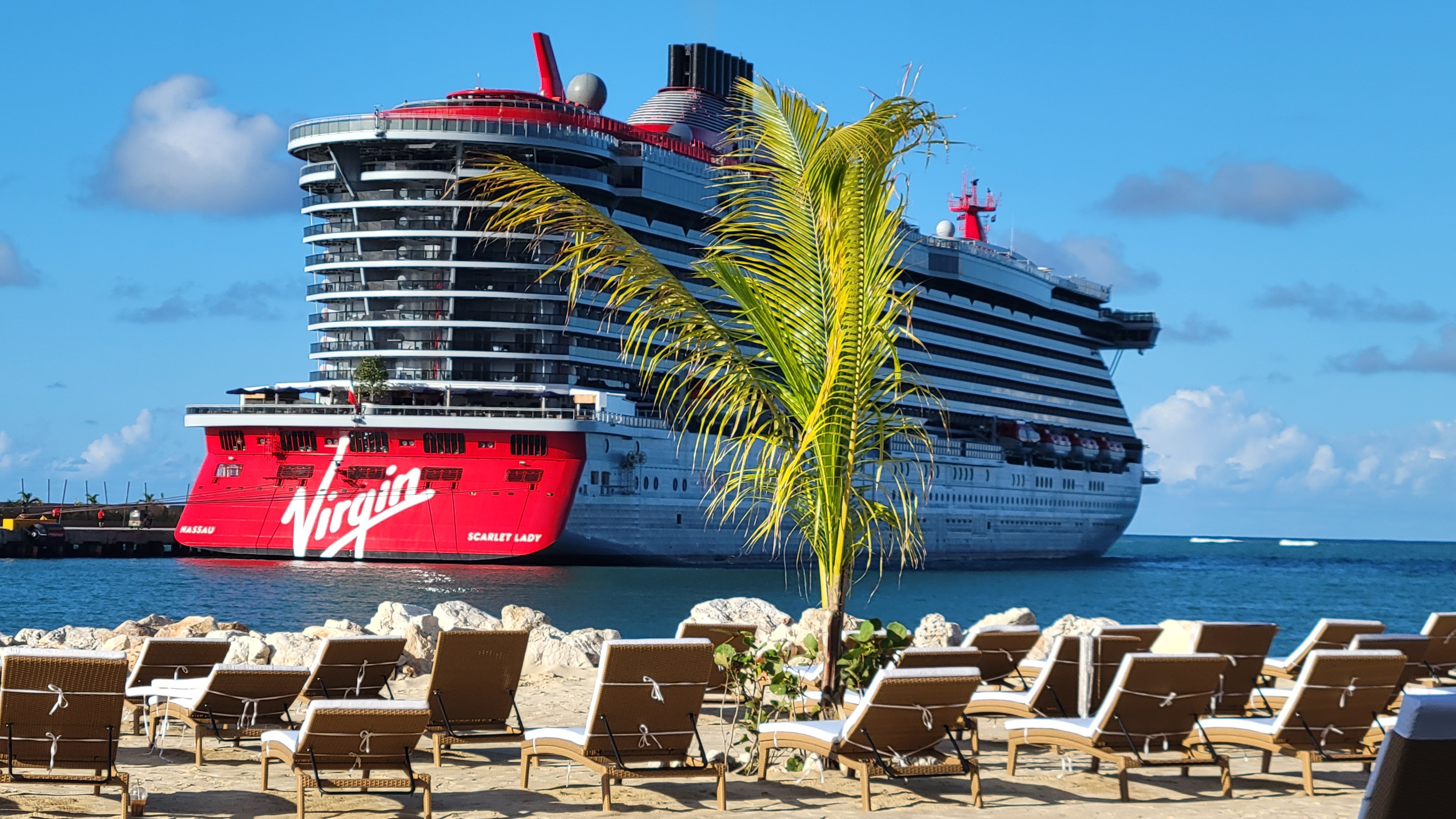 Valiant Lady Sailors:
48% are married and 52% are single

48% have children at home

The average sailor is 43 years old

44% are women, and 56% are men

Valiant Lady's primary markets are the US, UK, Canada, Spain and Australia
It looks like sailors in North America skew a bit older and tend to be married with kids a bit more often than in Europe.  It's just a guess, but as young Europeans tend to do more international travel and have more vacation time, this doesn't seem surprising.  Interestingly, women outnumber men in North American sailings, but men outnumber women on European sailings.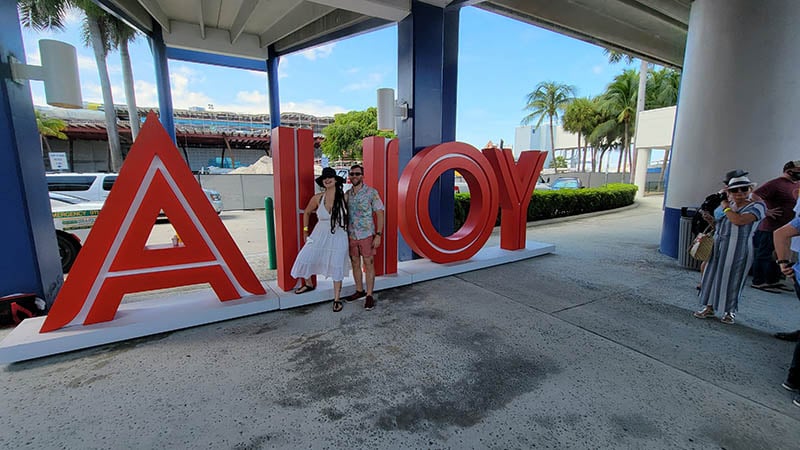 Overall Sailor Makeup
Looking at the brand as a whole, as of several months ago, we do have some more information on the makeup of sailors overall.  You'll see some variation from the data above, as it was a bit less fresh.  As we get updated info for any of this, we'll update it.
Gender

Life Journey

67% Have Kids at Home

60% Married

Education

3% Vocational School

10% High School

10% Associate's Degree

37% Other

40% Bachelor's Degree

Household Income (USD)

33% $75k - $99,999

40% $100k-149,999

27% $150k+

Employment

1% Unemployed

2% Other

6% Self Employed

9% Part Time

11% Retired

71% Full Time

Age

6% 18-24

20% 25-34

25% 35-44

19% 45-54

16% 55-64

14% 65+
How This Stacks Against Perceptions
There are few things I do with such enthusiasm as talking about cruising, and people love to share their cruising experiences and opinions with me.  When Virgin comes up with someone who hasn't sailed, the most common perception I've observed is that most think they're the wrong age.  I'm almost 40, and people older than me often think Virgin is for younger folks.  Funny enough, however, those younger than me seem to think that Virgin is for older folks.  By the numbers, however, we see a pretty even distribution, with 51% of sailors being under 45, and 49% being over 45.  While the most recent data we can find is about nine years old, income, too, seems right in the middle, at least compared to other cruise lines.  In 2014, according to the Cruise Line International Association (CLIA), the annual household income earned by cruisers was $114,000, well within the earnings bracket of 40% of Virgin's sailors.
There are some things you'll find on Virgin that you'd definitely NOT expect on an adults-only cruise line.
Did Virgin Come Off as Too Sexy?
It's hard to argue that starting a cruise line from scratch, and attempting to launch during an industry shut-down driven by a global pandemic, is not ideal.  I'm sure many tears have been shed in Virgin Voyages offices because of this.  With the cruise industry back in full swing, however, Virgin is doing a lot better than in months past, but they still aren't constantly filling ships.  Why?  Their prices are lower than what was initially planned, their ships are gorgeous, reviews of food and service are generally very positive, and really lucky folks can even cruise with a their own expert! Alright, that last part may have been a plug.  Well, it's a problem if you have a brand that scares people.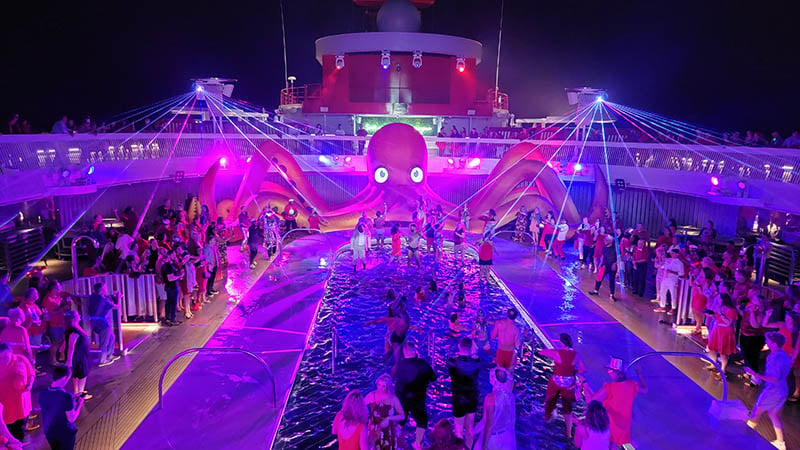 Some fear not fitting in because they're not as young and sexy as I am in those in the ads.  Others think the line is a non-stop party, with loud music continuously.  Still others feel it's too risque with things like Never Sleep Alone (NSA), a show featuring a singing sexologist.  
We talk about the NSA show and more in this daily vlog from one of our Scarlet Lady Voyages: Sea Day on Scarlet Lady - Too Hot for YouTube?! Relaxation, a Singing Sexologist | Virgin Voyages
The Only Constant is Change
In the past few months, Virgin has made changes to address some of these concerns.  New campaigns, ad agencies, onboard events, and more.  Ads now prominently feature sailors proud of their grey hair enjoying some of the more relaxing elements of the ships (and there are plenty, trust me).  The volume of the music by the pool has come down.  And, much to my chagrin, the fun NSA performances, which were ALWAYS full, have been replaced.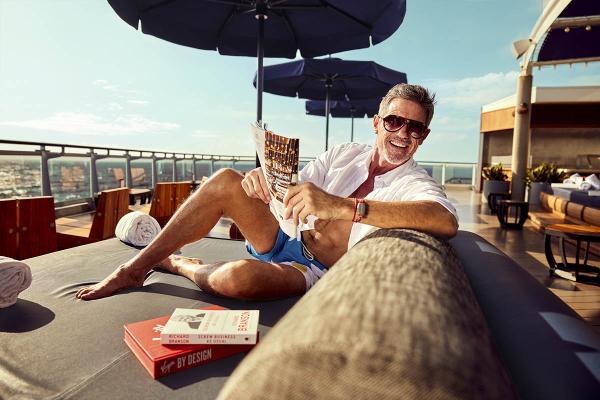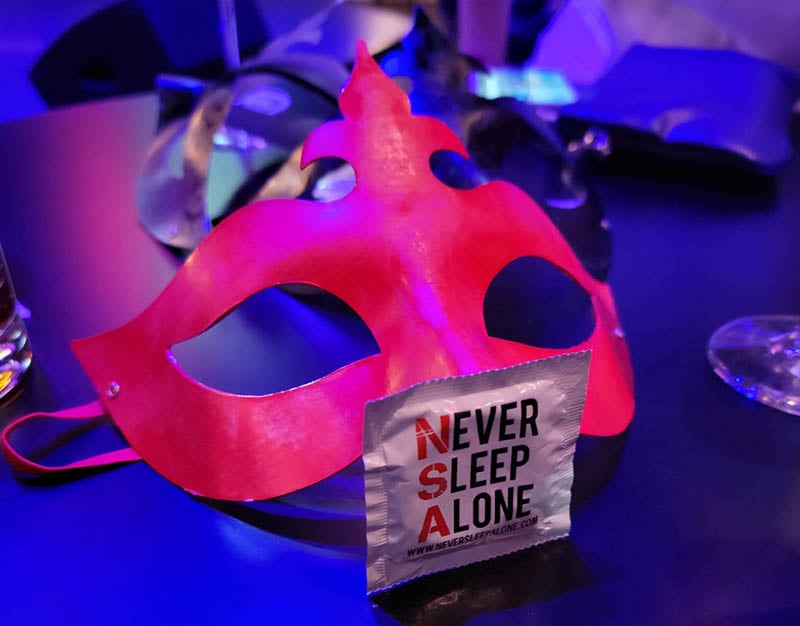 I've sailed Virgin 11 times in the 16 months they've been sailing (with another in just a couple days) and have actually really enjoyed watching them evolve.  Sure, there are things that I wish would have stayed the same, but there are also many changes I've loved. Importantly, however, if they can continue having a really unique product while attracting a wider audience, that's great for everyone. 
I want more people to experience Virgin, and I'd bet that most of them will like it.  As I said before, absolutely nothing is for everyone, but do you know why I'm confident that most will have a good time?  For all the people that have told me they don't think Virgin is for them, I've not heard anyone onboard say that.  Those who have taken that plunge have found the water is fine.  For some, it's their new favorite cruise line, for others, it's a one and done, but from 18 to 80, I've cruised with people married and single, gay and straight, white collar and blue collar, and the one thing that ties them together is that they've had a great time.
If you want more information on Virgin Voyages, we have a ton of videos and articles with tours, tips, and more.  Please check them out and join us on an upcoming voyage!