Author: bill March 10, 2019, Updated: September 1, 2021
MedallionNet, Princess Cruises' high speed shipboard internet/WiFi service, part of the Ocean Medallion program is itself picking up steam.  While available only on Regal Princess just months ago, the service, allowing guests fast and affordable internet access, as well as a number of guest experience enhancements, is now available on four Princess ships, and will soon be available on a total of ten ships - nine of them before the end of 2019.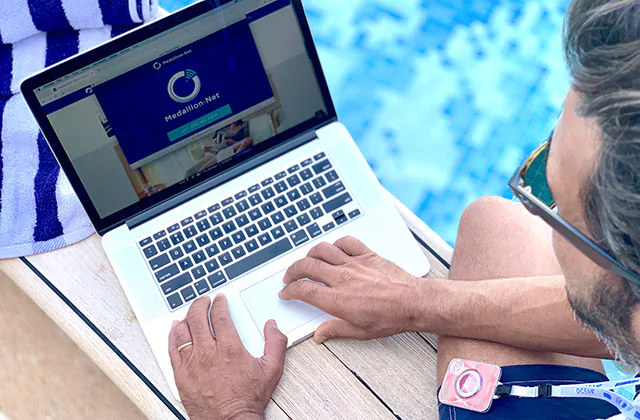 Guests continue to expect faster and more reliable connectivity while cruising - all at lower prices.  For some this is about sharing the experience, for others it's keeping tabs on loved ones or businesses back on land.  Now guests on a growing number of Princess ships can stay connected for just $9.99 per day - even less if purchased pre-voyage or when combined with Captain's Circle (Princess' loyalty program) benefits.
Looking for help?  We've got tips on keeping you connected while cruising.
"With MedallionNet, the best Wi-Fi at sea, the extraordinary experience of a cruise vacation is further enhanced by superior connectivity and coverage – providing our guests who want to stay connected with a connectivity experience that equals or exceeds what they experience on land," said John Padgett, chief experience and innovation officer for Carnival Corporation. "This event gives us the opportunity to demonstrate that guests can have connected experience that parallels land-based Wi-Fi, making it exceptionally easy for our guests to share photos, videos and messages about their fabulous vacation. Cruise vacations are already the fastest growing segment of the vacation sector, and eliminating any connectivity barriers will make cruise vacations even more desirable."
When Will MedallionNet be Available?
As or March 2019, MedallionNet is available on Caribbean Princess, Regal Princess, Ruby Princess, and Royal Princess.  The program will be coming to Coral Princess by April 2nd, Island Princess by May 15, Crown Princess by July 12, Emerald Princess by August 3rd, Sky Princess by October 27, Golden Princess by December 20, and Enchanted Princess by June 19, 2020.
Billy's Take
Cruise lines all realize that access to reliable internet is expected - especially by first time cruisers.  Guests can get internet on land, and they don't see ships as being any different.  There are incredible technical challenges of keeping a cruise ship connected, but the market demand has driven the industry to spend billions of dollars on technical innovation, and now many cruise lines offer connectivity that is infinitely better than just a few years ago.  The cost of this however still needs to be passed onto guests, though it remains to be seen when lines will simply fold that cost into the price of their fares - a tricky move in a world where lead pricing can be king.  While these and other challenges still lay ahead, we stand firm that this will be less of a differentiator in the near future, and simply table stakes, with lines leveraging other technologies to enhance guest experience and separate them from the pack.