Author: bill September 17, 2016, Updated: September 21, 2016
The 168k gross-ton Norwegian Joy, heading to China in June of 2017, is breaking the mold in a number of ways but showing us that cruising out of Asia is not just moving into the modern era, but perhaps set to outpace the US cruise market in sophistication - just look at Royal Caribbean's decision to move the Quantum of The Seas to China.  The Joy's dining options alone are enough for me to take a second look at what NCL has to offer.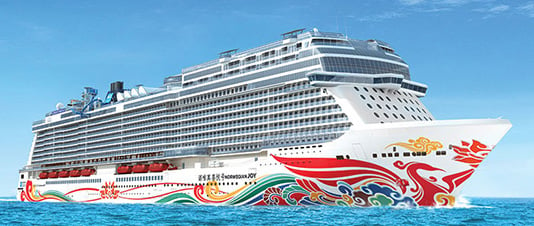 The Coco Cay is going to offer activities (such as a racetrack) and venues (like a virtual lounge called the Galaxy Pavilion) that haven't been seen at sea, but this post is all about food.  I have some personal reasons for being excited about these recently announced dining options on the Joy, not necessarily because of what the options are, but the direction in which they're going.  More on that later, for now, let's get hungry.
The ship's main dining rooms and Garden Cafe (NCL's buffet venue) will offer a combination of Chinese and American faire, which is to expected out of an American focused line dedicating it's latest and greatest to the Chinese market, and yes, Cagney's, La Cucina, and Le Bistro will also be onboard as NCL's signature steakhouse, Italian and French restaurants.  What's impressive however are the number of more creative options that aren't part of NCL's standard catalog.  
The Savor and Taste restaurant will include both traditional Chinese dishes as well as more "forward thinking" options that include influences from Japanese and Korean cooking.  For something a bit more casual, but certainly more interesting than hitting the buffet, there is Korean hot pot restaurant, Sakura & Hibiscus where along with Korean barbeque, guests can customize and prepare their own meals.  
Also familiar to NCL guests are Food Republic, designed to serve up offerings from around the globe so cruisers can get a taste of Colombia or even the Netherlands on their cruise out of China, and Teppanyaki, a Japanese hibachi restaurant. The latter leads me to think and appreciate that the novelty of watching your chef prepare your meal at your table while tossing food scraps in his or her hat is something easily transcending cultural barriers.  There will also be a Noodle Bar, because again, who doesn't like noodles?  On my recent sailing on the Freedom of the Seas I came into the Windjammer and scurried to queue up behind others as I figured free cruises were being given away, only to find that there was in fact a noodle bar set up in Jade - almost as good as a free cruise.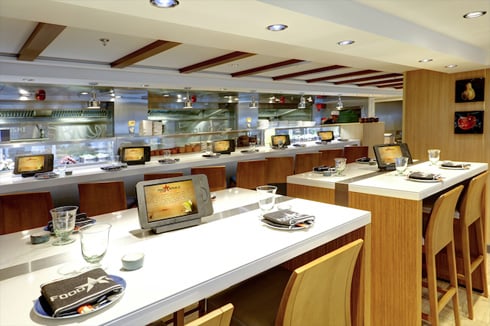 New to the Joy are some other names, too.  As I'm confident that the Joy will see many Americans wanting to cruise Asia on the latest and greatest vessels, the American Diner, as it's name suggests, will serve American comfort food while Neptune's, a seafood restaurant, is certain to be the place to share Instagram and Weibo pics of a full buffet of fresh seafood with an available a la carte menu as well.
The prevalence of shipboard coffee shops on cruise ships has too evolved with the move to the Far East, in the form of The Grand Tea Room which will offer loose-leaf teas and finger foods, perhaps NCL's Asian market answer to the high-tea offered on Cunard, HAL, and other high-end lines.
While all of this sounds great, I've never eaten so much that I have refused dessert on a cruise - only enough that I should have.  To help with that craving, should I get a chance to experience the Joy, I could get up from my seat at dinner and head to the ship's boutique bakery known as The Bake Shop, where the Joy's nearly 4,000 guests can load up on macarons, chocolate pralines cupcakes, and Japanese sweets.
Why I Find This So Interesting
As a child, sailing NCL's old twin-funnel ships like the Skyward, I watched them evolve to the more modern Spirit and Sky class vessels and then the Epic, Breakaway, and Breakaway Plus class ships.  As the ships got larger, the dining options certainly became more numerous, but I wasn't sure they'd become greater.  It's been a few years since I experienced any of their offerings to be honest, and the last few times were aboard the Norwegian Sky.  I'd define the cuisine on that ship as "alright".  It wasn't bad, but nothing to write home about.  The Garden Cafe was under-whelming (sans the prevalence of curries), and the restaurants all seemed uninspired if not overly-Americanized takes on whatever the dish claimed to be.  
NCL is an industry pioneer though, and they seemed to be the classic "middle-school underachiever" for a while.  The new CEO, Frank del Rio (founder of Oceania) is clearly a man who knows how to shake things up, especially in terms of cuisine, and with today's Asian cruise industry analogous to 1849 California, the new offerings on the Norwegian Joy seem like just the time and place to strike.
Have thoughts on the Norwegian Joy's offerings?  What food would you like to see at sea?  Comment below!