Author: Bill August 7, 2021, Updated: August 7, 2021
The count is over, at four hundred and ninety-two days.  That's how long Virgin Voyages, the newest cruise line, just for adults, was delayed in setting sail due to the pandemic.  In early 2020 many were eagerly awaiting the April 1 maiden voyage, but the change of date was no joke.  For a group of lucky British sailors (that's what Virgin Voyages calls guests), they set sail today from Portsmouth on the line's first ship, Scarlet Lady.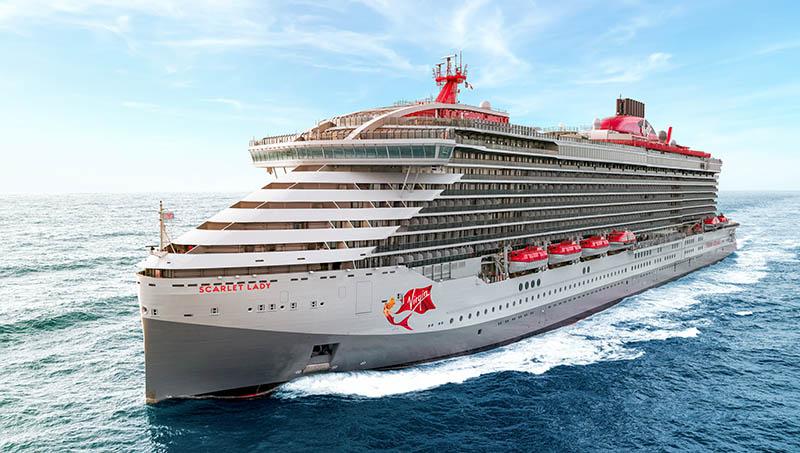 Virgin Promises Something Different
On the modern-looking 110,000 gross ton ship, her sailors will enjoy similar amenities to what you'd expect on a modern cruise ship, but with Virgin's unique take - and names.  Sailors won't find a buffet restaurant, but instead, a food hall.  Also unlike other lines, every one of the twenty dining options is complimentary, as is WiFi, most non-alcoholic drinks, or, "basic bevvies", and gratuities.  What remains to be seen is what else is unique, and what is unique in name only.  
"After more than a year of waiting and a major emphasis on a safe return, we're ecstatic to announce these new sailings and bring Sailors onboard to experience what it's like to set sail the Virgin Way," said Tom McAlpin, CEO and President of Virgin Voyages
Early Impressions of Scarlet Lady
While this is their first revenue sailing, a small number of lucky travel agents, writers, and others were able to enjoy a sneak peek last year, as well as a short shakedown cruise earlier this week.  These initial glimpses seem to confirm the modern and eye-popping look of the ship, which has a style many will love and others may question.  Early feedback has been mixed, with many commenting on the smaller than average pool, and lack of storage in staterooms.  What the line's first attempt lacks in certain practicalities, it seems they make up for in style and options though - and we look forward to seeing how much of that style sailors leave with in the form of tattoos from the onboard tattoo parlor, Squid Ink.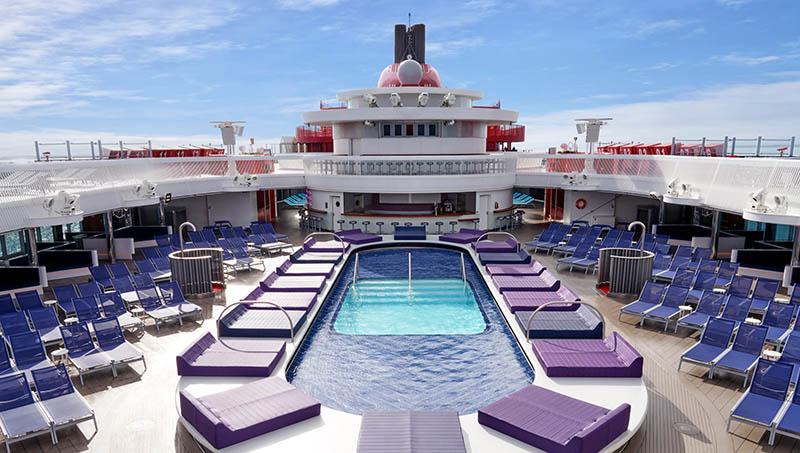 All guests sailing on Scarlet Lady must be fully vaccinated against COVID-19, and the company says that they'll mirror the mask-guidance applicable on land from the local authorities. If you're interested in following her journey, we'll be onboard her first US sailing, October 6th from PortMiami.  We've also got photos, menus, and more information about this new line and ship here.