Author: Bill August 24, 2021, Updated: September 25, 2021
The best thing about today is that it was a sea day, and I love being able to just relax and explore the ship if I want.  The worst part is that it was the last day of our Meraviglia cruise, but I tried not to let that weigh on me as I lounged, while also finding some places on the ship I'd not yet noticed.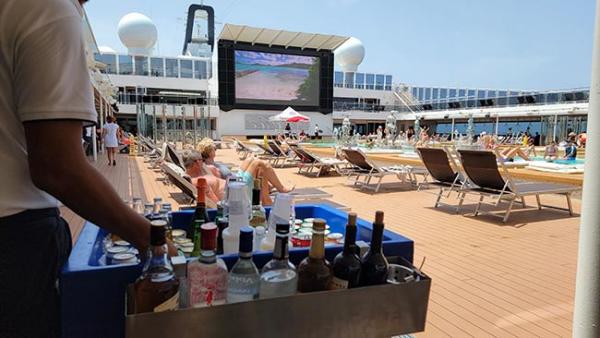 No Brits, No Beans
We decided to check out The Marketplace Buffet for breakfast, which is open a bit later on this ship than on some (10am if I recall).  I generally find breakfast buffets on cruise ships to be pretty similar to one another, and this held true today.  The one thing that seemed to be missing was beans.  This wasn't a big deal, except I couldn't think of a cruise where there weren't beans in the morning buffet.  All guests on this sailing were on US passports (which is true of all of MSC's Miami sailings for another few weeks, if I'm not mistaken), so we'll see if that changes, as many, especially the British, see beans as a staple breakfast food.  While the selection was just fine (as noted, similar to other lines), we once again found the staff particularly helpful and pleasant.  
What I don't love about MSC's buffets (and seems the case on all their ships), is that they're organized around one giant island (which I suspect is a galley).  This means you really can't take a quick look at all the stations, you have to walk around a rather large space.  I remember remarking on a past MSC cruise that this may be one factor that leads guests to think there aren't as many options - they just didn't take the long hike necessary to find everything.  I personally find the many small stations/islands, seen on most newer ships, to be much more convenient.
One box Meraviglia's buffet venue does check is outdoor seating.  I may not remember or pick up on every detail of every ship I've been on, but I always look for outdoor seating at the buffet and am happy to see it here.  On this ship, the glass wall/railing is tilted, which I completely failed to capture in the below photo, but it looks nice.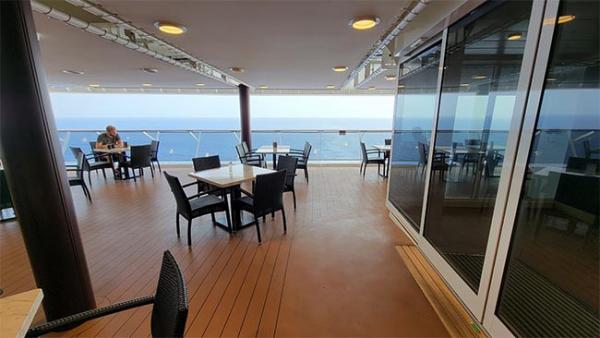 Registering my Credit Card
Instead of providing your credit card at check-in, MSC has stations all over the ship where you scan your room key (or tracelette) and then insert a credit card to set up your onboard account.  While different, this is completely painless and takes just seconds.  You can also do this at guest services or the concierge (in case you want to use cash or have any questions).  While I don't mind this one bit, I did forget to do it so far, and was left a nice reminder in the room.  If I didn't do it today, then they'd stop me at the gangway and make me go back.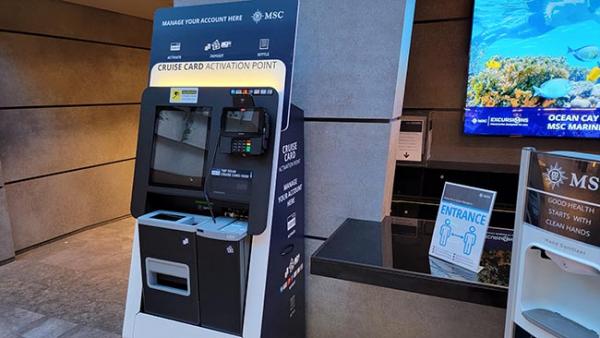 So Many Pools...So Few Towels
Different ships have different styles and layouts, as well as unique spaces, but they also tend to share some core qualities - like pools.  On MSC Meraviglia though, they have many pools - more than I'm used to, and more than I realized until the last day.  The number of hot tubs seems high too.  All of this is a great thing, though perhaps somewhat underappreciated when the ship is at such a low capacity.
The Yacht Club has their own pool, which is nice, though has an oddly tall barrier around it.  There is also a hot tub right next to it and sitting higher so guests can enjoy the ocean views.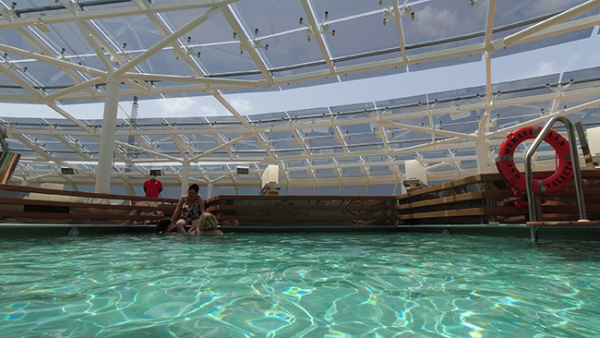 Walking aft is the Bamboo Pool, which is in a two deck space and has a convertible roof, which they close at night, and in cold or rainy whether.  I liked the look of this one quite a bit, and there were several hot tubs here, including two on the upper level that had fantastic views from panoramic windows.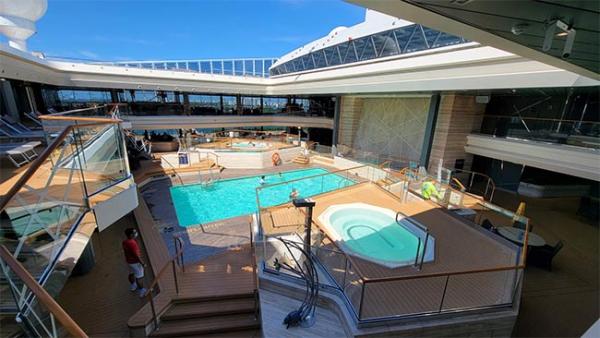 The main pool is called The Atmosphere Pool, and it's pretty large, with a shallow-water 'bridge' of sorts in the center, neat fountains, and platforms on which you can lounge, which are surrounded by shallow water.  Once again, several hot tubs are around this pool, including those on the upper deck right along the edge, providing ocean views.  I actually really like the look of this pool deck - it's modern but welcoming.  This area feels more like a nice resort than something found on a ship with families.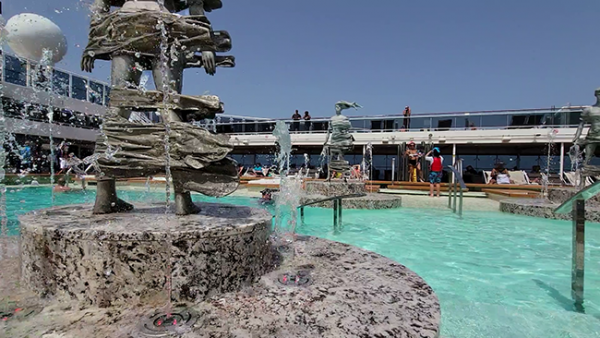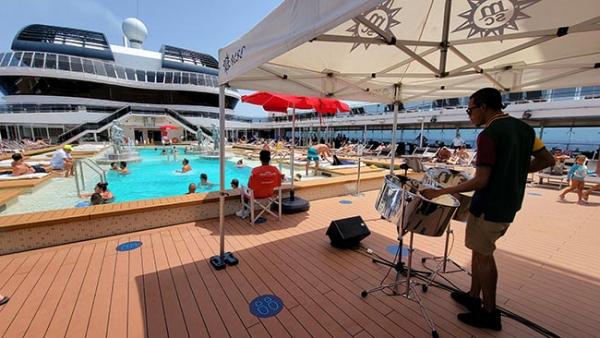 More?  Of course.  Guests with the Aurea package (which includes spa access, anytime dining, and other perks) have access to their own small sundeck called the Top 19 Solarium.  It was near vacant on this trip, and features what I think they consider a hot tub - but one that is so long it felt more like a plunge pool.  It's positioned up against glass and guests overlook the main pool from here.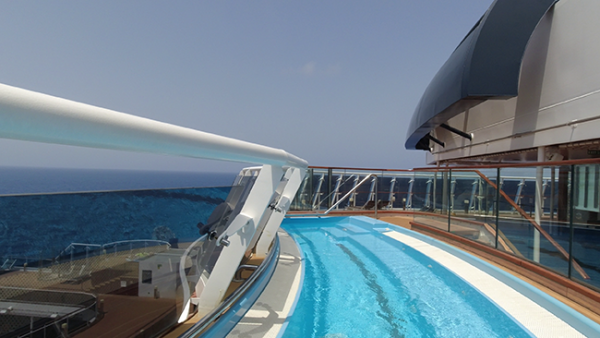 Up at the Polar Aquapark, an impressive-looking water park with slides and other water-attractions, there is another pool, though not one you'd lounge around.  This area is near the Sportsplex, where there is indoor basketball, a ropes course, and more.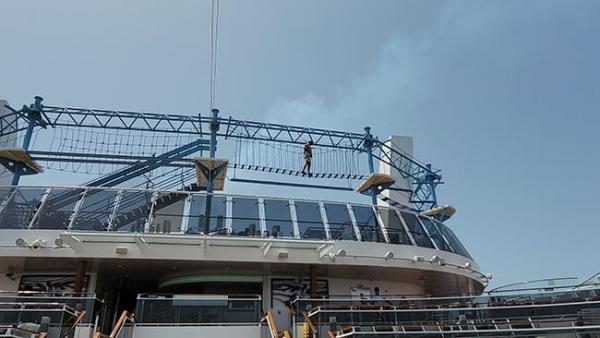 Finally, all the way aft is the Horizon Pool, which has amphitheater seating looking down at the pool and the wake trail.  This area is for adults only,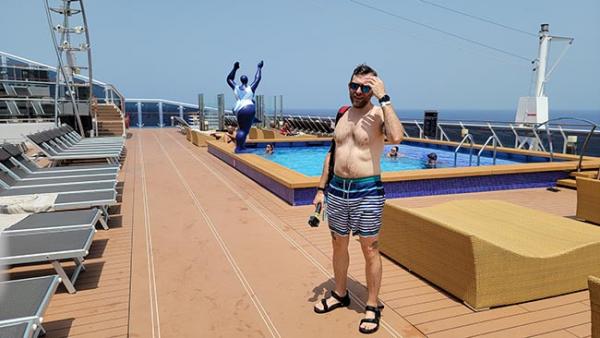 For all of these pools, one would think they'd make it easy to get a towel.  Indeed, if you're staying in the Yacht Club, you'll find plenty of fluffy towels as soon as you walk out on deck.  I learned the hard way though that for the other pools, you need to bring a towel from your room.  How did I learn this?  I jumped in the Horizon Pool only to find that I'd be air-drying. There may be other towel stations somewhere, but I didn't notice.  I really don't like making towels difficult on cruises.  I don't like checking them out on Royal Caribbean or Carnival, and I don't like having to bring them from my room.  I point out the abundance of towels whenever we're on Celebrity, and this experience, while not the end of the world, only added to that annoyance for me.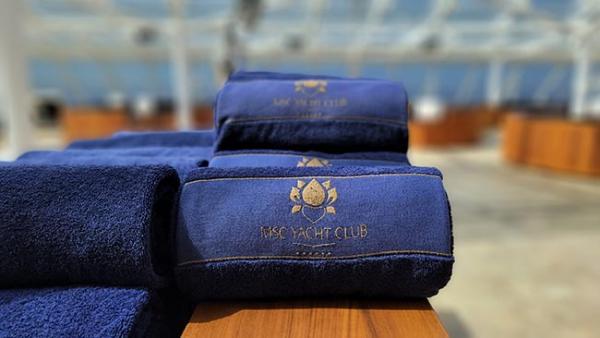 Once I'd sufficiently air-dried (though the curtains in the Edge Bar did look soft and absorbent) we heeded back to the Yacht Club pool.
Lunch & Chocolate
During our pool "research" we spent a lot of time lounging, especially at the Yacht Club pool, and they just kept brining us drinks.  Because this type of relaxation is so exhausting we needed lunch.  The buffet at the Yacht Club pool area was open for three hours in the afternoon, and is attached to the bar.  There is ample seating around the deck, and while none of it is 100% shaded, most is protected enough that we were content eating there.  You can just walk up and point out what you'd like, or you can request something make just for you, or perhaps brought from the dining room just below.  The Yacht Club staff is really happy to get you what you want and serve you anywhere.  We ended up with an odd but delicious assortment of items, including everyone's favorite hot-weather poolside dish, cannelloni bean soup.  We also had a veggie burger - not because there weren't other exciting options, but because the veggie burgers at Ocean Cay were so good, and they seemed to be the same onboard.
There were plenty of dessert options available, but I am a giant chocolate fan, and something I like about MSC is that every ship has a unique chocolatier, so we headed there.  On Meraviglia, they feature a Jean Philippe chocolatier, which is located in Galleria Meraviglia, the indoor promenade with the LED screen ceiling.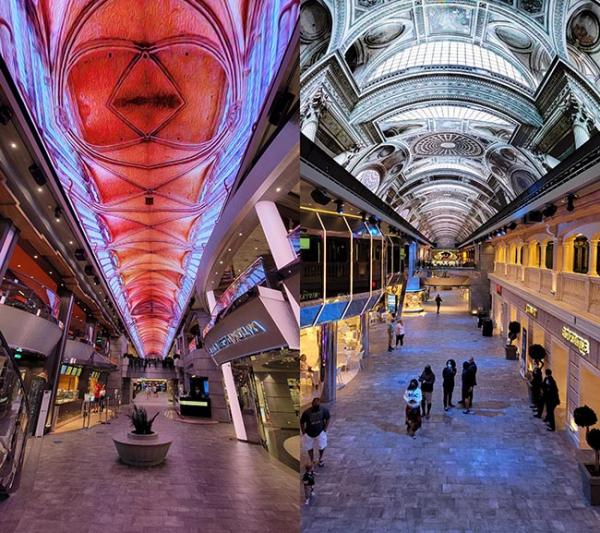 These hand-made chocolates do come at an additional cost, but I found it reasonable.  I had a orange, raspberry, and coconut chocolates and was thrilled with my decision.  Every cruise line needs handmade chocolates.  In addition to enjoying them in a small seating area, or elsewhere on the ship, there are packaged options so you can take some home with you, something that I should have done (but didn't), and is absolutely the best thing to do with any leftover onboard credit.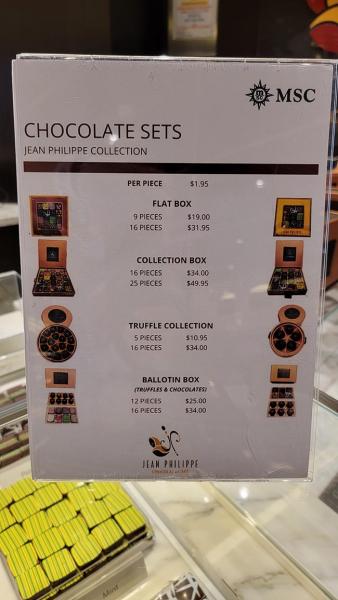 A Bit of Socialization in Topsail Lounge
We'd not socialized with other guests much on this sailing.  This is partially the nature of a short sailing on a large ship, and maybe somewhat because the bar seating is closed - something I'd not considered altering social behavior.  We found ourselves having another snack (clearly I was calorie-loading the last day) as well as drinks in Topsail Lounge at the Yacht Club, and began chatting with some fellow guests.  There were some lovely people onboard, and it was nice to have a casual chat while commiserating about approaching the end of our cruise.  Service was again great, and I even tried a couple of Japanese whiskies that I'd not had before.  They also had Havana Club at this and other bars on the ship, which I really like, and is something you can't buy in the US.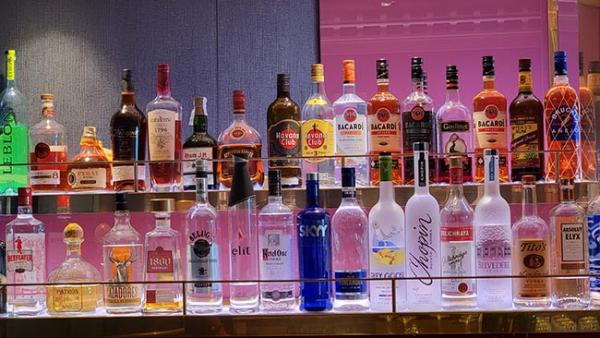 Conversation and drinks were good, but this space could stand to have a bit more ambiance - same for the restaurant one deck above.  On Seaside they combined these spaces so that you had two deck floor to ceiling windows, and the restaurant was almost like a loft overlooking the lounge.  On Meraviglia it feels a bit contained, and lacking in defining features.  A couple small flower arrangements on tables would help some.  They do sometimes have live music here, and as conversations drew to a close, a saxophonists arrived, which we enjoyed - though this only solves for ambiance when someone is actively playing.
To Specialty or Not to Specialty
On modern ships it's hard to get a good sampling off all the options you have available even when cruising for a week.  Being a three night cruise made this especially difficult.  I'd been tempted to try one of the specialty restaurants on Meraviglia but we just ended up running out of time.  Perhaps in the coming months we'll get to sail on this ship again.  Even if we could just visit for the day, I'd love to try out Hola! Tacos and Cantina, as I saw a massive hot sauce bar and a love the idea of casual Mexican cuisine on a ship.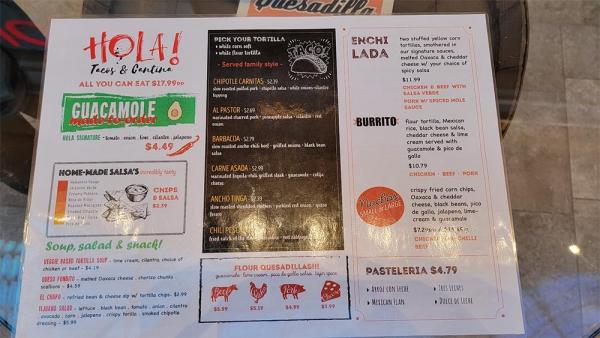 For this final dinner we ended up back at the Marketplace Buffet, and I don't regret that.  Roaming the linear buffet some salads caught my eye, but they had olives, which I really don't like.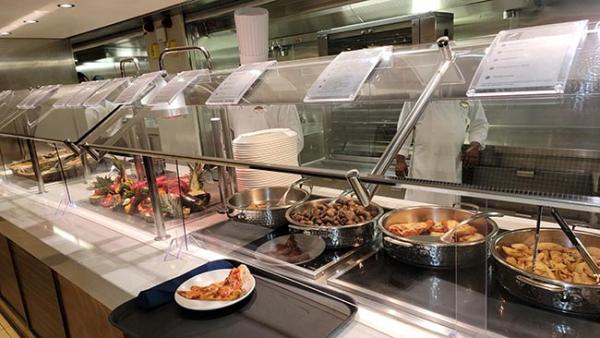 I asked the crew member if it would be possible to have one made up without olives and just a minute later they brought it right to me.  This was just one example of the enthusiastic service we received in the buffet and elsewhere throughout the cruise - something contrary to what I've heard from others about MSC.  I sampled a lot of different things, including some perfectly-cooked pasta, a vegetarian Indian dish, soup, and some random veggies, and everything I had was quite good.  That salad, by the way, couldn't have been more fresh.  They'd not taken enough time to have chopped all new veggies for it, which tells me that all fo the salads sitting there ready for guests were probably just as crispy and flavorful.  This is a nice example, to me, of where sometimes small differences stand out and make big impressions.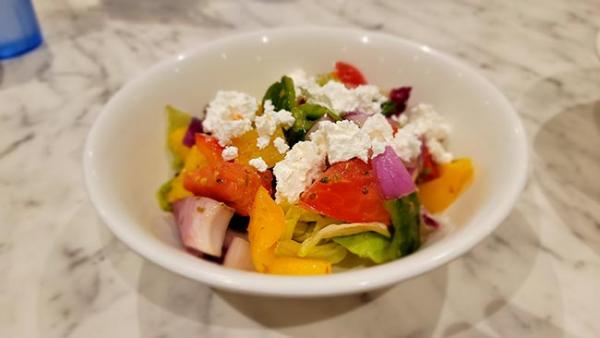 Out of the dining experiences we had onboard, it was actually the meals at the Yacht Club Restaurant that we found the least inspiring.  They weren't bad - in some dishes were quite enjoyable, but we weren't wowed in the way we expected to in a restaurant only available to those booked in an area which had such outstanding service.  The food by the pool was pretty good though.  While we have our favorites and least favorites, we really need to sail again to get a better opinion here - there are just so many restaurants to chose from on Meraviglia.
Packing Easily and Turning in Early
After dinner we had a nightcap in Sky Lounge so we could enjoy some more music and the great drinks from the Mixology Bar.  We didn't stay late though, as we had to disembark in the morning, drive a bit over an hour, and start working right away.  I realize this sounds easy to those who fly home from the cruise port - and we're wildly lucky to live so close.  Trust me though, going right from a ship to your desk is emotionally tricky and rather tiring.
We never want a cruise to end, but Larissa really didn't want to leave.  I ran errands just before packing, and returned to find her trying to stow away.  Silly photo?  Yes.  Do I still genuinely wonder how long she was in here?  I do.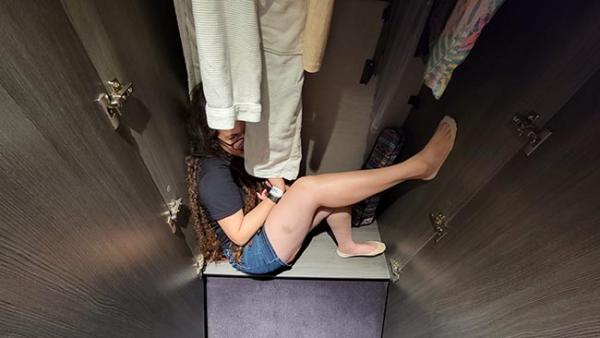 One thing we did a bit different on this cruise was on the last night, we didn't put out our bag.  Sure, it was a short cruise so we didn't have that much luggage, but more than I'd like to carry.  Why not check the bag then?  When you go on and off the ship as a Yacht Club guest they make it quite easy.  In the morning we had breakfast at the restaurant just above our room, said goodby to some new friends and the great crew members, and then asked our butler for a hand.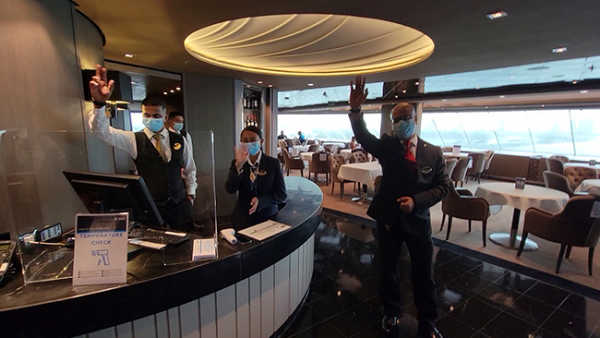 He took us to a special gangway to avoid a line (though with the reduced capacity, all disembarkation groups had been called by 7:40am) and carried our bags the whole way.  This is one of those little but ery nice perks, and would have been all the more valuable if the cruise was longer and we had more baggage.  Once off the ship, the route to immigration was unnecessarily long, winding through various parts of the building, but I suspect this will be easier as soon as MSC's new terminal is completed at PortMiami.  The facial recognition terminals gave us green lights, and we were outside, where a bus took us to the proper garage.
Next cruise: September 5 (two weeks)
If you want to watch a video we made about Meraviglia's pools, click here!
Stray Observations
I'll be diving deeper on certain things about our experience, so stay tuned, but here are a few more things worth mentioning about our MSC Meraviglia cruise.
I didn't work out on this cruise (because of the length), but I did go into the gym, and it was one of the more comprehensive I've seen at sea.  It was actually the first gym I've seen on a ship that had dumbbells.  Well, a dumbbell.  To go with it, there was a weight bench as well.

Many cruise lines sell ship models, as does MSC.  I don't collect these, but their models are neat.  They seem to be milled metal on wood bases.  I have one for the Seaside (it was a gift), and it's nice enough that I contemplated getting one for Meraviglia.

The idea of a "ship in a ship" suite experience is nicer than I thought it would be.  Yes, we enjoyed all parts of the ship, and would all the more if it was a longer cruise, but having an entire section of the ship with butler service, everyone knowing your, things close, etc was lovely - beyond just the benefit of nicer accommodations and amenities.