Author: Bill December 20, 2019, Updated: December 23, 2019
Carnival Mardi Gras is a much anticipated ship.  Not only will she be the largest ships Carnival has ever built, but she'll have some impressive new features and concepts - some new to Carnival, and others new to the cruising world.  Those hoping to enjoy one of her earliest sailings however, will be disappointed to learn that her first eight sailings have been canceled.
Carnival's Brand Ambassador, John Heald shared the news on his Facebook page the morning of December 20th: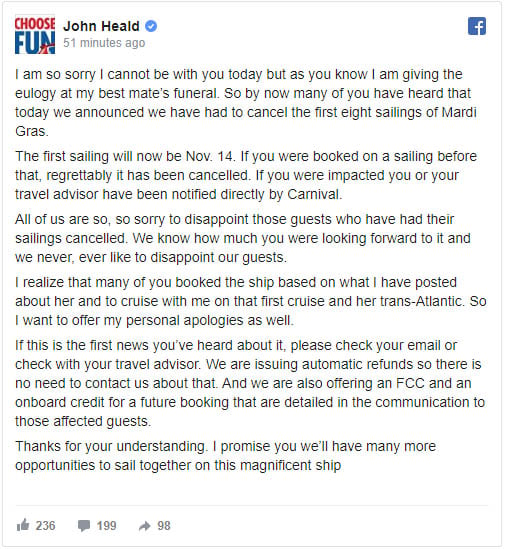 Originally, Mardi Gras, the line's future flagship, was slated to start cruising Europe on October 31, 2020, but now her first revenue sailing (cruise with paying guests) won't be until November 14, 2020 when she sails from Port Canaveral, FL.
Carnival released a statement saying that as quickly as possible after learning of the delay from Meyer Turku shipyard they started the process of notifying guests.  They're offering affected guests a 25% future cruise credit, in addition to the full refund of their cruise fare (plus applicable fees, taxes and pre-purchased components), as well as assistance with non-refundable airline and hotel reservations. In addition, if guests rebook their cruise vacation using their 25 percent FCC by Feb. 18, 2020, they will be credited with an additional $100 per person onboard credit for that cruise.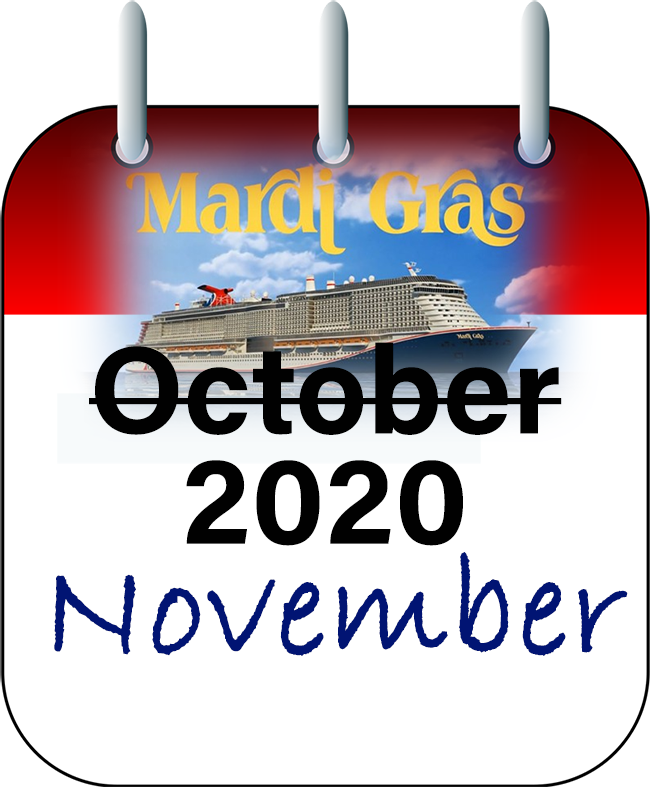 Billy's Take
For those who were booked, this is obviously a massive disappointment - especially because it's not a matter of simply changing dates, but the ship will no longer be selling passage in Europe, including the originally planned transatlantic voyage.  Nothing changes that disappointment.  That said, it's another reminder as to why I don't personally recommend booking maiden voyages, sailings right after dry dock, etc.  If you're really flexible and a cancellation wouldn't cause any logistic issues, then great - but if not, there is a reasonable chance that dates could change, or things may not go as expected (though this may be a somewhat extreme example).  We cover this more in a post explaining maiden voyages and inaugural sailings.
Ultimately, planning a giant floating city and hoping to figure out correctly the exact day a vessel like this will be ready is tough.  If they push the date out too far and offer preview sailings, people will be upset that their maiden voyage isn't the first, and if they have to cancel initial sailings, that's obviously upsetting as well.  
Intentionally or not, Mr Heald's message did open by putting things in perspective, mentioning the passing of his friend.  Cruising is a luxury, and while no one likes their plans changed, we're all fortunate to have opportunities to cruise.  I sincerely hope the remainder of his holiday season is better than this Friday.